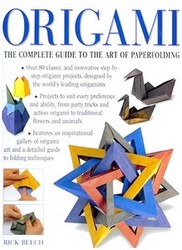 Origami - The Complete Guide to the Art of Paperfolding
Published:

2001 by Lorenz Books

Pages:

256

Binding:

Hardcover

Language:

English

ISBN-13:

9780754807827

ISBN-10:

0754807827
Buy from: Amazon.com
Buy from: Amazon.jp
| | |
| --- | --- |
| Skill Level | Simple to complex |
| Clear diagrams? | Photo-diagrams |
| Tinted diagrams (to show 2 sides of paper)? | Yes |
| Photos of completed models? | Yes |
| Is there indication to the model size resulting from size of starting paper? | No |
| Are the models "Pure" origami (From a single square - no cuts)? | Varies |
Overall Impression
This large (and quite heavy!) book opens with a colorful section about the history of origami, followed by an excellent gallery of models. Next is a section about techniques (including back-coating and wet-folding) all with color photographs.
The models range in difficulty from simple to intermediate, and there are no diagrams - the instructions are all photographs with explanatory text. This can be an advantage to those having difficulty reading from diagrams, and a disadvantage to those who are used to the symbol system.
The book is visually stunning. I'd recommend it to beginners and to experienced folders wishing to add a very nice book to their collection.
There are 85 Origami Designs in Origami - The Complete Guide to the Art of Paperfolding:
Design
Designer
Page
Details
Photo

Show only designs with photos
Crane
Traditional
46
Square

Also in A Thousand Cranes by Florence Temko
Also in Atlas de l'Origami
Also in Classic Origami by Paul Jackson
Also in Complete Origami by David Mitchell
Also in Complete Origami by Eric Kenneway
Also in Creased Magazine 6
Also in Creating Origami by J.C. Nolan
and in other sources...
Cup
Traditional
47
Square

Also in Beginning Origami by Vicente Palacios
Also in Classic Origami by Paul Jackson
Also in Complete Origami by Eric Kenneway
Also in Doctor's Origami Dream Book by Toshikazu Kawasaki
Also in Easy Origami by John Montroll
Also in Essential Origami by Steve and Megumi Biddle
Also in Everything Origami by Matthew Gardiner
and in other sources...
Lily
Traditional
48
Square

Also in Atlas de l'Origami
Also in Complete Origami by Eric Kenneway
Also in Creative Life with Creative Origami 1 by Toshie Takahama
Also in Cute Animal Origami by Makoto Yamaguchi
Also in Essential Origami by Steve and Megumi Biddle
Also in Festive Folding by Paul Jackson
Also in Fun Origami World by Makoto Yamaguchi
and in other sources...

Folded by Lou Pearson
Samurai helmet
Traditional
49
Square

Also in NOA Magazine 177
Also in NOA Magazine 188
Also in NOA Magazine 189
Also in Origami 1-2-3 by David Petty
Also in Origami in English by Makoto Yamaguchi
Also in Teach Yourself Origami by John Montroll
Also in Complete Origami by David Mitchell
and in other sources...
Kimono
Japanese
50
Rectangle - 1X4
Crown
Traditional
51
Square
Sanbo
Traditional
52
Square

Also in The Art and Wonder of Origami by Kunihiko Kasahara
Also in Double-sided origami by Taichiro Hasegawa
Also in Happy Origami by Kunihiko Kasahara
Also in Japan's Creative Origami by Kawai Toyoaki
Also in NOA Magazine 9
Also in NOA Magazine 10
Also in NOA Magazine 78
and in other sources...
Waterbomb
Traditional
54
Square

Also in Fun Origami World by Makoto Yamaguchi
Also in Japan's Creative Origami by Kawai Toyoaki
Also in NOA Magazine 278
Also in Origami de Christmas
Also in Origami in English by Makoto Yamaguchi
Also in Origami Text in 4 Languages
Also in Quick and Easy Origami Christmas by Toshie Takahama
and in other sources...
Peace dove
Alice Gray
56
Square

Folded by Francois Ziegler
Sampan
Japanese
58
Square
Masu box
Traditional
60
Square

Also in Creative Origami and Beyond
Also in Enjoy Origami in English (Joy of Origami!) by Satoshi Takagi
Also in NOA Magazine 134
Also in NOA Magazine 165
Also in NOA Magazine 167
Also in NOA Magazine 490
Also in Origami - Arte del Piegare la Carta by Renzo Zanoni
and in other sources...

Folded by Lou Pearson
Nun
Kunihiko Kasahara
66
Square

Also in Der Falter 3
Also in Origami - 30 fold-by-fold projects by Paulo Mulatinho
Butterfly
Akira Yoshizawa
68
Square

Also in ORU Magazine 12
Also in Akira Yoshizawa - Japan's Greatest Origami Master by Akira Yoshizawa
Also in Akira Yoshizawa Origami - Exhibition Catalog by Akira Yoshizawa
Also in Classic Origami by Paul Jackson
Also in Der Falter 6
Also in Fun with Origami Paper Folding - Vol. 2 by Akira Yoshizawa
Also in Hands-On Origami by Raul Rosado
and in other sources...
Swan
Traditional
70
Square
Scottie
Robert Neale
72
Square

Also in BOS Convention 1991 Autumn
Also in Fun Origami World by Makoto Yamaguchi
Also in Origami USA Convention 1992
Also in Origami, Plain and Simple by Robert Neale
Also in ORU Magazine 16
Also in The Best of Annual Collections 1981-1995
and in other sources...

Simple and very nice
Flower
Paul Jackson
73
Square
Rooster
Florence Temko
76
Square

Also in Classic Origami by Paul Jackson
Also in Origami Masterworks
Also in The Paper Magazine 86

Folded by Rebecca
Yakko san
Traditional
78
Square
2 units

Also in Paper Folding for Beginners by Murray and Rigney
Also in Complete Origami by Eric Kenneway
Also in Cute Animal Origami by Makoto Yamaguchi
Also in Doctor's Origami Dream Book by Toshikazu Kawasaki
Also in Enjoy Origami in English (Joy of Origami!) by Satoshi Takagi
Also in Essential Origami by Steve and Megumi Biddle
Also in Everything Origami by Matthew Gardiner
and in other sources...

Folded by Lou Pearson
Shell
Unknown
80
Square
Goldfish
Masamichi Noma
82
Square

Also in A Arte dos Mestres de Origami by Mari Kanegae
Also in NOA Magazine 212

With big color changed eyes
Rabbit
Edwin Corrie
86
Square
Tulip
Kunihiko Kasahara
90
Square
With cuts
Vase
Toshie Takahama
90
Square
Elephant
Enomoto Nobuyoshi
96
Square

Also in Zoogami by Gay Merrill Gross
Peacock
Adolfo Cerceda
102
Rectangle - 1X2

Also in El Libro de Las Pajaritas de Papel by Grupo Riglos
Also in Encyclopedia of Origami for Children and Adults by Sergei Afonkin and Elena Afonkina
Also in Fascinating Origami - 101 models by Vicente Palacios
Also in Origami USA Convention 1983
Also in Secrets of Origami by Robert Harbin
Also in The Best of Annual Collections 1981-1995
and in other sources...

Folded by JMorigami
Frog - jumping
Traditional
112
Rectangle
Glider
Traditional
113
Rectangle - A size
Banger

Toys - Noisemaking

Traditional
114
Rectangle - A size
Logan stackers
Michael G. LaFosse
115
Square

Make a pack of them and they fly...
Dog - barking
Ulrike Krallmann-Wenzel
116
Square

Cute action model
Zoomerang
Sanny Ang
117
Square

Zooms away and comes back
Tumble wing
Kosho Uchiyama
120
Square

Spins as it comes down
Dog - nodding
Paul Jackson
122
Square
2 units
Magic star or frisbee
Robert Neale
124
Square
8 units

Also in BOS Magazine 54
Also in Dutch Origami Convention 1988 Hoorn
Also in NOA Magazine 271
Also in Origami - Easy-to-Make Paper Creations by Gay Merrill Gross
Also in Origami de Christmas 2
Also in Origami Games by Mick Guy and Paul Jackson
Also in The Magic of Origami by Alice Gray and Kunihiko Kasahara
and in other sources...

A very clever shape changing toy

Folded by Rui Roda
Crow - pecking
Makoto Yamaguchi
126
Square

Cute action fold
Flapping bird
Paul Jackson
128
Square

Also in Action Origami by Rick Beech
Also in Origami Toys That Tumble, Fly and Spin by Paul Jackson

It flaps!
Frog - talking
Teruo Tsuji
131
Square

Simple and very effective
Basketball hoop
Traditional
134
Rectangle - A size
Catapult
Robert J. Lang
134
Square

Works...
Lizard - action
Tomoko Fuse
138
Square
12 units

Also in BOS Magazine 126
Also in The New Origami by Steve and Megumi Biddle
Also in Action Origami by Rick Beech
Also in Origami You Can Play With by Tomoko Fuse

Folded by Rui Roda
Page corner
Michael G. LaFosse
146
Square
Letter
Traditional
147
Rectangle - A size
Pin tray
Eric Kenneway
148
Square

Also in Creative Life with Creative Origami 3 by Toshie Takahama
Also in NOA Magazine 148

Folded by Rebecca
Ellington (napkin ring)
Rick Beech
150
Rectangle
Lazy Susan
Traditional
152
Square

Also in NOA Magazine 163
Also in NOA Magazine 502
Also in Classic Origami by Paul Jackson
Also in Creative Life with Creative Origami 2 by Toshie Takahama
Also in Origami 1-2-3 by David Petty
Also in Origami Kit for Dummies by Nick Robinson
and in other sources...

Folded by Lou Pearson
Frame
Larry Hart
154
Rectangle - A size

Also in Complete Origami by Eric Kenneway
Also in Origami - 30 fold-by-fold projects by Paulo Mulatinho
Also in Larry Hart Selected Works 71-91 by Larry Hart
Also in BOS Convention 2013 Spring
Also in Origami You Can Use by Rick Beech

Folded by Gabriel Vong
Square box - 3rds
Traditional
156
Square
2 units
Business card holder

Objects - Wallets

Humiaki Huzita
158
Rectangle
Heart coaster
Francis Ow
160
Square
2 units

Also in Origami Hearts by Francis Ow
Also in Pajarita Extra 1989

Folded by Meenakshi Mukerji
Basket
Aldo Putignano
163
Square
2 units
Pinwheel and puzzle purse

Objects - Wallets

Traditional
166
Square

Clever
Gift bag
Vincent Floderer
169
Rectangle - A size

Also in Atlas de l'Origami
Also in Origami USA Convention 1996
Also in Quadrato Magico Magazine 35
Also in The New Origami by Steve and Megumi Biddle
Also in Der Falter 14
Also in Pajarita Magazine 96
and in other sources...

Folded by Francois Ziegler
Laughter lines
Traditional
174
$ US Dollar Bill

Manipulating a money bill to make the figure happy or sad - fun!
Fortune teller
Traditional
175
Square

Also in Creating Origami by J.C. Nolan
Also in Der Falter 3
Also in Der Falter 27
Also in My First Origami Kit by Joel Stern
Also in Origami 1 by Robert Harbin
Also in Origami in Action by Robert J. Lang
Also in Complete Origami by Eric Kenneway
and in other sources...

Folded by JC Nolan
Shirt
Traditional
176
$ US Dollar Bill
Envelope trick
Traditional
178
Other shape

A method of folding the lip of an envelope out on itself
Blinking eyes
Jeremy Shafer
180
Square
Strawberry
Rae Cooker
182
Square

Also in NOA Magazine 185
Also in Action Origami by Rick Beech
Also in Das Diagramm 26
Also in Origami - A Complete Step-by-Step Guide by Paul Jackson
Also in Origami de Christmas 2
Also in Origami Journal (Russian) 22 2000 2
and in other sources...

A classic
Kissing lips
Soon Young Lee
184
Square

Also in Action Origami by Rick Beech
Also in NOA Magazine 438
Also in Origami from Around the World by Vicente Palacios
Also in Origamido by Michael G. LaFosse
Also in Wonderful Origami by Kunihiko Kasahara

Simple to do with an excellent result

Folded by Paula Versnick
Pig
Paul Jackson
187
Rectangle - 1X2

Also in 18 of My Paper Folds by Paul Jackson
Also in Action Origami by Rick Beech
Also in Origami Zoo by Paul Jackson and Miri Golan

Folded by Rui Roda
Hats
Traditional
190
Rectangle

A story using newspaper hats
Tha captain's shirt story
Traditional
194
Rectangle

Nice story
Sailboat
Traditional
198
Square

Also in 10-Fold Origami by Peter Engel
Also in Easy Origami by John Montroll
Also in MFPP 1995 Convention
Also in My First Origami Kit by Joel Stern
Also in Origami - Magic Square by Sergei Afonkin
Also in Origami A-B-C by David Petty
and in other sources...

The Origami USA logo

Folded by Joel Stern
Hanging decoration
Tomoko Fuse
199
Square
2 units
Bangle
Traditional
200
Square
Bishop's mitre napkin
Traditional
203
Square
Boot napkin
Traditional
204
Square
Swan napkin
Traditional
206
Square
Rose napkin
Traditional
208
Square
Stocking
Traditional
210
Square
Puppy
Paul Jackson
212
Square
2 units
Pop-up flower
Jose Meeusen (Krooshoop)
214
Square
Button flower
Gay Merrill Gross
216
Square
3 units

Also in BOS Convention 1998 Autumn
Also in Der Falter 39
Also in Minigami by Gay Merrill Gross
Also in NOA Magazine 296

Folded by Malachi Brown
Chain
Laura L. Kruskal
219
Rectangle - 1X2
Multiple units
Heart ring
Kumasaka Hiroshi
220
Square
Star
Martin Wall
222
Square
Santa Claus and sleigh
Sanae Sakai
224
Square

Also in NOA Magazine 256
Also in Origami de Christmas 2
Spinner
Lewis Simon
230
Square
12 units

Also in Origami - Easy-to-Make Paper Creations by Gay Merrill Gross
Also in Pajarita Extra 1988
Also in Action Origami by Rick Beech

Folded by Rui Roda
Butterfly ball
Kenneth Kawamura
231
Square
12 units

The famous butterfly ball - An exploding geometric shape
Japanese brocade
Ishibashi Minako
232
Square
6 units

Also in ORU Magazine 8
Also in BOS Convention 1987 Spring
Also in Action Origami by Rick Beech
Also in NOA Magazine 143

Also known as "Ishibashi ball" a very nice variation of the Sonobe unit.

Folded by Meenakshi Mukerji
5 intersecting tetrahedra
Thomas Hull
235
Rectangle - 1X3
30 units

Also in Action Origami by Rick Beech
Also in BOS Convention 1996 Autumn
Also in BOS Magazine 200
Also in BOS Magazine 250
Also in Das Diagramm 36
Also in Project Origami by Thomas Hull
and in other sources...
Modular star
Tomoko Fuse
238
Square
30 units

Also in Action Origami by Rick Beech

Folded by Rebecca
Modular cube
Lewis Simon
241
Square
12 units

Also in BOS Convention 1987 Autumn
Also in Action Origami by Rick Beech
Also in Pajarita Magazine 19
Also in Papiroflexia Basica by Vicente Palacios
Also in Quadrato Magico Magazine 23
Also in Origami USA Convention 1990
and in other sources...

Folded by Rui Roda
Kusudama
Traditional
244
Square
30 units
Fireworks
Yami Yamauchi
248
Square
12 units

Also in Action Origami by Rick Beech
Also in BOS Magazine 197
Also in Origami Journal (Russian) 23 2000 3
Also in Yami's Origami - Manuscript of Models by Yami Yamauchi

An excellent turning-twisting flexagon