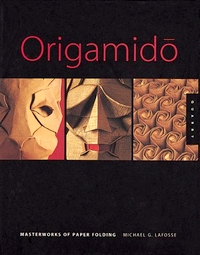 Origamido
Published:

2000 by Rockport

Pages:

144

Binding:

Hardcover

Language:

English

ISBN-13:

9781564966391

ISBN-10:

1564966399
Buy from: Amazon.com
Buy from: Amazon.jp
| | |
| --- | --- |
| Skill Level | From simple to intermediate |
| Clear diagrams? | Yes |
| Tinted diagrams (to show 2 sides of paper)? | Yes |
| Photos of completed models? | Yes |
| Is there indication to the model size resulting from size of starting paper? | No |
| Are the models "Pure" origami (From a single square - no cuts)? | Most are |
Overall Impression
This is not a diagram oriented book, but a magnificent exhibition of photographed origami models from all over the world. The best of them are here, classic and modern: Yoshizawa, Kawahata, Lang, Issei, and many more. 40 artists contributed to this publication.
For every model displayed, there are details about the size of the model, what kind of paper was used for folding it, and general comments about the model.
If you're looking for books with plenty of diagrams, this book is not for you. If you want to be inspired by fascinating photos, and see what can be achieved with origami, get this book.
There are 5 Origami Designs in Origamido: