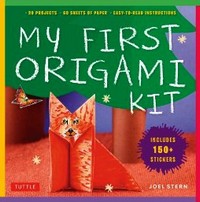 My First Origami Kit
Published:

2013 by Tuttle Publishing

Pages:

48

Binding:

Boxed paperback and paper

Language:

English

ISBN-13:

9784805312445

ISBN-10:

4805312440
Buy from: Amazon.com
Buy from: Amazon.jp
| | |
| --- | --- |
| Skill Level | Simple |
| Clear diagrams? | Yes - photo-diagrams |
| Tinted diagrams (to show 2 sides of paper)? | Yes |
| Photos of completed models? | Yes |
| Is there indication to the model size resulting from size of starting paper? | No |
| Are the models "Pure" origami (From a single square - no cuts)? | Most are |
Overall Impression
This is a great introductory kit to origami - the box comes with a little booklet containing 20 simple models. Some are traditional designs, and some designed by the author or by contributors. The selected models allow slight errors, thus making them great for very young hands. The diagrams use photographs with standard origami notations drawn over them which puts them somewhere between video and drawn diagrams. Each model is accompanied by an attractive photo of the finished design.
Also in the box are 2 large sheets with stickers of all kinds of eyes, mouths etc., tailor-made for the book's models. While I'm not a huge fan of decorating finished models, these will most likely find a crowd, and the models can easily stand on their own even with no outside help.
Lastly, the box comes with a pack of 60 sheets of special paper. Printed on both sides with a variety of animal patterns and other designs, this paper is much better than the kind you usually see in kits like this.
My daughter is now 2. This box will wait for another year or two, and I'm sure she'll love it.
There are 20 Origami Designs in My First Origami Kit: