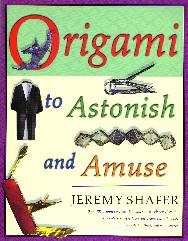 | | |
| --- | --- |
| Skill Level | Simple to complex |
| Clear diagrams? | Yes |
| Tinted diagrams (to show 2 sides of paper)? | Yes |
| Photos of completed models? | Yes. B&W |
| Is there indication to the model size resulting from size of starting paper? | No |
| Are the models "Pure" origami (From a single square - no cuts)? | Mostly |
Overall Impression
Jeremy Shafer is one of my favorite creators. His ideas are so original! And the execution is great. This book is a hefty showcase of his work, containing around 80 models.
Scattered throughout the book are "Thoughts behind the fold" segments, containing Jeremy's insights about the design and uses for the model.
The diagrams are excellent (and fun to read!), and there's a B&W photo for every model.
There are 82 Origami Designs in Origami to Astonish and Amuse:
Design
Designer
Page
Details
Photo

Show only designs with photos
Baby bird
Jeremy Shafer
32
Square

A very cute action model
Exploading envelope
Jeremy Shafer
34
Square

An envelope that can be opened in a flash
Blinking eyes
Jeremy Shafer
35
Square

Cool action fold
Magic flap
Jeremy Shafer
36
Square

Also in Origami USA Convention 1999

An illusion

Folded by Gilad Ayalon
Magic cube
Jeremy Shafer
38
Square

Also in BOS Magazine 196

An optical illusion

Folded by Gilad Ayalon
Hands - clapping
Jeremy Shafer
39
Square

Folded by Gilad Ayalon
Moon - waxing and waning
Jeremy Shafer
41
Square

Excellent - an origami representation of all stages of the moon in one model!

Folded by Gilad Ayalon
Two interlocking rings
Jeremy Shafer
46
Square

Also in Origami USA Convention 1996

2 rings from 1 square. With a permanently locked version

Folded by Phillip West
Ant - chocolate covered
Jeremy Shafer
49
Square

Folded by Nicolas Terry
Gremlin
Jeremy Shafer
51
Square

A nice mask with blinking eyes and opening and closing mouth

Folded by Gilad Ayalon
Surfer on a wave
Jeremy Shafer
55
Square

Also in Awesome Origami - Vol. 2 by J.C. Nolan
Also in MFPP 1996 Convention
Also in Origami Kids by J.C. Nolan
Also in Origami USA Convention 1991
Also in Quadrato Magico Magazine 60
Also in The Best of Annual Collections 1981-1995
and in other sources...
Glancer
Jeremy Shafer
60
Square

Also in Origami Tanteidan Magazine 51

A mask with moving eyes

Folded by Gabriel Vong
Mr. Smiley
Jeremy Shafer
65
Square

A storytelling model - about a smiley face that changes
Squishy blob
Jeremy Shafer
75
Square

Folded by Gilad Ayalon
Piano playing pop-up card
Jeremy Shafer
78
Square

It's a hand, and it's playing a piano! Excellent
Tyrannosaurus - yapping, clapping
Jeremy Shafer
83
Square

A nice action dinosaur model
Venus flytrap
Jeremy Shafer
87
Square

A toothy plant that opens and closes
Frog tounge
Jeremy Shafer
91
Rectangle - Long strip
Heart attack
Jeremy Shafer
93
Rectangle - Long strip
Nail clipper
Jeremy Shafer
96
Square

Also in BOS Convention 1994 Spring
Also in Pajarita Magazine 71
Also in Quarterly ORU Folding Diagrams - Vol. 2

Fantastic, it looks just like a nail clipper, and it moves like one, too

Folded by Gabriel Vong
Swiss army knife
Jeremy Shafer
103
Square

Also in BOS Magazine 201

Another fantastic model - with all tools being able to fold inside and out

Folded by Gabriel Vong
Flasher
Jeremy Shafer
110
Square
Flasher supreme
Jeremy Shafer
112
Square
Flasher big bang
Jeremy Shafer
113
Square
Flasher hat
Jeremy Shafer
114
Square
Flasher marble maze
Jeremy Shafer
115
Square
Flasher labyrinth
Jeremy Shafer
116
Square
Labyrinth walker
Jeremy Shafer
117
Square
Dromenon labyrinth walker
Jeremy Shafer
118
Square
Slithering snake skin
Jeremy Shafer
119
$ US Dollar Bill

A pleated form
Preshrunk blue jeans
Jeremy Shafer
120
Square
Kite letterhead
Jeremy Shafer
122
Square
Men's suit
Jeremy Shafer
123
Square

Also in Origami USA Convention 1998
Also in Tanteidan 4th convention

Folded by Gilad Ayalon
Swan - Iso area
Jeremy Shafer
125
Square

Folded by Shuyunzhu
Wine glass
Jeremy Shafer
126
Square
Peace sign
Jeremy Shafer
127
Square

Also in Origami USA Convention 1993
Also in BARF 2002 Summer by Jeremy Shafer

Folded by Gabriel Vong
Multiple rippling deltoid
Jeremy Shafer
129
Square
Musical notes
Jeremy Shafer
131
Square

Folded by Gabriel Vong
Dancers
Jeremy Shafer
135
Square

Also in Le Pli 68
Also in The Paper Magazine 56

Can be set to different poses
Dragon
Jeremy Shafer
137
Square

A variations of Robert Neale's dragon

Folded by Illya Arcos
Rocking horse
Jeremy Shafer
141
Square

Also in Colombian Convention 2000 Vol. 2
Menorah
Jeremy Shafer
145
Square

A very nice Menorah relief
Crab
Jeremy Shafer
151
Square
Yin Yang
Jeremy Shafer
155
Square

Also in Origami USA Convention 1993

Double sided
Star of David
Jeremy Shafer
159
Square
Spider web
Jeremy Shafer
162
Square

Folded by Yuval Atlas
Pyramid
Jeremy Shafer
164
$ US Dollar Bill

Also in Tanteidan 5th convention
Also in Tanteidan 5th convention

Folded by Gilad Ayalon
Eagle - balancing
Jeremy Shafer
166
$ US Dollar Bill

Also in Tanteidan 5th convention
Also in Tanteidan 5th convention

Folded by Gilad Ayalon
Cuboid
Jeremy Shafer
170
$ US Dollar Bill

6 connected cubes
Eight interlocking rings
Jeremy Shafer
176
Square

All from 1 square! Amazing

Folded by Gabriel Vong
Butterfly heart card
Jeremy Shafer
180
Square
Cubist heart card
Jeremy Shafer
181
Square
Window heart card
Jeremy Shafer
182
Square
Blintz envelope
Jeremy Shafer
183
Square
Envelope
Jeremy Shafer
184
Square
Off the wallet

Objects - Wallets

Jeremy Shafer
186
Square

A very useful wallet with many pockets
Bird of peace card
Jeremy Shafer
188
Square

Also in BOS Magazine 195

Folded by Gilad Ayalon
Diamond heart ring
Jeremy Shafer
190
Square

Also in BOS Magazine 196
Also in Fun Origami World by Makoto Yamaguchi
Also in Origami USA Convention 1993
Also in ORU Magazine 12
Also in The Best of Annual Collections 1981-1995

Folded by Lou Pearson
Peace ring
Jeremy Shafer
192
Square

A ring with the peace symbol

Folded by Gilad Ayalon
Crane envelope
Jeremy Shafer
195
Square
Beating heart card
Jeremy Shafer
199
Square

Folded by Gilad Ayalon
Crane star
Jeremy Shafer
202
Square

Folded by Gabriel Vong
Heart rings - interlocking
Jeremy Shafer
204
Square
Present box
Jeremy Shafer
209
Square

A box complete with a ribbon
Transvestite puppet
Jeremy Shafer
216
Square

A puppet that changes its face
BARF bag
Jeremy Shafer
217
Square
Unfortunate Bungee jumper
Jeremy Shafer
218
Square
Strobe light
Jeremy Shafer
219
Square
Duck - invisible
Jeremy Shafer
220
Square
Jack-O-lantern
Jeremy Shafer
221
Other shape

Folded from a... T-shirt
Upside down heart
Jeremy Shafer
222
Square
Elephant from behind -"Who's staring at my rump?"
Jeremy Shafer
223
Square

Folded by Fujikura Atsuo
Walking boat
Jeremy Shafer
224
Square

The traditional boat... With legs...
Clogged artery
Jeremy Shafer
225
Square
Unopenable envelope
Jeremy Shafer
227
Square
Folding the blintz base
Jeremy Shafer
228
Square

Also in Awesome Origami - Vol. 2 by J.C. Nolan
Also in Origami Kids by J.C. Nolan

Folded by Gilad Ayalon
Folding the preliminary base
Jeremy Shafer
232
Square

Also in Awesome Origami - Vol. 2 by J.C. Nolan
Also in Origami Kids by J.C. Nolan

Folded by Gabriel Vong
Folding the flapping bird
Jeremy Shafer
233
Square
Man swatter
Jeremy Shafer
234
Square

Also in Origami USA Convention 1997

Comes with a magic trick routine
Unfortunate suitor
Jeremy Shafer
240
Square

Fantastic - a person squashed by a lady's shoe...
Carbon atom
Jeremy Shafer
244
Square

A very small model
Car - running
Jeremy Shafer
246
Square

Also in Colombian Convention 2000 Vol. 2
Also in Origami USA Convention 2001

Gets great reactions