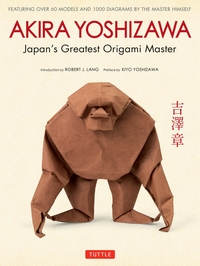 | | |
| --- | --- |
| Skill Level | Simple to complex |
| Clear diagrams? | Mostly |
| Tinted diagrams (to show 2 sides of paper)? | Varies |
| Photos of completed models? | Yes |
| Is there indication to the model size resulting from size of starting paper? | No |
| Are the models "Pure" origami (From a single square - no cuts)? | Most are |
Overall Impression

What a wonderful tribute to an origami master. In an oversized coffee-table book format, this books binds together and re-edits two of Yoshizawa's older books: "Simple Origami" and "Beautiful Origami". They are fully translated into English, and peppered with new, gorgeous photos. But the book contains much more than those two publications. It also includes several in-depth articles about Yoshizawa, as well as many photos of his work, posters from his exhibitions and more.
The diagrams themselves are Yoshizawa's originals, where everything looks deceptively simple, but there are many judgment calls and getting everything to look "just right" takes patience and skill (I still can't get that Gorilla to look quite right). However, with the inclusion of "Simple Origami", even beginners will enjoy the folds in this book.
Very highly recommend this book for everybody. Beautiful and fascinating publication.
There are 65 Origami Designs in Akira Yoshizawa - Japan's Greatest Origami Master:
Design
Designer
Page
Details
Photo

Show only designs with photos
Glider
Akira Yoshizawa
44
Square
Flying carpet
Akira Yoshizawa
46
Square
Houses
Akira Yoshizawa
48
Square

5 variations
Trees
Akira Yoshizawa
49
Square

4 variations
Butterflies
Akira Yoshizawa
52
Square

8 variations
Butterfly
Akira Yoshizawa
55
Square

Also in ORU Magazine 12
Also in Akira Yoshizawa Origami - Exhibition Catalog by Akira Yoshizawa
Also in Classic Origami by Paul Jackson
Also in Der Falter 6
Also in Fun with Origami Paper Folding - Vol. 2 by Akira Yoshizawa
Also in Hands-On Origami by Raul Rosado
and in other sources...
Leaf
Akira Yoshizawa
56
Square

Also in Beautiful Origami by Akira Yoshizawa
Also in Origami Museum 1: Animals by Akira Yoshizawa
Also in Beautiful Origami by Akira Yoshizawa
Also in Pajarita Especial 1985 - Pliar 85
and in other sources...
Snail
Akira Yoshizawa
57
Square

Also in Beautiful Origami by Akira Yoshizawa
Also in Origami Museum 1: Animals by Akira Yoshizawa
Also in Beautiful Origami by Akira Yoshizawa
Also in Pajarita Especial 1985 - Pliar 85
and in other sources...
Fairy tale caps
Akira Yoshizawa
58
Square
Crown
Akira Yoshizawa
60
Square
Tiger cub
Akira Yoshizawa
61
Square
2 units
Goblin mask
Akira Yoshizawa
64
Square

Tengu
Crow-billed goblin mask
Akira Yoshizawa
65
Square

Tengu
Goldfish
Akira Yoshizawa
66
Square

Also in Beautiful Origami by Akira Yoshizawa
Flower
Akira Yoshizawa
70
Square
2 units
Basket
Akira Yoshizawa
71
Square
Hina dolls - emperor and empress
Akira Yoshizawa
72
Square
Five musicians
Akira Yoshizawa
75
Square
Carp streamer
Akira Yoshizawa
78
Square
Helmet
Akira Yoshizawa
80
Square
Iris
Akira Yoshizawa
81
Hexagon

2 variations
Angel fish
Akira Yoshizawa
84
Square

Also in Beautiful Origami by Akira Yoshizawa
Cuckoo
Akira Yoshizawa
86
Square
Wild goose
Akira Yoshizawa
88
Triangle

Also in Beautiful Origami by Akira Yoshizawa
Pheasant
Akira Yoshizawa
90
Square

Also in Beautiful Origami by Akira Yoshizawa

Male and female
Bird
Akira Yoshizawa
94
Square
Dragonfly
Akira Yoshizawa
96
Triangle
Bell cricket
Akira Yoshizawa
98
Square
Grasshopper
Akira Yoshizawa
100
Triangle
Crane
Akira Yoshizawa
102
Triangle

Variations from several shapes
Fox head
Akira Yoshizawa
106
Square
Fish
Akira Yoshizawa
108
Diamond

2 variations
Turtle
Akira Yoshizawa
110
Square

Also in A Arte dos Mestres de Origami by Mari Kanegae
Also in Akira Yoshizawa Origami - Exhibition Catalog by Akira Yoshizawa
Also in Beautiful Origami by Akira Yoshizawa
Also in Origami Journal (Russian) 14 1998 4
Shrimp
Akira Yoshizawa
112
Triangle

Also in Origami Museum 1: Animals by Akira Yoshizawa
Also in Antologia di Origami Animali by Akira Yoshizawa
Also in Beautiful Origami by Akira Yoshizawa

2 variations
Sakhalin husky
Akira Yoshizawa
115
Square
2 units

Also in Beautiful Origami by Akira Yoshizawa

Sled dog
Rabbit
Akira Yoshizawa
118
Square

Also in Beautiful Origami by Akira Yoshizawa
Bear cub
Akira Yoshizawa
122
Square
2 units
Gorilla
Akira Yoshizawa
125
Square

Also in A Arte dos Mestres de Origami by Mari Kanegae
Also in Beautiful Origami by Akira Yoshizawa
Also in ORU Magazine 5
Santa with bag
Akira Yoshizawa
130
Square
2 units

Also in BOS Convention 1997 Autumn
Also in Simple Origami by Akira Yoshizawa
Also in Beautiful Origami by Akira Yoshizawa
Candle
Akira Yoshizawa
132
Square
Star
Akira Yoshizawa
133
Square
Christmas stocking
Akira Yoshizawa
134
Square
Demon mask
Akira Yoshizawa
135
Square

Also in Beautiful Origami by Akira Yoshizawa
Lion mask
Akira Yoshizawa
138
Square
Power boat
Akira Yoshizawa
140
Square
Airplane
Akira Yoshizawa
142
Triangle
Lighthouse
Akira Yoshizawa
144
Square

Also in Beautiful Origami by Akira Yoshizawa
Also in BOS Convention 1997 Spring
Snow Child
Akira Yoshizawa
147
Square

Also in Beautiful Origami by Akira Yoshizawa
Puppy
Akira Yoshizawa
150
Square
Bird's beak
Akira Yoshizawa
158
Square
Dog head
Akira Yoshizawa
160
Square
Small bird

Birds

Akira Yoshizawa
163
Square

2 variations
Tulip
Akira Yoshizawa
164
Square
5 units
Hina dolls
Akira Yoshizawa
166
Square
Tadpole
Akira Yoshizawa
168
Square
See-saw
Akira Yoshizawa
170
Square
3 units
Caps
Akira Yoshizawa
172
Square

2 variations
Goldfish
Akira Yoshizawa
174
Square

2 variations
Elephant
Akira Yoshizawa
176
Square

Also in Simple Origami by Akira Yoshizawa
Also in Origami Fun (Tanoshii Origami) by Akira Yoshizawa
Crab
Akira Yoshizawa
178
Square
Snail
Akira Yoshizawa
180
Square

Also in Beautiful Origami by Akira Yoshizawa
Also in Origami Museum 1: Animals by Akira Yoshizawa
Also in Beautiful Origami by Akira Yoshizawa
Also in Pajarita Especial 1985 - Pliar 85
and in other sources...
Santa Claus with bag
Akira Yoshizawa
182
Square
2 units

Also in BOS Convention 1997 Autumn
Also in Simple Origami by Akira Yoshizawa
Also in Beautiful Origami by Akira Yoshizawa
Santa hat
Akira Yoshizawa
184
Square

Also in Origami Tanteidan Magazine 92
Also in Origami Fun (Tanoshii Origami) by Akira Yoshizawa
Also in Origami Museum 2: Seasons and Annual Events by Akira Yoshizawa
Also in Simple Origami by Akira Yoshizawa
Also in Simple Origami by Akira Yoshizawa
and in other sources...
Santa mask
Akira Yoshizawa
185
Square

Also in Origami Tanteidan Magazine 92
Also in Origami Fun (Tanoshii Origami) by Akira Yoshizawa
Also in Origami Museum 2: Seasons and Annual Events by Akira Yoshizawa
Also in Simple Origami by Akira Yoshizawa
Also in Simple Origami by Akira Yoshizawa
and in other sources...
Water lily
Akira Yoshizawa
186
Square