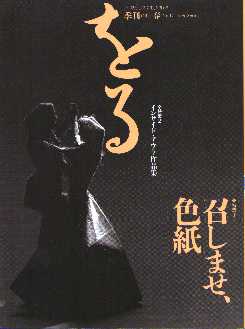 ORU Magazine 12
Published:

1996 by Sojusha

Pages:

160

Binding:

Paperback

Language:

Japanese
| | |
| --- | --- |
| Skill Level | Simple to complex |
| Clear diagrams? | Yes |
| Tinted diagrams (to show 2 sides of paper)? | Yes |
| Photos of completed models? | Yes |
| Is there indication to the model size resulting from size of starting paper? | No |
| Are the models "Pure" origami (From a single square - no cuts)? | Varies |
Overall Impression
ORU are a set of 16 large-format commercial magazines published between 1993-1997. They all contain many articles about design, designers and tehniques, alongside beautiful photos, with many diagrams in the back.
Articles
Kyo Araki's work - 2D cards
Takashi Irie's work
Yoshio Tsuda's work
Peter Budai's work - nice photos
"What a wonderful ORIGAMI" - Jeremy Shafer's wonderful creations
Collection of "Inside out" models - with superb photos of Elias' bullfighter, last dance and others by various foreign creators
Kunio Suzuki's snow crystals
"We love Kobe" project
A religious ceremony - people with paper in their mouths
ORIGAMICS
Yoshizawa's butterflies
Noshi
Traditional models
Var. unit origami
A beetle that folds leaves
Folding from glossy duo paper
Toys constructed from paper
More that I can't figure out?
There are 26 Origami Designs in ORU Magazine 12: