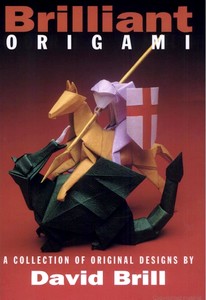 | | |
| --- | --- |
| Skill Level | Simple to complex |
| Clear diagrams? | Yes. Hand-drawn |
| Tinted diagrams (to show 2 sides of paper)? | Yes |
| Photos of completed models? | Yes, with some beautiful color spreads |
| Is there indication to the model size resulting from size of starting paper? | No |
| Are the models "Pure" origami (From a single square - no cuts)? | Most are |
Overall Impression
There's something for everyone here, action folds, modulars, animals, objects and people.
Some of the models are hard to fold really well, and require wet-folding or foil - but they are worth the effort.
All models are accompanied by black-and-white photographs, and there are some stunning color photos at the beginning of the book. Besides diagrams, the book contains the author's thoughts about the design of the models, and explanations about several techniques.
The diagrams are hand-drawn, but very clear.
There are 79 Origami Designs in Brilliant Origami:
Design
Designer
Page
Details
Photo

Show only designs with photos
Emu - head
David Brill
24
Square

Cute action fold

Folded by Gilad Ayalon
Exhibitionist
David Brill
26
Square

Very nice action fold

Folded by Gilad Ayalon
Book
David Brill
28
Square

Also in NOA Magazine 422
Also in Origami 4 by Robert Harbin
Also in Origami El Mundo Nuevo by Kunihiko Kasahara
Also in Quadrato Magico Magazine 75-076

8 page book with color-changed cover
Walking man
David Brill
30
Triangle
2 units
Walking man
David Brill
32
Square
Spectacles
David Brill
34
Rectangle - 1X2

Also in BOS Convention 1986 Autumn
Also in NOA Magazine 187
Also in Origami - A Complete Step-by-Step Guide by Paul Jackson
Also in The Complete Origami Course by Paul Jackson
Talking fox
David Brill
35
Square

Puppet
Nut and bolt
David Brill
36
Square
2 units

Also in BOS Convention 1986 Spring
Also in Der Falter 8
Also in Quarterly ORU Folding Diagrams - Vol. 1
Also in The Beauty of Origami by Makoto Yamaguchi
Pentagonal envelope
David Brill
45
Rectangle - A size
Gift box and lid
David Brill
46
Square
2 units

Also in BOS Convention 1983 Spring
Also in Creative Life with Creative Origami 3 by Toshie Takahama
Also in Le Pli 15

Each from a square

Folded by Gilad Ayalon
Star container
David Brill
46
Rectangle - A size

A puffy envelope
Bottle
David Brill
49
Square

Also in NOA Magazine 179
Also in NOA Magazine 426
Also in Origami for the Connoisseur by Kunihiko Kasahara and Toshie Takahama
Also in Origami Journal (Russian) 5 1997 Jan-Feb
Also in Origami Paperfolding for Fun by Eric Kenneway
Yacht
David Brill
52
Square

Also in BOS Convention 1987 Autumn
Also in Origami - A Complete Step-by-Step Guide by Paul Jackson
Also in Origami - Arte del Piegare la Carta by Renzo Zanoni
Also in The Complete Origami Course by Paul Jackson

Folded by Patrick Bergeot
Box with lid
David Brill
54
Square

Also in BOS Magazine 201
Also in Origami for the Connoisseur by Kunihiko Kasahara and Toshie Takahama
Also in Origami Paperfolding for Fun by Eric Kenneway

A great box, complete with a lid, from one square
Cigarette packet
David Brill
58
Rectangle - 1X4

Also in BOS Magazine 60
Also in Origami 4 by Robert Harbin
Also in ORU Magazine 12

Fantastic, with cigarettes!

Folded by Gabriel Vong
Matchbox (with matches)
David Brill
62
Rectangle - 1X3
Money box
David Brill
64
Square

Also in BOS Convention 1979 Autumn
Also in BOS Convention 2012 Spring

Folded by Francois Ziegler
Honeymoon box
David Brill
67
Square

Also in BOS Magazine 147
Also in Origami USA Convention 1991

Lidded box
Sunken silver cube
David Brill
74
Rectangle - A size
12 units
Sunken silver icosahedron
David Brill
74
Rectangle - A size
12 units
Sunken silver star
David Brill
76
Rectangle - A size
12 units

With a 30 unit variation
Dimpled silver dodecahedron
David Brill
79
Rectangle - A size
30 units
Silver dodecahedra
David Brill
80
Rectangle - A size
12 units
Woven strip dodecahedron
David Brill
82
Rectangle - A size
30 units
True woven dodecahedron
David Brill
83
Rectangle - Long strip
6 units

Also in BOS Convention 1989 Autumn

Folded by Patrick Bergeot
Stellated dodecahedron
David Brill
84
Square
30 units

Folded by Patrick Bergeot
Stained glass balls
David Brill
85
Square
Multiple units

Several variations
Spiky star
David Brill
87
Rectangle - A size
24 units
Double cube
David Brill
90
Square
12 units

Also in The Encyclopedia of Origami Techniques by Nick Robinson

Folded by Rui Roda
Venetian double cube
David Brill
92
Rectangle
12 units
Waterbombic dodecahedron
David Brill
96
Rectangle - A size
3 units

Also in BOS Convention 1986 Spring
Also in Bogota Origami Convention 2015
Also in Origami USA Convention 1988
Also in Quadrato Magico Magazine 102
Also in The Best of Annual Collections 1981-1995

Folded by Gilad Ayalon
Double Star Flexicube
David Brill
98
Rectangle - A size
64 units

Also in BOS Convention 1991 Spring
Also in Pajarita Extra 1996 - Mathematics
Also in Pajarita Magazine 80
Also in Quadrato Magico Magazine 22

Folded by Eyal Reuveni
Corgi
David Brill
106
Rectangle - 1X2

Also in BOS Convention 1982 Spring
Also in MFPP 1995 Convention
Lamb
David Brill
106
Rectangle - 1X2

Also in MFPP 1995 Convention
Mouse
David Brill
108
Square

Also in Origami - A Complete Step-by-Step Guide by Paul Jackson
Also in The Complete Origami Course by Paul Jackson
Guinea pig
David Brill
110
Square

Also in BOS Convention 1982 Autumn
Rabbit
David Brill
111
Square

Also in NOA Magazine 229
Goose
David Brill
114
Square

Also in BOS Convention 1989 Spring

Color-change beak and legs
Squirrel
David Brill
119
Square

Also in BOS Magazine 122
Also in Zoorigami by Renzo Zanoni
Foxhound
David Brill
123
Rectangle - 1X2
Fox
David Brill
125
Square

Also in Origami in England by Sergei Afonkin
Horseman
David Brill
128
Rectangle - 1X2

Horse and rider from one rectangle
Rhinoceros
David Brill
135
Square

Also in Classic Origami by Paul Jackson
Also in Origami El Mundo Nuevo by Kunihiko Kasahara
Also in Origami Masters: David Brill by David Brill
Also in Pajarita Extra 1985 - Museo Imaginario
Elephant
David Brill
140
Square

Also in A Arte dos Mestres de Origami by Mari Kanegae
Also in BOS Magazine 93
Also in Origami Masters: David Brill by David Brill
Also in Origami Without Borders
Lioness
David Brill
150
Triangle

Also in BOS Convention 1980 Autumn
Also in Origami Masters: David Brill by David Brill

Folded by BOS 2003 convention exhibitor
Lion
David Brill
159
Triangle

Also in Origami Masters: David Brill by David Brill
Also in The Beauty of Origami by Makoto Yamaguchi
Also in Zoorigami by Renzo Zanoni
Lion cub
David Brill
163
Square
Horse
David Brill
168
Triangle

Also in AEP convention 2011
Also in Bogota Origami Convention 2015
Also in BOS Convention 1979 Spring
Also in BOS Magazine 100
Also in BOS Magazine 200
Also in Encyclopedia of Origami for Children and Adults by Sergei Afonkin and Elena Afonkina
and in other sources...
Dragon
David Brill
172
Square

Also in BOS Magazine 101
Also in Origami Masters: David Brill by David Brill
Mask
David Brill
181
Square

Also in BOS Magazine 107

Folded by Gilad Ayalon
Girl (fairy)
David Brill
183
Triangle
Crown
David Brill
187
Square
Wand
David Brill
188
Rectangle - 1X2
Santa Claus with sack
David Brill
191
Rectangle - 1X2

Also in Das Diagramm 29
Santa Claus
David Brill
193
Rectangle - 1X2
Basic fold for figures

Origami bases and methods

David Brill
197
Square
Oarsman
David Brill
198
Square

Folded by Eyal Reuveni
Seat and rowlock
David Brill
199
Square

Folded by Eyal Reuveni
Boat
David Brill
200
Rectangle - 1X4

Folded by Eyal Reuveni
Oar
David Brill
200
Rectangle - Long strip

Folded by Eyal Reuveni
Cox
David Brill
201
Square

Folded by Eyal Reuveni
Wise man 1
David Brill
206
Square

Also in BOS Magazine 109
Wise man 2
David Brill
207
Square
Wise man 3
David Brill
209
Square
Witch
David Brill
210
Square
3 units
Witch's hat
David Brill
210
Square
Broomstick
David Brill
211
Square
Showjumper
David Brill
212
Square
St. George
David Brill
214
Square
Shield
David Brill
215
Square
Spear
David Brill
215
Rectangle - 1X4
Geppetto
David Brill
216
Rectangle - 1X2
Pinocchio
David Brill
220
Rectangle - 1X2
Book
David Brill
224
Square

Also in BOS Convention 1981 Spring
Also in NOA Magazine 330
Also in Origami El Mundo Nuevo by Kunihiko Kasahara
Ashtray
David Brill
226
Square

Also in BOS Convention 1985 Spring
Reindeer
David Brill
228
Square

Folded by Eyal Reuveni
Sleigh
David Brill
230
Rectangle - 1X2

Folded by Eyal Reuveni
Square silver star
David Brill
232
Square
12 units

Folded by Patrick Bergeot
Cube
David Brill
234
Square
6 units