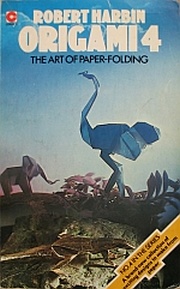 | | |
| --- | --- |
| Skill Level | From simple to complex |
| Clear diagrams? | Can be very concise and challenging |
| Tinted diagrams (to show 2 sides of paper)? | Yes |
| Photos of completed models? | No |
| Is there indication to the model size resulting from size of starting paper? | No |
| Are the models "Pure" origami (From a single square - no cuts)? | Most are. Many use rectangles |
Overall Impression
This is the fourth, and last, in a series of compilations by Robert Harbin, a pioneer of paper-folding in the West. Sadly, shortly after it was printed the publisher decided to discontinue the series, and now this book, as well as the 3rd in the series, are very hard to find. The only version of the book still in print is the Hebrew one, printed in Israel by "Ledori".
The book is an excellent showcase of the international origami talent in 1977, containing works from leading folders such as Neal Elias, Fred Rohm, Patricia Crawford, John Richardson, Max Hulme, Martin Wall and more, and even a couple of works from a young Ronald Koh. Many of the models are of highly original subjects not often seen in origami.
The diagramming style can be very concise and challenging at times, having many steps appear in one drawing, I believe it is still accessible, though, and that this book is well worth the effort for the originality of the models within.
The Hebrew version of this book is still in print. You can get it here (website is in Hebrew).
There are 90 Origami Designs in Origami 4:
Design
Designer
Page
Details
Photo

Show only designs with photos
Letter
Giuseppi Baggi
17
Rectangle - A size
Carnival hat
Robert Harbin
18
Square
Bowl
Eric Kenneway
19
Square
Ted Heath
Eric Kenneway
22
Square

A caricature of a past UK prime-minister
Martian
Albert W. Allen
23
Square

Mask
Heart
Alice Gray
24
Square
Glider
C. Plowman
25
Square
Wallet

Objects - Wallets

John Cunliffe
26
Rectangle - A size
Ashtray
Ronald Koh
27
Square
Sycamore seed
John Smith
28
Rectangle

Spins in the air
Owl - oligami
Edward Megrath
30
Square

Also in BOS Magazine 55
Owl
John Richardson
32
Square

Also in BOS Convention 2012 Spring
Sparrow - flying
Toshie Takahama
34
Square

A flapping bird
Loch Ness Monster
Steve Manthorp
36
Square

Clever
Decoration
Toshie Takahama
37
Square
2 units
Ball in a ball
Iris Walker
38
Square
2 units
Card - king
Martin Lewis
40
Square
Dracula fangs
Eric Kenneway
42
Square

Also in BOS Convention 2010
Also in BOS Magazine 51
Dracula fangs
Ray Bolt
43
Rectangle - 1X2

Also in BOS Convention 2010
Also in BOS Magazine 51
Dracula fangs
Steve Biddle
44
Square

Also in BOS Convention 2010
Also in BOS Magazine 51
Also in Le Pli 66
Dog - barking
Clive Beeks
45
Square

Nice action model
Swimmer
Alice Blumberg
46
Square
Rabbit
Alice Gray
48
Triangle
Penguin
Alice Gray
50
Triangle

Also in BOS Convention 1981 Spring
Also in Origami USA Convention 1981
Also in The Best of Annual Collections 1981-1995
Goose
Alice Gray
51
Triangle
Elephant - Jumbo
Alice Gray
52
Triangle
3 units
Maple leaf
Alice Gray
55
Square
Dragon - baby
Bill Warner
56
Square
Ostrich
David Pacheco
58
Square
Mount Fuji
Eric Kenneway
61
Square
Box
Lewis Simon
62
Square
Toy - sliding
Unknown
64
Square
Sherlock Holmes
Robert W. Allen
65
Square
Smuggler's Wallet

Objects - Wallets

Vernon Holden
68
Square

A nice wallet with secret pockets
Walrus
John French
70
Triangle
Hummingbird
Gregory Knesner
72
Square
Swan
John French
74
Triangle
Siamese cat
Daniel Porter
76
Square
Elephant
Neal Elias
77
Rectangle - 1X2

Also in Neal Elias - Miscellaneous Folds - I by Dave Venables
Also in The Origami World of Neal Elias by Dave Venables and Marc Cooman
Hat
Robert Harbin
82
Square
Piano
Patricia Crawford
83
Square

Also in BOS Convention 1984 Spring
Also in BOS Convention 2012 Spring
Also in NOA Magazine 158
Also in NOA Magazine 286
Also in Origami USA Convention 1983
Also in Pajarita Magazine 127
Penguin - baby
Joel Stern
88
Square
Matchbox
Martin Wall
89
Rectangle - 1X3
Hand with Olympic torch
Martin Wall
92
Rectangle - 1X3

Also in BOS Convention 2012 Spring
Also in Pajarita Magazine 133
Flapping bird

Birds

Paul Jackson
95
Square
Rose
Martin Wall
96
Square

Complete with leaves and stem
Escher
Mick Guy
98
Rectangle - 1X2

A unit for Escher-esque compositions
Chick
Paul Jackson
100
Square
Buddha
Neal Elias
101
Rectangle
Turtle
Neal Elias
104
Square
Buddha on turtle
Neal Elias
106
Rectangle - 1X3

Also in The Origami World of Neal Elias by Dave Venables and Marc Cooman
Also in The Origami World of Neal Elias by Dave Venables and Marc Cooman

Folded by Gabriel Vong
Buddha - sitting
Neal Elias
108
Rectangle - 1X3
Buddha shrine
Neal Elias
110
Rectangle - 1X2

Also in Neal Elias - Miscellaneous Folds - II by Dave Venables
Also in The Origami World of Neal Elias by Dave Venables and Marc Cooman

Folded by Gabriel Vong
Viking longship
Laurie Bisman
112
Rectangle - 1X4
Tank
Laurie Bisman
114
Rectangle - 1X3

Folded by Eyal Reuveni
Palm tree
Max Hulme
116
Square
Dog
Malcolm Kerr
118
Square
Star of David - Tri-star
Lewis Simon
120
Square
3 units
Diamond
Lewis Simon
122
Triangle
Oberon
Neal Elias
123
Square

Also in Drawing Origami Vol 1. Secret Code Gift by Halle, Pere Olivella and Nicolas Terry
Also in Neal Elias - Miscellaneous Folds - II by Dave Venables
Also in Origami Inspired by Shakespeare
Also in The Origami World of Neal Elias by Dave Venables and Marc Cooman
Also in The Origami World of Neal Elias by Dave Venables and Marc Cooman
Dancers
Neal Elias
128
Square
Owl - square
Eric Kenneway
131
Square

Folded by Rui Roda
Hatching chick
Neal Elias
132
Square

Also in Neal Elias - Miscellaneous Folds - II by Dave Venables
Also in The Origami World of Neal Elias by Dave Venables and Marc Cooman
Siesta - man with cactus
Neal Elias
134
Square

Also in BOS Magazine 219
Also in The Origami World of Neal Elias by Dave Venables and Marc Cooman
Decoration
Iris Walker
136
Square
Horse - Persian
Dale Walton
137
Square
2 units
Lion
Philip Yoshio Kushi
140
Square
2 units
Helmet
Robert Harbin
142
Square
Hell cat
Robert Harbin
143
Square
Box
Roberto Morassi
144
Square
Letter
Gary Simpson
146
Rectangle
Hearts with arrow
Ronald Koh
148
Square
3 units
Whale
Stuart R. Allington
149
Square
Indian
Edward Megrath
150
Square

Folded by Rui Roda
Marlin
Peter Ackroyd
152
Square
Buddha display
Robert Harbin
154
Square
Squirrel
Alice Gray
156
Triangle
2 units
Frame
Ed Sullivan
158
Square
Roses
Fred Rohm
159
Square

A vase with 4 roses from a square
Anchor
Ted Darwin
162
Square
Boat
Ted Darwin
164
Square
Leaf
Amarins Hopman de-Jong
166
Square
Letter
Amarins Hopman de-Jong
167
Rectangle - A size
Angelfish
Dale Walton
168
Square
Pyramid
Bobby Walkenburg
170
Square
Cigarette packet
David Brill
171
Rectangle - 1X4

Also in BOS Magazine 60
Also in Brilliant Origami by David Brill
Also in ORU Magazine 12

Folded by Gabriel Vong
Book
David Brill
174
Square

Also in Brilliant Origami by David Brill
Also in NOA Magazine 422
Also in Origami El Mundo Nuevo by Kunihiko Kasahara
Also in Quadrato Magico Magazine 75-076
Tipper Truck
Max Hulme
176
Rectangle - 1X3

Also in BOS Convention 2000 Spring
Also in BOS Magazine 288
Matchbox 2
Max Hulme
180
Rectangle - 1X2

Also in BOS Convention 2012 Spring
Also in NOA Magazine 142
Also in Origami Paperfolding for Fun by Eric Kenneway
Lizard
Max Hulme
182
Rectangle - 1X4

Also in Origami USA Convention 1983