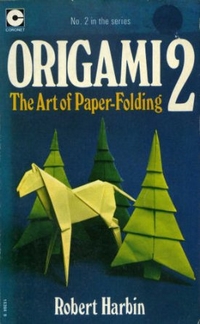 | | |
| --- | --- |
| Skill Level | Simple to complex |
| Clear diagrams? | Can be very concise and challenging |
| Tinted diagrams (to show 2 sides of paper)? | Yes |
| Photos of completed models? | No |
| Is there indication to the model size resulting from size of starting paper? | No |
| Are the models "Pure" origami (From a single square - no cuts)? | Varies |
Overall Impression
The second in Robert Harbin's series of 4, this book was published in English as More Origami or New Adventures in Origami. It was my first origami book, which I perused until the spine broke.
As are the other books in the series, this volume is an excellent showcase of the international origami talent in the early 1970s, containing works from leading folders in that time, with Argentina's Ligia Montoya and Harbin himself more prominently featured. Many of the models are of highly original subjects not often seen in origami. A couple of my favorites would be Harbin's skier and Elias' knight in armor.
The diagramming style can be very concise and challenging at times, having many steps appear in one drawing, I believe it is still accessible, though, and that this book is well worth the effort for the originality of the models within. I stuck with it as a kid and am still folding many decades later?
There are 49 Origami Designs in Origami 2:
Design
Designer
Page
Details
Photo

Show only designs with photos
Picture Frame
Florence Temko
16
Square
Dog - nodding
John Smith
18
Square
2 units
Vase
Traditional
24
Square
Party hat
David Neale
30
Square
Tree
Robert Harbin
32
Square
Helmet
Ligia Montoya
34
Square
Ocean liner
Peter Johnson
36
Square
Noshi
Traditional
38
Square
Box with long side-flaps
Traditional
41
Square
Decoration
Traditional
44
Square
Ball
Jack J. Skillman
48
Square
2 units
Pinwheel
Philip Shen
50
Square
Double purse

Objects - Wallets

Endla Saar
54
Rectangle
Fly
Alice Gray
58
Square
Witch
Robert Harbin
62
Square
Tropical bird
Ligia Montoya
66
Square
Xmas tree
Ligia Montoya
68
Diamond
Angelfish
Robert Harbin
72
Square
Frisbee
Ed Sullivan
74
Square
9 units
Dachshund
Paul Castles
76
Square
Neolithic man
Edward Megrath
80
Square

With talking action

Folded by Lou Pearson
Cat
Patricia Crawford
83
Square

Also in BOS Magazine 297
Also in Creative Life with Creative Origami 3 by Toshie Takahama
Also in The Origami World of Neal Elias by Dave Venables and Marc Cooman
Crane
Traditional
88
Square

Also in A Thousand Cranes by Florence Temko
Also in Atlas de l'Origami
Also in Classic Origami by Paul Jackson
Also in Complete Origami by David Mitchell
Also in Complete Origami by Eric Kenneway
Also in Creased Magazine 6
Also in Creating Origami by J.C. Nolan
and in other sources...
Walrus
Robert Harbin
92
Square
Wedding bells
Mick Guy
93
Square

Also in Creative Life with Creative Origami 2 by Toshie Takahama

Two bells from one square
Boy on dolphin
Robert Harbin
96
Square
Robin
Joan Homewood
100
Square

Also in BOS Convention 2012 Spring
Also in Origami Journal (Russian) 2 1996 Apr-Jun
Super star
Traditional
105
Square
Dagger
Colin Rowe
106
Square
Dutch people (Double Dutch)
Noel Stanton
108
Square
Clerical hat
Ligia Montoya
113
Square
Super salt cellar
Philip Shen
114
Square
Moth
Tim Ward
118
Square
Shapes turning to boxes
Traditional
120
Square
Persian helmet
Ligia Montoya
124
Square
Jackstone
Jack J. Skillman
125
Square

Also in BOS Magazine 204
Also in Quadrato Magico Magazine 111
Also in The Origami World of Neal Elias by Dave Venables and Marc Cooman
Also in The Origamian - Vol.05 1

Folded by Marina Kosareva
Basket
Traditional
134
Rectangle
2 units
Knight in armor
Neal Elias
137
Square

Also in The Origami World of Neal Elias by Dave Venables and Marc Cooman
Also in The Origami World of Neal Elias by Dave Venables and Marc Cooman
Skier
Robert Harbin
144
Square

Also in Fun Origami World by Makoto Yamaguchi
Also in NOA Magazine 462
Also in ORU Magazine 12
Also in The Origami World of Neal Elias by Dave Venables and Marc Cooman
Super hat
Ligia Montoya
147
Square
Flower and leaf
Toshie Takahama
148
Square
2 units
Plumed helmet
Ligia Montoya
150
Square
Kentucky horse
Raymond Kane McLain
151
Square
Kangaroo
E. G. Langridle
164
Square
Medieval hat
Robert Harbin
172
Rectangle
Snake charmer
Fred Rohm
174
Square

Also in BOS Convention 2012 Spring
Also in The Origami World of Neal Elias by Dave Venables and Marc Cooman
Also in The World of Fred Rohm 50 by Peter Ford

Nice action
Fox puppet
Traditional
179
Square
Hat
Traditional
179
Square
Otomo No Kuronushi
Japanese
180
Square
With cuts