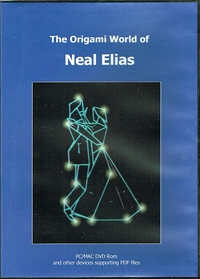 The Origami World of Neal Elias
Published:

2013

Pages:

1530

Binding:

DVD with PDF and media files

Language:

English

ISBN-13:

978B00GOZMUE2

ISBN-10:

B00GOZMUE4
Buy from: Origami-shop.com
Buy from: Amazon.com
Buy from: Amazon.jp
| | |
| --- | --- |
| Skill Level | Simple to complex |
| Clear diagrams? | Most are shorthand notes |
| Tinted diagrams (to show 2 sides of paper)? | Sometimes |
| Photos of completed models? | Very few |
| Is there indication to the model size resulting from size of starting paper? | No |
| Are the models "Pure" origami (From a single square - no cuts)? | Varies |
Overall Impression

Neal Elias was one of the pioneers of modern origami, utilizing techniques such as box-pleating to create complex, intricate designs. But other than being a folder, he was a documenter of origami, corresponding with some of the best origami innovators of the 60s and 70s, exchanging ideas with them and diagramming all of their designs, as well as his own, for personal future reference in his multiple volumes of notebooks.
These notebooks made it into the hands of Dave Venables, who dedicated many years to sorting through them, extracting some content for older publications, and re-diagramming some for other booklets. Now these notebooks are released in full in DVD-ROM format (a physical book of over 1,500 pages would not be practical), but this DVD contains much more than just a straight up copy of those notebooks.
Dave Venables and Marc Cooman went over the notebooks, bringing them into the digital age using hyper-links to make sense of the all the interlinked designs. So if an Elias model starts with a Yoshizawa base that appeared many pages before, you can jump to that base and then back with a click of a mouse. Also, everything is indexed and bookmarked, by model name, by designer name, conception dates and more. There is even a pictorial index with thumbnails of all designs on the DVD.
With over 1,100 diagrammed designs, this is an incredible snapshot of the state of origami in the 1960s. Though focused mostly on American designers like Elias himself, Fred Rohm, Robert Neale, Samuel Randlett, George Rhodas and Patricia Crawford (among many others), there are many designs from around the world, such as those of Ligia Montoya, Robert Harbin, Adolfo Cerceda, Akira Yoshizawa, Eric Kenneway, Iris Walker and many, many more.
The diagrams are in short-hand form, so may not be up to today's diagramming standards. Nevertheless, they are not un-decipherable, either. A dedicated folder could be able to figure out how to recreate the models, and the task will get easier once the techniques are figured out.
The DVD doesn't stop with the notebooks. The array of supporting materials is staggering. There are biographies and recollections from those who were in touch or influenced by Elias' work, clippings from newsletters in which he was featured, audio and video segments, diagrams for several unfinished designs, a few photos of Elias' work, and a selection of his designs diagrammed by others. You will also find the list of designs in several database formats.
A spectacular reference, this collection should be in the hands of everybody, whether interested in modern origami history, or looking for interesting buried treasures of origami to fold.
Buy from
:
Dave Venables
Buy from
:
BOS Supplies
There are 1157 Origami Designs in The Origami World of Neal Elias:
Design
Designer
Page
Details
Photo

Show only designs with photos
Dromedary
Gershon Legman
24
Square
Parrot
Gershon Legman
25
Square
Goat
Vicente Solorzano Sagredo
26
Square
Llama
Gershon Legman
27
Square
Walrus
Neal Elias
28
Square
Pigeon
Akira Yoshizawa
29
Square

Labeled pheasant
Pez sapo
Gershon Legman
30
Square
Toucan
Neal Elias
31
Square
Pig
John M. Nordquist
32
Square
With cuts
Camel
John M. Nordquist
33
Square
With cuts
Camel
Samuel L. Randlett
34
Square
Camel - sitting
Samuel L. Randlett
35
Square
With cuts
Rooster
Samuel L. Randlett
36
Square
Camel
Akira Yoshizawa
37
Square
Flapping bird
Samuel L. Randlett
39
Square
Grasshopper
Samuel L. Randlett
40
Square
Kangaroo
John M. Nordquist
42
Hexagon
With cuts
Cat
John M. Nordquist
44
Square
2 units
With cuts
Horse
Gershon Legman
45
Square
With cuts
Dragonfly
John M. Nordquist
46
Hexagon
With cuts
Pheasant
Akira Yoshizawa
48
Square
Raccoon
Akira Yoshizawa
49
Square
Joseph
Robert Neale
51
Square
Mary
Robert Neale
52
Square
Camel
J. Rosner
53
Square
Mouse
Ligia Montoya
54
Diamond
With cuts
Table
Ed Sullivan
55
Square
Rabbit
Samuel L. Randlett
56
Square

With caration by Elias
Brontosaurus
Samuel L. Randlett
58
Square

Also in Origami USA Convention 1983
Also in The Art of Origami by Samuel L. Randlett
Also in The Best of Annual Collections 1981-1995

Folded by Ira Fine
Togetherness
Traditional
59
Rectangle
With cuts

Connected cranes
Witch
Jean Randlett
60
Square
Two swans
Charles W. Hirschfield
61
Square
Moor on horse
Adolfo Cerceda
63
Rectangle - 1X2
With cuts
Kangaroo
Neal Elias
65
Rectangle - 1X2
Knight Templar
Gershon Legman
66
Square
2 units
With cuts
Owl
Adolfo Cerceda
68
Square
With cuts
Dog
Adolfo Cerceda
69
Rectangle - 1X2
Giraffe
George Rhoads
70
Rectangle - 1X2
With cuts
Tyrannosaurus
George Rhoads
71
Square
Butterfly
Samuel L. Randlett
72
Square
Shrimp
Samuel L. Randlett
73
Triangle
Tyrannosaurus
Neal Elias
75
Rectangle - 1X2
Squirrel
Neal Elias
76
Rectangle - 1X2
With cuts
Squirrel II
Neal Elias
77
Rectangle - 1X2
Spider monkey
Neal Elias
78
Rectangle - 1X2
Tiger
Neal Elias
79
Rectangle - 1X2
With cuts
Doe
Neal Elias
80
Rectangle - 1X2
With cuts
Rabbit
Neal Elias
81
Rectangle - 1X2
With cuts
Mouse
Neal Elias
82
Rectangle - 1X2
With cuts
Brown bear
Neal Elias
83
Rectangle - 1X2
With cuts
Lion
Neal Elias
84
Rectangle - 1X2
Mouse II
Neal Elias
85
Rectangle - 1X2
With cuts
Polar bear
Neal Elias
87
Rectangle - 1X2
Rooster
Akira Yoshizawa
88
Square
Alligator
Neal Elias
89
Rectangle - 1X2
Camel
Neal Elias
90
Rectangle - 1X2
Fox
Akira Yoshizawa
91
Square
2 units
Wolf
Akira Yoshizawa
92
Square
2 units
Cat
Akira Yoshizawa
93
Square
2 units
Dog
Akira Yoshizawa
94
Square
2 units
Camel
Akira Yoshizawa
95
Square
2 units
Mouse
Akira Yoshizawa
96
Square
2 units
Lion
Adolfo Cerceda
98
Square
2 units
Polar bear
Adolfo Cerceda
99
Square
2 units
Brontosaurus
Neal Elias
100
Rectangle - 1X2
Cat
Neal Elias
101
Rectangle - 1X2
With cuts
Rhinoceros
Neal Elias
102
Rectangle - 1X2
With cuts
German shepherd
Neal Elias
103
Rectangle - 1X2
With cuts
Wolf
Neal Elias
104
Rectangle - 1X2
With cuts
Pig
Neal Elias
105
Rectangle - 1X2
With cuts
Boston terrier
Neal Elias
106
Rectangle - 1X2
With cuts
Goat
Neal Elias
107
Rectangle - 1X2
With cuts
Crow
Neal Elias
109
Rectangle - 1X2
Fawn
Neal Elias
110
Rectangle - 1X2
With cuts
Tiger
Neal Elias
111
Rectangle - 1X2
With cuts
Donkey
Neal Elias
112
Rectangle - 1X2
With cuts
Guanaco
Neal Elias
113
Rectangle - 1X2
With cuts
Camel
Neal Elias
114
Rectangle - 1X2
Vicuna
Neal Elias
115
Rectangle - 1X2
With cuts
Bull
Neal Elias
116
Rectangle - 1X2
With cuts
Tyrannosaurus
Neal Elias
117
Rectangle - 1X2
Pig
Neal Elias
118
Rectangle - 1X2
With cuts
Bull
Samuel L. Randlett
119
Square
Cardinal
George Rhoads
120
Square
Turkey
Neal Elias
121
Square
Cat
Neal Elias
122
Rectangle - 1X2
With cuts
Aardvark
Neal Elias
124
Rectangle - 1X2
With cuts
Eagle
Akira Yoshizawa
125
Diamond
Clown
Misaki
127
Square
With cuts
Sea lion
Neal Elias
128
Rectangle - 1X2
Buffalo
Neal Elias
129
Rectangle - 1X2
Puppy
Neal Elias
130
Rectangle - 1X2
With cuts
Crab
Adolfo Cerceda
131
Rectangle - 1X2
Bull
George Rhoads
133
Square
Elephant
Neal Elias
134
Rectangle - 1X2
Goat
Neal Elias
135
Rectangle - 1X2
Baboon
Neal Elias
136
Rectangle - 1X2
Donkey
Neal Elias
137
Rectangle - 1X2
Pegasus
Neal Elias
138
Rectangle - 1X2
Pig
Neal Elias
139
Square
Penguin
Adolfo Cerceda
140
Square
Cat
Adolfo Cerceda
141
Square
Panther
Adolfo Cerceda
142
Square
Polar
Neal Elias
143
Square
With cuts
Brown bear
Neal Elias
144
Square
Pelican
Nathen Lissak
145
Square
Owl
Nathen Lissak
146
Square
Swallow
Ligia Montoya
147
Square
With cuts
Owl
Neal Elias
148
Square
Pelican
Adolfo Cerceda
149
Diamond
Walrus
Adolfo Cerceda
150
Square
Duck
Neal Elias
151
Triangle
Rabbit - walking
Adolfo Cerceda
152
Square
With cuts
Bird in flight
Neal Elias
153
Square
Pheasant
Neal Elias
154
Square
Sandpiper
Neal Elias
155
Square
Turkey
George Rhoads
156
Rectangle - 1X2
Pegasus
Adolfo Cerceda
157
Rectangle - 1X2
Pegasus
Ernst Hacker
158
Square
Turkey
Neal Elias
159
Rectangle - 1X2
Turkey
Neal Elias
160
Square
Flamingo
Neal Elias
161
Triangle
Flying duck
Neal Elias
162
Rectangle - 1X2
Flying duck
Neal Elias
163
Square
Angry goose
Neal Elias
164
Square
Pelican
Neal Elias
165
Square
Mexican boot
Nathen Lissak
166
$ US Dollar Bill
Swan
Nathen Lissak
167
Triangle
Rabbit
Neal Elias
168
Rectangle - 1X2
Bald eagle
Neal Elias
169
Square
Fox
Neal Elias
170
Square
2 units
Bear cub
Neal Elias
171
Square
Bear cub
Neal Elias
172
Square
Griffin
Neal Elias
173
Square
2 units
Bulldog
Neal Elias
174
Square
Dragon
Neal Elias
175
Square
2 units
Rabbit
Adolfo Cerceda
176
Square
With cuts
Pig
Adolfo Cerceda
177
Square
2 units
Polar bear
Samuel L. Randlett
178
Square
Dog
Alan Cohen
179
Square
Blue jay
Neal Elias
181
Square
Rabbit
Neal Elias
182
Square
Cat
Neal Elias
183
Square
Mouse
Neal Elias
184
Square
Squirrel
Neal Elias
185
Square
Boston bull terrier
Neal Elias
186
Square
Boston bull terrier
Neal Elias
187
Square
Cardinal
Neal Elias
188
Square
Dragonfly
Ligia Montoya
189
Other shape

From a star
Snowflake
Ligia Montoya
190
Other shape
Crap shooter
Neal Elias
191
Square
Crap shooter II
Neal Elias
192
Square
Wallaroo
Neal Elias
193
Square
Barbary ape
Neal Elias
194
Square
Gamecock
Neal Elias
195
Square
Flying eagle
Neal Elias
196
Square
Bat
Neal Elias
197
Square
Rabbit
Neal Elias
198
Square
Roadrunner

Birds - Cuculiformes - Roadrunner

Neal Elias
199
Square
Ostrich
Neal Elias
200
Triangle
Dog - begging
Neal Elias
201
Square
Boston bull terrier
Neal Elias
202
Square
Boston bull terrier
Neal Elias
203
Square
St. Bernard
Neal Elias
204
Square
2 units
Collie
Neal Elias
205
Square
2 units
Leopard
Neal Elias
206
Square
2 units
Dalmatian
Neal Elias
207
Rectangle - 1X2
Dachshund
Neal Elias
208
Square
2 units
Hippopotamus
Neal Elias
209
Square
2 units
Fish
Adolfo Cerceda
210
Square
Scottie
Neal Elias
211
Square

Also in Neal Elias - Miscellaneous Folds - I by Dave Venables
Also in Secrets of Origami by Robert Harbin
Scottie
Neal Elias
212
Square
Rabbit
Neal Elias
213
Square
Dog
Neal Elias
214
Square
Star
Samuel L. Randlett
215
Square
Scottie
Neal Elias
216
Square
Squirrel
Neal Elias
217
Square
2 units
Rabbit
Neal Elias
218
Square
Eagle
Adolfo Cerceda
219
Square
Angel
Adolfo Cerceda
220
Square
Ornament
John M. Nordquist
221
Square
2 units
Scottie
Robert Neale
222
Square
Ornament
Samuel L. Randlett
223
Rectangle - 1X4
Indian
Neal Elias
224
Square

Also in The Best of Origami by Samuel L. Randlett

Folded by Rui Roda
George Washington
Neal Elias
225
Square

Also in Neal Elias - Miscellaneous Folds - I by Dave Venables
Also in The Flapping Bird by Samuel L. Randlett

Folded by Rui Roda
Angel
Neal Elias
226
Square
Owl
Neal Elias
227
Square
Giraffe
Neal Elias
228
Square
2 units
Rhinoceros
Neal Elias
229
Square
2 units
Sea horse
Neal Elias
230
Square
Lynx
Neal Elias
231
Square
2 units
Rhinoceros
Adolfo Cerceda
232
Square

Also in Fascinating Origami - 101 models by Vicente Palacios

Folded by Rui Roda
Kangaroo rat
Neal Elias
233
Square
Pig
Neal Elias
234
Square
Dragon
Neal Elias
235
Square
2 units
Flower
Ligia Montoya
236
Hexagon
Bull
Neal Elias
238
Square
Cat
Neal Elias
239
Square
Cow
Neal Elias
240
Square
2 units
Bull
Adolfo Cerceda
241
Square
Goat
Neal Elias
243
Square
Spider
George Rhoads
244
Rectangle - 1X2
Matador
Robert Neale
245
Square
Bull
Robert Neale
246
Square
Beetle
George Rhoads
247
Square
Macaw
Adolfo Cerceda
249
Square
Bull
Neal Elias
250
Rectangle - 1X2
Toucan
Neal Elias
251
Square
Water turkey
Neal Elias
252
Square

Anhinga
Chicken
Neal Elias
253
Square
Starling
Neal Elias
254
Square
Wren
Neal Elias
255
Square
Towhee
Neal Elias
256
Square
Swan
Ligia Montoya
257
Triangle
Swan
Ligia Montoya
258
Triangle
Swan
Ligia Montoya
259
Triangle
Prima donna
Neal Elias
261
Square
Maestro
Neal Elias
262
Square
Lion
Neal Elias
263
Square
Rabbit
Neal Elias
264
Square
Gnu
Neal Elias
265
Square
Mouse deer
Neal Elias
266
Square
Elephant
Neal Elias
267
Square
Flamingo
Adolfo Cerceda
268
Square
Whirling Dervish
Neal Elias
269
Square
Witch
Neal Elias
270
Square
Presentation box
Samuel L. Randlett
271
Square
Moor
Neal Elias
272
Square
Old man in night shirt and cap
Neal Elias
273
Square
Woman in night dress
Neal Elias
274
Square
Hobo
Neal Elias
275
Square
Hobo
Neal Elias
276
Square
Peasant woman
Neal Elias
277
Square
Bird on rock

Birds

Neal Elias
278
Square
Rabbit
Neal Elias
279
Square
Hummingbird
Neal Elias
280
Rectangle - 1X2
Nanny goat
Neal Elias
281
Square
Bull
Neal Elias
282
Square
Buffalo
Neal Elias
283
Square
Mouse deer
Neal Elias
284
Square
Dog
Neal Elias
285
Square
Ostrich
Ligia Montoya
287
Rectangle - 1X2
Flamingo
Ligia Montoya
288
Rectangle - 1X2
Swordfish
Ligia Montoya
289
Rectangle - 1X2
Macaw
Ligia Montoya
290
Rectangle - 1X2
Seal
Ligia Montoya
291
Rectangle - 1X2
Seal
Ligia Montoya
292
Rectangle - 1X2
Turtle
Ligia Montoya
293
Rectangle - 1X2
Bird

Birds

Ligia Montoya
294
Rectangle - 1X2
Goose
Ligia Montoya
295
Rectangle - 1X2
Bird

Birds

Ligia Montoya
296
Rectangle - 1X2
Peacock
Adolfo Cerceda
297
Rectangle - 1X2

Also in El Libro de Las Pajaritas de Papel by Grupo Riglos
Also in Encyclopedia of Origami for Children and Adults by Sergei Afonkin and Elena Afonkina
Also in Fascinating Origami - 101 models by Vicente Palacios
Also in Origami - The Complete Guide to the Art of Paperfolding by Rick Beech
Also in Origami USA Convention 1983
Also in Secrets of Origami by Robert Harbin
Also in The Best of Annual Collections 1981-1995
and in other sources...

Folded by JMorigami
Walrus
Neal Elias
298
Square
Giraffe
Neal Elias
299
Square
Elephant
Neal Elias
300
Square
Scottie
Neal Elias
301
Square
Boston terrier
Neal Elias
302
Square
Donkey
Neal Elias
303
Square
Bear
Neal Elias
304
Square
Rhinoceros
Neal Elias
305
Square
Hippopotamus
Neal Elias
306
Square
Pig
Neal Elias
307
Square
Camel
Neal Elias
308
Square
Satan II
Neal Elias
308
Square
Ben Franklin
Neal Elias
309
Square
Bull
Neal Elias
310
Square
Hummingbird
Giuseppi Baggi
311
Square
Bird

Birds

Ligia Montoya
312
Square
Aardvark
Neal Elias
313
Square
Fawn
Neal Elias
314
Square
Llama
Neal Elias
315
Square
Rabbit
Neal Elias
316
Square
Rabbit
Neal Elias
317
Square
Bull
Neal Elias
318
Square
Horse
Neal Elias
319
Square
Leaf
Samuel L. Randlett
320
Square
Sofa
Adolfo Cerceda
321
Rectangle
Shell
Ligia Montoya
322
Circle
Swan
Ligia Montoya
323
Square
Bird

Birds

Ligia Montoya
324
Square
Lion
Neal Elias
325
Square

Also in The Best of Origami by Samuel L. Randlett

Folded by Andre van Meulebrouck
Gorilla
Neal Elias
326
Square
Bear
Neal Elias
327
Square
Moor
Neal Elias
328
Square
Penguin
Neal Elias
329
Square
Dog
Neal Elias
330
Square
Lamb
Neal Elias
331
Square
Dog
Neal Elias
332
Square
Donkey
Neal Elias
333
Square
Indian bust
Neal Elias
334
Square
Swami
Neal Elias
335
Square
Mona lisa
Neal Elias
336
Square
Satan I
Neal Elias
337
Square
Jester
Neal Elias
339
Square
George Washington head
Neal Elias
340
Square
Spinster
Neal Elias
341
Square
Nero
Neal Elias
342
Square
D'Artagnan
Neal Elias
343
Square
City slicker
Neal Elias
344
Square
Old man
Neal Elias
345
Square
High priest
Neal Elias
346
Square
Shylock
Neal Elias
347
Square
Gay cossack
Neal Elias
348
Square
Elephant
Neal Elias
349
Square
Indian II
Neal Elias
351
Square
Fawn
Harry Weiss
352
Square
With cuts
White heron
Adolfo Cerceda
353
Square
St. Bernard
Neal Elias
354
Square
Nude
Neal Elias
355
Square
Toscanini
Neal Elias
356
Square
Hunchback of Notre Dame
Neal Elias
357
Square
Grim reaper
Neal Elias
358
Square
Ballet dancer
Neal Elias
359
Square
Giraffe
Neal Elias
360
Square
Giraffe
Neal Elias
361
Square
Swallow
Adolfo Cerceda
362
Square
Snail
Ligia Montoya
363
Diamond
Frog
Ligia Montoya
364
Diamond
Monkey
Ligia Montoya
365
Diamond
Dog
Ligia Montoya
366
Square
With cuts
Mule
Ligia Montoya
367
Square
With cuts
Llama
Ligia Montoya
368
Square
With cuts
Deer
Ligia Montoya
369
Square
With cuts
Bird
Ligia Montoya
370
Square
Bird
Ligia Montoya
371
Square
Palm tree
Ligia Montoya
372
Hexagon
2 units
With cuts
George Washington
Neal Elias
373
Square
Martha Washington
Neal Elias
374
Square
Amish woman
Neal Elias
376
Square
Mary Todd Lincoln
Neal Elias
377
Square
Mary
Neal Elias
378
Square
Jefferson
Neal Elias
379
Square
Bear
Adolfo Cerceda
381
Rectangle
Giraffe
Robert Neale
382
Square
Elephant
Robert Neale
383
Square
Horse
Fred Rohm
385
Square
With cuts
Brontosaurus
Neal Elias
386
Rectangle
Skunk
Neal Elias
387
Rectangle
Beaver
Adolfo Cerceda
388
Square
Squirrel
Neal Elias
389
Rectangle
Kangaroo
Neal Elias
390
Square
Macaw
Neal Elias
391
Square
Housefly
Ligia Montoya
392
Square
Dog
Neal Elias
393
Square
Cat
Neal Elias
394
Square
Horse
Neal Elias
395
Square
Tiger
Neal Elias
396
Rectangle
Pintail duck
Adolfo Cerceda
398
Diamond
Ballerina
Neal Elias
399
Rectangle - 1X2
Flower
Ligia Montoya
400
Triangle
2 units
Elephant
Neal Elias
401
Square
Greyhound
Neal Elias
403
Square
Kangaroo
Neal Elias
404
Rectangle
Bird
Neal Elias
405
Rectangle - 1X2
Sea turtle
Neal Elias
406
Rectangle - 1X2
Dragonfly
Neal Elias
407
Rectangle - 1X2
Butterfly
Neal Elias
408
Rectangle - 1X2
Demon
Neal Elias
409
Rectangle - 1X2
Colt
Neal Elias
410
Rectangle - 1X2
Horse
Neal Elias
411
Rectangle - 1X2
Walrus
Neal Elias
412
Rectangle - 1X2
Pegasus
Neal Elias
413
Rectangle - 1X2
Dragon
Neal Elias
414
Rectangle - 1X2
Griifin
Neal Elias
415
Rectangle - 1X2
Centaur
Neal Elias
416
Rectangle - 1X2
Weasel
Neal Elias
417
Rectangle - 1X2
Weasel
Neal Elias
418
Rectangle - 1X2
Kangaroo rat
Neal Elias
419
Rectangle - 1X2
Fawn
Neal Elias
420
Rectangle - 1X2
Cat
Neal Elias
421
Rectangle - 1X2
Eagle
Adolfo Cerceda
422
Rectangle - 1X2
Duck
George Rhoads
423
Square
Man in boat
Robert Harbin
424
Rectangle - 1X4
Kissing rabbits
Fred Rohm
426
$ US Dollar Bill
Monkey
Ligia Montoya
428
Diamond
Stork
Ligia Montoya
429
Diamond
Dog
George Rhoads
430
Square
House fly
Fred Rohm
431
Rectangle - 1X2
With cuts
Angel
Neal Elias
433
Rectangle
Arrow
Neal Elias
435
$ US Dollar Bill
Saill boat
Neal Elias
436
Rectangle - 1X4
Boat and native
Neal Elias
437
Rectangle - 1X4
Cat
Fred Rohm
438
Square
With cuts

Also in The World of Fred Rohm 49 by Peter Ford
Also in The Best of Origami by Samuel L. Randlett

Folded by Andre van Meulebrouck
Canary
Adolfo Cerceda
439
Rectangle
Golden eagle
Samuel L. Randlett
440
Square
Pegasus
Fred Rohm
441
Square
Pegasus
Neal Elias
442
Square
Mary
Ligia Montoya
444
Rectangle
Joseph
Ligia Montoya
445
Rectangle
Shepherd
Ligia Montoya
446
Rectangle
Angel
Ligia Montoya
447
Rectangle

Also in Pajarita Extra 1998 - Ligia Montoya by Ligia Montoya
Also in Secrets of Origami by Robert Harbin
High heel shoe
Neal Elias
448
$ US Dollar Bill
Slipper
Neal Elias
449
$ US Dollar Bill
Angry goose
Fred Rohm
451
Square
Elephant
Fred Rohm
452
Square
Cat
Neal Elias
453
Square
Dog
Fred Rohm
454
Square
Goose
Samuel L. Randlett
454
Square

Also in Origami 3 by Robert Harbin

Folded by Rebecca
Song bird
Samuel L. Randlett
455
Square
Peasant woman
Neal Elias
456
Square
Shoe
Neal Elias
457
$ US Dollar Bill
Ostrich
Neal Elias
458
Square
Cassowary
Neal Elias
459
Square
Toucan
Neal Elias
460
Square
Flamingo
Neal Elias
461
Square
Duck
Neal Elias
462
Square
Anhinga
Neal Elias
463
Square

Water turkey
Wild turkey
Neal Elias
464
Square
Goose
Neal Elias
465
Rectangle - 1X2
Squirrel
Fred Rohm
466
Square
Turkey
Fred Rohm
467
Square
Rabbit
Fred Rohm
469
Square
Pig
Neal Elias
471
Square
Pintail
Neal Elias
472
Square
Wise Man on camel
Fred Rohm
473
Square
With cuts
Whistler's mother
Fred Rohm
475
Square

Also in The Best of Origami by Samuel L. Randlett
Also in The World of Fred Rohm 49 by Peter Ford

Folded by Andre van Meulebrouck
Squirrel
Neal Elias
476
Square
With cuts
Horse
Neal Elias
477
Square
With cuts
Cat
Neal Elias
478
Square
With cuts
Monkey
Neal Elias
479
Square
With cuts
Fawn
Neal Elias
480
Square
With cuts
Kangaroo
Neal Elias
481
Square
With cuts
Skunk
Neal Elias
482
Square
With cuts
Tiger
Neal Elias
483
Square
With cuts
Beaver
Neal Elias
484
Square
With cuts
Ballerina II
Neal Elias
485
Rectangle - 1X2
Ballerina III
Neal Elias
486
Square
With cuts
Ostrich
Neal Elias
487
Square
Hog
Fred Rohm
488
Square
Rabbit on die
Fred Rohm
489
Rectangle - 1X2

Also in Creating Origami by J.C. Nolan
Also in Secrets of Origami by Robert Harbin
Also in BOS Magazine 152
Also in The World of Fred Rohm 49 by Peter Ford

Folded by JC Nolan
Hog
Neal Elias
491
Square
Scottie
Fred Rohm
492
Square
Mouse
Giuseppi Baggi
493
$ US Dollar Bill
Flower
Philip Shen
494
Square
Bird

Birds

Fred Rohm
496
Square
Mushroom
Ligia Montoya
497
Rectangle
Hen
Adolfo Cerceda
499
Square
Dog
Neal Elias
500
Square
With cuts
Purse

Objects - Wallets

Traditional
501
Square

Tato
Bird

Birds

Fred Rohm
504
Square
Dog
Fred Rohm
505
Square
Flower
Neal Elias
506
Rectangle - 1X2
Skunk
Fred Rohm
507
Square

Also in The Best of Origami by Samuel L. Randlett
Also in The World of Fred Rohm 49 by Peter Ford
Lazy Susan
Philip Shen
508
Square
4-fold dish
John M. Nordquist
509
Other shape
Squirrel
Fred Rohm
510
Square

Also in The Best of Origami by Samuel L. Randlett
Also in The World of Fred Rohm 49 by Peter Ford

Folded by Francois Ziegler
Dog
Fred Rohm
511
Square
Leaves
Ligia Montoya
512
Square

7 variations
Leaves
Neal Elias
516
Square
Maple leaf
Neal Elias
517
Square
Clover
Neal Elias
518
Square
Fawn
Giuseppi Baggi
519
Triangle
2 units
Parakeet
Adolfo Cerceda
520
Square
Two leaves
Neal Elias
521
$ US Dollar Bill
Boy on dolphin
Neal Elias
522
Square
Squaw with papoose
Neal Elias
523
Square
Pot of flowers
Fred Rohm
524
$ US Dollar Bill
Flower with leaves
Neal Elias
525
$ US Dollar Bill
Cats - backyard simphony
Fred Rohm
526
$ US Dollar Bill
Parent and child cranes
Traditional
527
Other shape
With cuts
Stork with baby
Neal Elias
528
Other shape
With cuts

Connected cranes variation
Connected cranes
Traditional
529
Rectangle
With cuts
Mouse
Akira Yoshizawa
532
Square

Also in Akira Yoshizawa Origami - Exhibition Catalog by Akira Yoshizawa
Also in Antologia di Origami Animali by Akira Yoshizawa
Also in Origami Museum 1: Animals by Akira Yoshizawa
Also in Origami USA Convention 2000
Also in ORU Magazine 11
Also in Sosaku Origami (Creative Origami) by Akira Yoshizawa
Bird
Akira Yoshizawa
533
Triangle
Swan
Akira Yoshizawa
534
Square
Fox head
Akira Yoshizawa
535
Square

2 variations
Indian in canoe
Neal Elias
536
Square
Lovers in boat
Neal Elias
537
Square
Tiger
Neal Elias
538
Square
With cuts
Owl and the pussycat
Samuel L. Randlett
539
Square
Llama
George Rhoads
540
Other shape
Rabbit
Samuel L. Randlett
542
Square
Hippopotamus
Fred Rohm
543
Square
Rickshaw
Fred Rohm
545
Rectangle - 1X2
2 units
Coolie
Fred Rohm
546
Square
Cringy
Fred Rohm
547
Square
Aunt Jemima
Neal Elias
548
Square
With cuts
Bowler
Neal Elias
549
Square
With cuts
The British are coming!
Neal Elias
550
Square
With cuts
Pigeon
Adolfo Cerceda
551
Square
Butterfly
Jessie Seto
552
Square
Flamenco
Neal Elias
553
Rectangle - 1X2
Scout emblem
Fred Rohm
554
Square
Bear
Fred Rohm
555
Square
Seal with a ball
Neal Elias
557
Other shape
With cuts
Cat
Fred Rohm
558
Square
Cat
Fred Rohm
559
Square
See Saw
Fred Rohm
560
Square
Flying duck
Adolfo Cerceda
561
Square
Frigid fantasy
Neal Elias
562
Square

Seal - polar bear and 2 penguins
Hat with 2 seals
John M. Nordquist
563
Square
With cuts
Japanese hat
John M. Nordquist
564
Rectangle
With cuts

With crane and tortoise
Santa Claus
Florence Temko
565
Square
Witch and cat on broom
Fred Rohm
566
Square
Cats - togetherness
Fred Rohm
567
Square

Also in BOS Convention 1980 Autumn
Also in BOS Magazine 86
Also in Origami from Around the World by Vicente Palacios
Also in Pajarita Magazine 38
Also in The World of Fred Rohm 49 by Peter Ford
5 animals

Mammals

Fred Rohm
568
Square
Birdhouse
Neal Elias
569
Square
Two penguins
Neal Elias
570
Square
Noah's ark
Neal Elias
571
Rectangle - 1X2
Louise
Neal Elias
572
Rectangle - 1X2
Bear
Neal Elias
573
Rectangle - 1X2
Seal with a cube
Fred Rohm
574
Rectangle - 1X3

Also in Secrets of Origami by Robert Harbin
Also in The World of Fred Rohm 49 by Peter Ford

Folded by Rui Roda
Penguin family
Neal Elias
575
Rectangle - 1X2
Girl catching hen
Neal Elias
576
Square
Mother and child
Neal Elias
577
Square
Girl and dog
Neal Elias
578
Square
With cuts
Babysitter
Neal Elias
579
Square
Nun with cross
Fred Rohm
580
Rectangle - 1X2
Bird bath

Birds

Neal Elias
581
Square

Also in Secrets of Origami by Robert Harbin

Folded by Ira Fine
Puss in boots
Neal Elias
582
Square
Piglet
George Rhoads
583
Rectangle
Beetle
Richard Trewey
584
Other shape
With cuts
Tree
Ligia Montoya
585
Square
Tree - snow covered
Ligia Montoya
586
Square
Bird family

Birds

Neal Elias
587
Rectangle - 1X2
Puss in boots
Fred Rohm
588
Square
Butterfly
Richard Trewey
589
Rectangle
Moth
Richard Trewey
590
Square
With cuts
Bat
George Rhoads
591
Square
Deer
Fred Rohm
592
Square
With cuts
Doe
Fred Rohm
593
Square
With cuts
Hatching chick
Neal Elias
594
Square

Also in Neal Elias - Miscellaneous Folds - II by Dave Venables
Also in Origami 4 by Robert Harbin
Bathing beauty
Neal Elias
595
Square
Whale
Robert Neale
596
Square
With cuts
Cross on pedestal
Neal Elias
597
Square
Peacock
Neal Elias
598
Rectangle
Narcissus
Neal Elias
599
Rectangle
Jackstone
Jack J. Skillman
600
Square

Also in BOS Magazine 204
Also in Origami 2 by Robert Harbin
Also in Quadrato Magico Magazine 111
Also in The Origamian - Vol.05 1

Folded by Marina Kosareva
Dwarf
Harry Weiss
602
Rectangle - 1X2
Omar Khayyam - Praying man
Neal Elias
603
Square

Also in The Flapping Bird by Samuel L. Randlett

Folded by Rui Roda
Llama
Neal Elias
604
Rectangle - 1X2
Dog
George Rhoads
605
Rectangle - 1X4
Fox
Adolfo Cerceda
606
Square
Pow wow
Neal Elias
607
Square
Armadillo
George Rhoads
608
Rectangle - 1X2
Ostrich
George Rhoads
609
Square
Turtle
Adolfo Cerceda
610
Rectangle
Fardel bearer
George Rhoads
611
Square

Also in The Best of Origami by Samuel L. Randlett

Folded by Andre van Meulebrouck
Goose
Ligia Montoya
612
Triangle
Bird

Birds

Ligia Montoya
613
Triangle
Japanese pheasant
Robert Harbin
614
Square
Japanese pheasant II
Robert Harbin
615
Square
Granny
Neal Elias
616
Square
Granny and cat
Neal Elias
617
Square
Santa
Fred Rohm
618
Square

Also in Neal Elias - Miscellaneous Folds - I by Dave Venables
Also in The World of Fred Rohm 50 by Peter Ford
Also in Secrets of Origami by Robert Harbin

Folded by Andre van Meulebrouck
Southern belle
Neal Elias
619
Square
Chick
Richard Trewey
620
Square
With cuts
Eagle
Neal Elias
621
Square
French legionnaire
Harry Weiss
622
Square
Angry goose
Fred Rohm
624
Square
Chick
Fred Rohm
625
Square
Dog
Fred Rohm
626
Square
Scottie
Fred Rohm
627
Square
Turkey
Fred Rohm
628
Square
Gardener with wheelbarrow
Fred Rohm
629
Square
Hummingbird
Ligia Montoya
631
Square
Insect
Ligia Montoya
632
Square
Dino
Ligia Montoya
633
Square
With cuts
Angel
Neal Elias
634
Square

Also in Neal Elias - Miscellaneous Folds - I by Dave Venables
Also in The Flapping Bird by Samuel L. Randlett
Also in Angel Origami by Nick Robinson
Gorilla
Neal Elias
635
Rectangle - 1X2
Snake charmer
Neal Elias
636
Rectangle - 1X2
The Waltz
Neal Elias
637
Rectangle - 1X2
Peacock
Richard Trewey
638
Square
With cuts
Sheep
Richard Trewey
639
Square
Sniffy and fireplug
Neal Elias
640
Square

Dog and fire hydrant
Dancing Cossack
Neal Elias
641
Rectangle - 1X2
Come and get it
Neal Elias
642
Rectangle - 1X2
Rabbit
Fred Rohm
643
Rectangle - 1X2
Boston bull
Fred Rohm
644
Rectangle - 1X2
Doghouse
Fred Rohm
645
Rectangle - 1X3
Lion
Fred Rohm
647
Square
March hare
Neal Elias
648
Square
Tortoise and hare
Fred Rohm
649
Other shape
Birds in tree
Neal Elias
650
Square
Johan and the whale
Neal Elias
651
Square
With cuts
Mermaid
Neal Elias
652
Square
With cuts
Mountain goat
Fred Rohm
653
Rectangle - 1X2
Beetle
Fred Rohm
654
Square
With cuts
Aladdin's lamp
Neal Elias
655
Rectangle - 1X2
With cuts
Mermaid II
Neal Elias
656
Square
With cuts
Miladies bath II
Neal Elias
657
Square
Mermaid III
Neal Elias
658
Diamond
Kangaroo
Neal Elias
659
Square
Dog
Harry Weiss
660
Square
Robin
Fred Rohm
661
Square
Boy on dolphin II
Neal Elias
662
Square
Angel
Neal Elias
663
Rectangle - 1X2
Buddha
Neal Elias
664
Square
Moon
John M. Nordquist
665
Square
Geisha with sinshade
Neal Elias
666
Diamond

Using a toothpick for the umbrella handle
Parrot on a perch
Neal Elias
667
Rectangle - 1X3
Star
Richard Trewey
668
Square
Polar bear
Richard Trewey
669
Square
Dachshund
Neal Elias
670
Rectangle
How about some service
Neal Elias
671
Square
Piggy back
Neal Elias
672
Square
Ballerina IV
Neal Elias
673
Square
Babe in arms
Neal Elias
674
Square
Duck
George Rhoads
675
Square
Horrors
Robert Neale
676
Square
Flower in planter
Fred Rohm
677
Rectangle
Saint George
Neal Elias
679
Square
Dragon
Neal Elias
680
Square
Casey at the bat
Neal Elias
681
Square
Catcher
Neal Elias
682
Square
Penguin
Robert Harbin
683
Square
Penguin
Neal Elias
684
Square
Pole vaulter
Harry Weiss
685
Square
Box
Fred Rohm
686
Square
Jack in the box
Fred Rohm
687
Square
Bunny bill
Robert Neale
688
$ US Dollar Bill

Also in Bunny Bill by Robert Neale
Also in Folding Money Fooling by Robert Neale

Jumping rabbit in hat

Folded by William Sattler
Jack in the box
Neal Elias
689
Rectangle - Long strip

Snake in a box
Box
Neal Elias
690
Rectangle
Santa trims a tree
Fred Rohm
691
Square
Lark
Carol Vidican
693
Square

Flapping bird
Flying fish
Akira Yoshizawa
694
Other shape
F-103
Fred Rohm
695
Square
Box
Fred Rohm
696
Square
With cuts
Jack in the box
Fred Rohm
697
Rectangle
With cuts
Box
Fred Rohm
698
Square
Jack in the box
Fred Rohm
699
Rectangle
Puzzle box
Fred Rohm
700
Square
Rabbit in hat
Fred Rohm
701
Rectangle - 1X4
Jack in the box
Fred Rohm
702
Square
Easter basket
Neal Elias
704
Other shape

Rabbit in a basket
Crucifix
Neal Elias
705
Square
Boy on ostrich
Robert Harbin
707
Square
Lazy penguin
Harry Weiss
708
Square
Elephant
Harry Weiss
709
Square
Table
Fred Rohm
710
Square
Valentine box
Florence Temko
711
Square
Siesta - man with cactus
Neal Elias
712
Square

Also in BOS Magazine 219
Also in Origami 4 by Robert Harbin
Bear
Harry Weiss
713
Square
Sister of charity
Harry Weiss
714
Rectangle
Roadrunner

Birds - Cuculiformes - Roadrunner

Harry Weiss
715
Square
Cat
Harry Weiss
716
Square
Bear
Fred Rohm
717
Pentagon
Bear
Fred Rohm
718
Square
Heart
Ligia Montoya
720
Triangle
Heart
Ligia Montoya
720
Rectangle - 1X2
Heart
Ligia Montoya
720
Rectangle
Heart
Ligia Montoya
721
Rectangle - Long strip
Heart
Ligia Montoya
721
Square
Nun
Neal Elias
722
Square
Dog in doghouse - housing shortage
Neal Elias
723
Square
Acrobat
Neal Elias
724
Rectangle - 1X2
Sleeping it off - man and bottle
Neal Elias
725
Square

Also in Neal Elias - Miscellaneous Folds - I by Dave Venables

Folded by Rui Roda
Mary and child
Neal Elias
726
Square
Cat
Neal Elias
727
Square
With cuts
Centaur
Neal Elias
728
Square
Boy on a rocking horse
Neal Elias
730
Square

Also in Neal Elias Selected Works 1964-1973 by Dave Venables
Boy on a rocking horse
Fred Rohm
732
Square
Dish
Fred Rohm
734
Hexagon
Dish
Fred Rohm
735
Square
Sphinx and pyramid
Neal Elias
736
Rectangle - 1X2
With cuts
Boy on ostrich
Neal Elias
737
Square
Lion
Harry Weiss
738
Square
Michaelangelo's Pieta
Neal Elias
739
Square

Also in The Flapping Bird by Samuel L. Randlett

Folded by Rui Roda
Bird feeding young
Fred Rohm
740
Square
Griffin
Neal Elias
741
Square
Dragon
Robert Neale
742
Square

Also in Origami Monsters and Mythical Beings by Jay Ansill
Also in Origami Sourcebook by Jay Ansill
Also in Origami USA Convention 1983
Also in OrigaMIT 2012 Convention Book
Also in Pajarita Especial 1985 - Pliar 85
Also in The Flapping Bird by Samuel L. Randlett
Aquarius
Neal Elias
743
Square
Sleeping it off 2 - man and bottle
Neal Elias
744
Square
Dragonfly
Patricia Crawford
745
Square
Jack in the box
Robert Neale
746
Rectangle
Chess set
Neal Elias
747
Triangle
Donkey carrying a pack
Neal Elias
749
Square
Cat and mouse - surprise
Fred Rohm
750
Square

Also in BOS Convention 1982 Spring
Also in BOS Convention 2012 Spring
Also in Pajarita Magazine 124
Also in The World of Fred Rohm 50 by Peter Ford

Folded by Yara Yagi
Snake charmer I
Fred Rohm
751
Square
Snake charmer II
Fred Rohm
752
Square

Also in BOS Convention 2012 Spring
Also in Origami 2 by Robert Harbin
Also in The World of Fred Rohm 50 by Peter Ford
Zombie (floating ball)
Fred Rohm
753
Square
Terrier
Neal Elias
755
Square
Dog - sitting
Neal Elias
756
Square
Pegasus
Neal Elias
757
Square
Owl
Akira Yoshizawa
758
Square
Rabbit
Akira Yoshizawa
759
Square
Chick
Akira Yoshizawa
760
Square

Peep
Palm tree
Neal Elias
761
Square
2 units
Cat
Patricia Crawford
762
Square

Also in BOS Magazine 297
Also in Creative Life with Creative Origami 3 by Toshie Takahama
Also in Origami 2 by Robert Harbin
Dog in doghouse
Patricia Crawford
763
Square

Also in Origami by the Great American Masters by Marc Kirschenbaum
Child and dog
Patricia Crawford
764
Square
Nursing cub
Patricia Crawford
765
Square
Two penguins
Robert Harbin
766
Square

Also in Origami 1 by Robert Harbin

Folded by Lou Pearson
Shrine
Neal Elias
767
Rectangle - 1X2
Motor boat with person
Robert Harbin
768
Square

2 variations
Bird feeding chick
Neal Elias
769
Square
Fighting cock
Adolfo Cerceda
770
Square
2 units
Ball and pin
Neal Elias
771
$ US Dollar Bill
Axe
Neal Elias
772
$ US Dollar Bill
Valentine
Neal Elias
773
Rectangle
Horse
Fred Rohm
774
Square
With cuts
Camel
George Rhoads
775
Rectangle
Dachshund
Harry Weiss
776
Diamond
Gourami
George Rhoads
777
Square
Dog
Eduardo Galvez
778
Rectangle - Long strip
Mermaid
Patricia Crawford
779
Square
Kangaroo
Patricia Crawford
780
Square
Infant
Patricia Crawford
781
Square
Red riding hood
Neal Elias
782
Square
Spark plug
Neal Elias
783
$ US Dollar Bill
Flying carpet
Fred Rohm
784
Square
Mermaid on rock
Fred Rohm
785
Rectangle - 1X2
Magic box
Robert Neale
786
Rectangle
Mermaid on rock
Neal Elias
787
Rectangle - 1X2
Bug
James M. Sakoda
789
Square
Elephant
James M. Sakoda
790
Square
Seated priest
James M. Sakoda
791
Square
Buxom ballerina
James M. Sakoda
792
Square
Tree - snow covered
Emmanuel Mooser
793
Square
Reindeer
Emmanuel Mooser
794
Square
With cuts
Christmas tree
Neal Elias
795
$ US Dollar Bill
Bow tie
Neal Elias
796
$ US Dollar Bill
Shirt
Neal Elias
797
$ US Dollar Bill
Ring
Neal Elias
798
$ US Dollar Bill
Purse

Objects - Wallets

Neal Elias
799
$ US Dollar Bill
Cardigan
Neal Elias
800
$ US Dollar Bill
Bowtie II
Neal Elias
801
$ US Dollar Bill
Elephant
Neal Elias
802
$ US Dollar Bill

Also in Neal Elias - Miscellaneous Folds - I by Dave Venables
Also in Origami USA Convention 1983
Also in The Buck Book by Anne Akers Johnson
Monkey on a stick
Robert Harbin
803
Rectangle - Long strip
Church
Neal Elias
804
$ US Dollar Bill
Christmas star
Ligia Montoya
805
Square
2 units
Rose croix
Fred Rohm
806
Square
Dragon
Emmanuel Mooser
807
Rectangle - Long strip
Star
Robert Neale
808
Square
Bird on rock

Birds

Fred Rohm
809
Square
Buddha at pool
Fred Rohm
810
Square
Bear
Emmanuel Mooser
811
Square
Witch
Emmanuel Mooser
812
Rectangle - 1X2
Priest on pedestal
Fred Rohm
813
Square
Crucifix
Neal Elias
815
Square
2 units

Also in BOS Convention 1984 Autumn
Also in BOS Convention 1990 Spring
Also in BOS Magazine 111

Folded by Rui Roda
Xmas star
Fred Rohm
816
Square
Tulip
Eric Kenneway
817
Square
Base for crucifix
Neal Elias
818
Rectangle
Buddha shrine
Neal Elias
819
Rectangle - 1X2

Also in Neal Elias - Miscellaneous Folds - II by Dave Venables
Also in Origami 4 by Robert Harbin

Folded by Gabriel Vong
Calla lily in vase
Fred Rohm
820
Square
Star
Fred Rohm
821
Square
Sunburst Buddha
Neal Elias
822
Rectangle - 1X2
Buddha on taboret
Neal Elias
823
Rectangle
Peacock
Neal Elias
824
Square
Nun
Toshio Chino
825
Square
Rabbit
Toshio Chino
826
Square
Water lily
Toshio Chino
827
Square
Boat
Toshio Chino
828
Square
2 units
Bird
Toshio Chino
829
Square
Eagle
Toshio Chino
830
Square
Dog
Toshio Chino
831
Square
Box
Toshio Chino
832
Square
Box
Toshio Chino
832
Square
Angel
Neal Elias
833
Square
Wheelbarrow
Neal Elias
834
Square
Knight
Fred Rohm
835
Square
Twist dancers
Emmanuel Mooser
836
Square
With cuts
Swiss soldier
Emmanuel Mooser
837
Square
With cuts
Flexagon
Giuseppi Baggi
838
Square
Skier
Robert Harbin
839
Rectangle - Long strip
Knight
Neal Elias
840
Square

Also in Origami 2 by Robert Harbin
Margot Fonteyn
Neal Elias
841
Square
Batman
Neal Elias
842
Square
Brooch
Robert Neale
843
Square
Turkey
Neal Elias
844
Square
Ostrich
Neal Elias
845
Square
Bird

Birds

Neal Elias
846
Square
Squirrel
Neal Elias
847
Square
Mask
George Rhoads
848
Square
Star I
Neal Elias
849
Square
Star II
Neal Elias
850
Square
Star III
Neal Elias
851
Square
Star IV
Neal Elias
852
Square
Butterfly
Neal Elias
853
$ US Dollar Bill
Ornament
Robert Neale
854
Square
6 units
Panda
Neal Elias
855
Square
Cinderella
Fred Rohm
856
Square
Star 3D
Endla Saar
857
Square
Bowl - 3D
Fred Rohm
858
Square
Purse

Objects - Wallets

John M. Nordquist
859
Square
Car
Iris Walker
860
Square

Also in BOS Convention 2012 Spring
Elephant
Fred Rohm
861
$ US Dollar Bill
Anna Held
Neal Elias
862
Square
Bath tub
Neal Elias
863
Square
Ornament
Samuel L. Randlett
864
Square
Twined snakes
Robert Neale
867
Square
Matador
Neal Elias
868
Square
Ornament
Samuel L. Randlett
870
Square

With variations
Ben Hur
Neal Elias
873
Square

Riding in a chariot
Bull
Neal Elias
874
Square
Matador II
Neal Elias
875
Square
Bird

Birds

Fred Rohm
876
Square
Horse and chariot
Fred Rohm
877
Square
Horse and chariot
Neal Elias
878
Square
Angel
Neal Elias
879
Square
Parrot
Trev Hatchett
880
Square
Hummingbird
Tim Ward
881
Square
Man reading paper
John Williams
882
Square
Mother hubbard
Eric Kenneway
883
Square

Also in Origami 1 by Robert Harbin

Folded by Rui Roda
Purse

Objects - Wallets

Samuel L. Randlett
884
Square
Purse

Objects - Wallets

Samuel L. Randlett
885
Square
Ornament
Robert Neale
886
Square
Ornament
Samuel L. Randlett
887
Square
Purse

Objects - Wallets

Samuel L. Randlett
888
Square
Malayan money fold

Objects - Wallets

Robert Harbin
889
Square
Beetle
Tim Ward
890
Square
Man on horse
Trev Hatchett
891
Square
Duchess of Alba
Neal Elias
892
Square
With cuts
Oberon
Neal Elias
893
Square

Also in Drawing Origami Vol 1. Secret Code Gift by Halle, Pere Olivella and Nicolas Terry
Also in Neal Elias - Miscellaneous Folds - II by Dave Venables
Also in Origami 4 by Robert Harbin
Also in Origami Inspired by Shakespeare
Hindman angel
Raymond Kane McLain
895
Square
Boating
Fred Rohm
899
Square
Fisherman
Fred Rohm
900
Square
Empress
Robert Harbin
901
Square
Emperor
Robert Harbin
902
Square
Fish
Samuel L. Randlett
903
Square
Changing tubes
Robert Neale
904
Other shape
Woodcutters wife
Eric Kenneway
905
Square
Shall we dance
Neal Elias
906
Square

Dancing couple
Lush
Neal Elias
907
Square
Frank Harris
Neal Elias
908
Square
Rabbit
Neal Elias
909
$ US Dollar Bill
Ornament (3D)
Fred Rohm
910
Square
Pearl Oyster
Neal Elias
911
Rectangle - 1X3
Bull
John Williams
912
Square
Batman
Iris Walker
913
Square
Swan - inflatable
Patricia Crawford
914
Square
Drinking bird
Eric Kenneway
915
Square

Also in Fun Origami World by Makoto Yamaguchi
Also in NOA Kessakusen
Also in NOA Magazine 10
Also in NOA Magazine 146
Also in Origami - Magic Square by Sergei Afonkin
Also in Origami in England by Sergei Afonkin
Also in ORU Magazine 12
and in other sources...

Folded by Yara Yagi
Dinosaur
Trev Hatchett
916
Square
Scotsman
Tim Ward
917
Square
Buddha - seated
Fred Rohm
918
Square
Macaw
Fred Rohm
919
Square
Creche
Neal Elias
920
Square
2 units
Santa Claus on the roof
Iris Walker
922
Square

Also in BOS Convention 2012 Autumn
Also in BOS Convention 2014 Spring
Also in Origami 3 by Robert Harbin
Dagger
Robert Harbin
923
Square
Stopped raining
Noel Stanton
924
Square

2 people with umbrella
Panda
Robert Harbin
925
Rectangle - 1X2

Also in BOS Convention 2012 Spring
Panda
Neal Elias
926
Rectangle - 1X2
Buddha
Neal Elias
927
Rectangle
Turtle
Neal Elias
928
Square
Buddha on turtle
Neal Elias
929
Rectangle - 1X3

Also in Origami 4 by Robert Harbin

Folded by Gabriel Vong
Dress for Betty
Neal Elias
934
$ US Dollar Bill
To Calvary (Jesus carrying cross)
Neal Elias
935
Rectangle - 1X3
Japanese girl
Fred Rohm
942
Square
Rodin's Thinker
Neal Elias
943
Rectangle - 1X2
Jonah and the Whale
Neal Elias
944
Square

Also in MFPP 1995 Convention
Also in Neal Elias - Miscellaneous Folds - II by Dave Venables
Also in Origami 3 by Robert Harbin

Folded by Yara Yagi
On the dole
Eric Kenneway
945
Square

Also in BOS Convention 2012 Spring
Also in BOS Magazine 229

Folded by Rui Roda
Bra
Neal Elias
946
Square
Steaming teapot
Neal Elias
947
Square
Rabbit
Fred Rohm
948
$ US Dollar Bill
Camel
Fred Rohm
949
$ US Dollar Bill

Also in BOS Magazine 152
Also in The World of Fred Rohm 51 by Peter Ford

Folded by Rui Roda
Elf on toadstool
Noel Stanton
950
Square
Panda
Neal Elias
951
Square
Mother superior
Robert Harbin
952
Square
Novice
Robert Harbin
953
Square
Penitent
Robert Harbin
954
Square
Pig
Neal Elias
955
Square
Stag
Fred Rohm
956
$ US Dollar Bill

Also in Making More with Money
Also in Origami USA Convention 1981
Also in Origami USA Convention 1983
Also in Origami USA Convention 1992
Also in The Origamian - Vol.09 1
Also in The World of Fred Rohm 51 by Peter Ford
and in other sources...

Folded by Michele Rousseau
Dutch girl
Fred Rohm
958
$ US Dollar Bill

Also in Origami from Around the World by Vicente Palacios
Also in Origami USA Convention 1994
Also in The World of Fred Rohm 51 by Peter Ford

Folded by Rui Roda
Panda
Neal Elias
959
Square
Panda
Neal Elias
960
Rectangle - 1X2
Train
Emmanuel Mooser
961
Rectangle - 1X2

Also in CDO convention 2013
Also in Colombian Convention 2013
Also in Origami Design Secrets - 2nd edition by Robert J. Lang
Also in Origami USA Convention 2013

Crease pattern

Folded by Grzegorz Bubniak
Dump truck
Neal Elias
963
Square
Eagle on star
Fred Rohm
964
Square
Honey bear
Noel Stanton
965
Square
Granny in the park
Neal Elias
966
Square
Donkey
Raymond Kane McLain
967
Square

Democratic Donkey
Elephant
Tim Ward and Trev Hatchett
970
Square
Cannon
Iris Walker
971
Square
Rose
Neal Elias
972
Square
Knight
Noel Stanton
973
Square
Knight
Neal Elias
974
Square
Japanese with fan
Neal Elias
975
Square
Japanese with fan II
Neal Elias
976
Square
Rickshaw and Coolie
Neal Elias
977
Square

Also in Neal Elias Selected Works 1964-1973 by Dave Venables
Also in Neal Elias Selected Works 1964-1973 by Dave Venables

Requires extra coloring of the paper for best effect
Horse
Neal Elias
978
Rectangle - 1X2
Horse and cart
Neal Elias
979
Rectangle
Girl wading
Eric Kenneway
981
Square
Bald eagle
Fred Rohm
982
Square

Also in Origami by the Great American Masters by Marc Kirschenbaum
Also in Origami USA Convention 1990
Also in The Best of Annual Collections 1981-1995
Also in The World of Fred Rohm 51 by Peter Ford
Palanquin
Neal Elias
983
Square
Small girl and her wagon
Neal Elias
984
Rectangle
Mary and child II
Neal Elias
986
Square

Also in Neal Elias - Miscellaneous Folds - I by Dave Venables
Ben Hur
Neal Elias
988
Rectangle

With chariot and horse
Gemini
Neal Elias
991
Rectangle
Girl at bedtime
Eric Kenneway
992
Square
Grand piano
Neal Elias
993
Rectangle - 1X2
Beethoven plays Beethoven
Neal Elias
995
Rectangle
Beethoven plays Beethoven II
Neal Elias
1000
Rectangle
Piano - upright
Neal Elias
1002
Rectangle

Also in Neal Elias - Furniture by Dave Venables
Also in Neal Elias - Miscellaneous Folds - I by Dave Venables

Folded by Francesco Mancini
Armchair
Neal Elias
1004
Rectangle
Crucifix
Neal Elias
1005
Rectangle - 1X2
Geisha
Eric Kenneway
1007
Square
Strawberry
Rae Cooker
1008
Square

Also in NOA Magazine 185
Also in Action Origami by Rick Beech
Also in Das Diagramm 26
Also in Origami - A Complete Step-by-Step Guide by Paul Jackson
Also in Origami - The Complete Guide to the Art of Paperfolding by Rick Beech
Also in Origami de Christmas 2
Also in Origami Journal (Russian) 22 2000 2
and in other sources...
Starpless bra
Rae Cooker
1009
Square
Tree
Rae Cooker
1010
Square
Christmas tree
Rae Cooker
1011
Square
7 units
Pterodactyl
Alice Gray
1012
Square
Serpent
Alice Gray
1013
Rectangle - 1X3
Christmas ornament
Alice Gray
1014
Square
2 units
Iris
Alice Gray
1015
Hexagon
Humpty Dumpty
Noel Stanton
1016
Square
Hammond organ
Neal Elias
1017
Rectangle
Cat and mouse
Noel Stanton
1019
Square
Ornament
Fred Rohm
1020
Hexagon
Mother and child
Neal Elias
1021
Square
Dog
Fred Rohm
1022
Square
Indian in canoe
Neal Elias
1023
Rectangle - 1X3
Woman
Neal Elias
1024
Square
Senora
Neal Elias
1025
Square
Shrine
Neal Elias
1026
Rectangle - 1X2
Sofa
Neal Elias
1028
Square
Bed
Neal Elias
1029
Rectangle
Crib
Neal Elias
1030
Rectangle
Love seat
Neal Elias
1031
Rectangle
Overstuffed sofa
Neal Elias
1033
Rectangle
Wingback sofa
Neal Elias
1034
Rectangle
Prom date
Neal Elias
1035
Rectangle
Bed rest
Neal Elias
1036
Rectangle
Exotic dancer
Neal Elias
1038
Rectangle
Peasant girl
Neal Elias
1039
Square
Mermaid
Neal Elias
1040
Rectangle
Adam
Neal Elias
1041
Rectangle
Eve
Neal Elias
1042
Rectangle
Elvis Presley (guitarist)
Neal Elias
1043
Rectangle
Knight on pedestal
Neal Elias
1044
Rectangle - 1X2
Michaelangelo's Pieta
Neal Elias
1045
Rectangle - 1X3
Nureyev and Fonteyn
Neal Elias
1047
Rectangle
Owl
Robert Neale
1048
Rectangle - 1X2

Also in Creased Magazine 11
Also in The Flapping Bird by Samuel L. Randlett
Also in World's Best Origami by Nick Robinson
Also in Zoogami by Gay Merrill Gross
Snake charmer
Neal Elias
1049
Rectangle - 1X3
Rodin's Thinker II
Neal Elias
1051
Rectangle
Bass player
Neal Elias
1052
Rectangle
Man on armchair
Neal Elias
1053
Rectangle - 1X3
Man in tub
Neal Elias
1055
Rectangle - 1X3
Boy on motorscooter
Neal Elias
1056
Rectangle
Llopio's moment of truth
Neal Elias
1057
Rectangle
The lovers
Neal Elias
1059
Rectangle
Rodeo
Neal Elias
1060
Rectangle
Valentine
Unknown
1061
Square
Rocking chair
Neal Elias
1062
Rectangle
Cradle
Neal Elias
1063
Rectangle
Ghostly coffin
Noel Stanton
1064
Square
Rabbit on block II
Fred Rohm
1065
Rectangle - 1X2
The Last Waltz
Neal Elias
1066
Rectangle - 1X3

Also in Neal Elias Selected Works 1964-1973 by Dave Venables
Also in Origami USA Convention 1998
Also in ORU Magazine 12
Also in Pajarita Extra 1985 - Museo Imaginario
Also in Pajarita Magazine 92
Adolf Hitler
Eric Kenneway
1068
Rectangle - 1X2

Also in Folding Faces by Eric Kenneway
Also in ORU Magazine 2

Folded by Rui Roda
Stalin
Eric Kenneway
1069
Rectangle - 1X2

Also in Folding Faces by Eric Kenneway

Folded by Rui Roda
Rodin's Thinker III
Neal Elias
1070
Square

Also in Neal Elias Selected Works 1964-1973 by Dave Venables
Rabbit in hat
Neal Elias
1071
Rectangle
Straight back chair
Neal Elias
1073
Rectangle
Hand bag
Toshie Takahama
1074
Square
Baby buggy
Raymond Kane McLain
1075
Rectangle
Mother love
Neal Elias
1076
Rectangle - 1X3
Turtle
Fred Rohm
1077
Square
Angel
Neal Elias
1078
Square

Also in BOS Convention 1980 Autumn
Also in BOS Magazine 236
Also in Der Falter 46
Also in Neal Elias - Miscellaneous Folds - II by Dave Venables
Also in World's Best Origami by Nick Robinson
and in other sources...
Santa mask
Eric Bird
1079
Square
Sphinx
Giuseppi Baggi
1080
Rectangle - 1X2
Hamster
Robert Neale
1081
Square
Union Jack
Iris Walker
1082
Square
Bracelet
Iris Walker
1083
Rectangle - 1X4
Xmas wreath
Iris Walker
1084
Rectangle - Long strip
Yo yo ornament
Iris Walker
1085
Rectangle
Flower
Iris Walker
1086
Rectangle
Last supper
Neal Elias
1087
Rectangle
4 units
Santa Claus in chimney
Robert Harbin
1091
Rectangle - 1X2

Also in BOS Magazine 263
Also in Creative Life with Creative Origami 3 by Toshie Takahama
Kangaroo
Eduardo Galvez
1092
Square
Dog in box
Fred Rohm
1093
Rectangle - 1X2
Singing nun
Neal Elias
1094
Square
Bad guy
Eric Kenneway
1095
Square
Girl with heart shaped fanny
Neal Elias
1096
Square
Llopio's moment of truth II
Neal Elias
1097
Rectangle - 1X3

Also in BOS Magazine 100
Also in Neal Elias Selected Works 1964-1973 by Dave Venables
Also in NOA Magazine 204
Whale
Neal Elias
1099
Square
Buddha and tree
Neal Elias
1100
Rectangle - 1X2
Horse and buggy
Neal Elias
1102
Rectangle
Fly united

Birds

Fred Rohm
1103
Square
Fly united

Birds

Neal Elias
1103
Square
Man and bench
Fred Rohm
1104
Square
Pegasus
Fred Rohm
1105
Square
Goldfish
Samuel L. Randlett
1106
Square
Albert Schweitzer
Eric Kenneway
1107
Square

Also in BOS Convention 2010
Also in Folding Faces by Eric Kenneway
Also in Fun Origami World by Makoto Yamaguchi
Also in Neal Elias - Faces and Busts by Dave Venables
Also in NOA Magazine 90
Also in Origami - Magic Square by Sergei Afonkin
Also in Origami in England by Sergei Afonkin
and in other sources...
Envelope
Lewis Simon
1108
Rectangle
Skier
Robert Harbin
1109
Square

Also in Fun Origami World by Makoto Yamaguchi
Also in NOA Magazine 462
Also in Origami 2 by Robert Harbin
Also in ORU Magazine 12
Beethoven II
Neal Elias
1110
Rectangle
Andres Segovia
Neal Elias
1111
Rectangle
Male nude
Neal Elias
1113
Rectangle
Female nude
Neal Elias
1114
Rectangle
Temptation of Eve
Neal Elias
1115
Rectangle - 1X2
Temptation of Adam
Neal Elias
1116
Rectangle
Athlete
Neal Elias
1117
Rectangle - 1X2
Block
M. Ho
1118
Square
2 units
Dog
Akira Yoshizawa
1119
Square
Stag head in shadow box
Fred Rohm
1120
$ US Dollar Bill
Stag
Neal Elias
1121
Rectangle

Also in Neal Elias Selected Works 1964-1973 by Dave Venables

Folded by Pascal Durrens
Lion
Neal Elias
1123
Rectangle - 1X2
Horse
Neal Elias
1124
Rectangle - 1X2
Horse
Neal Elias
1124
Rectangle - 1X2
Elephant
Fred Rohm
1125
Square
Cow
Neal Elias
1126
Rectangle
Vase of rose buds
Fred Rohm
1128
Square
Dromedary
Neal Elias
1129
Rectangle - 1X2
Magi on camel
Neal Elias
1131
Rectangle - 1X4
Phantom of the opera
Eric Kenneway
1132
Square

Also in Folding Faces by Eric Kenneway

Folded by Rui Roda
Giraffe
Neal Elias
1133
Rectangle - 1X2
Nureyev and Fonteyn II
Neal Elias
1135
Rectangle

Also in BOS Convention 1990 Spring
Also in Neal Elias - Miscellaneous Folds - II by Dave Venables

Folded by Giovanna
Elephant
Neal Elias
1137
Rectangle - 1X2

Also in Neal Elias - Miscellaneous Folds - I by Dave Venables
Also in Origami 4 by Robert Harbin
Abraham Lincoln
Neal Elias
1139
Rectangle - 1X2
Lady on sofa
Neal Elias
1139
Square
Donkey
Neal Elias
1141
Rectangle - 1X2
Bear
Neal Elias
1142
Rectangle - 1X2
Lion
Neal Elias
1144
Rectangle - 1X2
Elvis Presley 2
Neal Elias
1145
Rectangle
Lady Godiva
Neal Elias
1147
Rectangle - 1X4
Stooping man
Neal Elias
1148
Rectangle
Donkey with panniers
Neal Elias
1149
Rectangle - 1X4
Hoi Toi
Neal Elias
1150
Rectangle
Santa Claus
Eric Kenneway
1151
Square

Also in BOS Magazine 133

Requires extra painting of one corner

Folded by Rui Roda
Puppy and slipper
Noel Stanton
1152
Square
Seated girl
Neal Elias
1153
Rectangle
Flexagon
Iris Walker
1155
Rectangle
Star of David
Fred Rohm
1156
Square
Beethoven
Neal Elias
1157
Rectangle - 1X2
Star of David
Fred Rohm
1159
$ US Dollar Bill

Also in Making More with Money
Also in Origami USA Convention 1989
Also in The Paper Magazine 86
Also in The World of Fred Rohm 51 by Peter Ford

Folded by Michele Rousseau
Seated boy
Neal Elias
1160
Square
Dog - nodding
John Smith
1161
Square
2 units
Jonah and the whale
Neal Elias
1162
Rectangle - 1X2
Alligator
Neal Elias
1165
Rectangle - 1X3
Rabbit
Neal Elias
1165
Rectangle - 1X2
Peacock
Neal Elias
1166
Square

Also in BOS Convention 1980 Spring
Also in BOS Convention 1986 Spring
Also in BOS Magazine 214
Also in Neal Elias - Miscellaneous Folds - II by Dave Venables

Folded by Giovanna
Flaping bird
John Smith
1169
Square
Andres Segovia II
Neal Elias
1170
Rectangle - 1X3

Also in Neal Elias Selected Works 1964-1973 by Dave Venables
Turkey
Kosho Uchiyama
1173
Square
Bird
Kosho Uchiyama
1174
Square
Madame DuBarry
Neal Elias
1175
Square
Flamenco dancer
Neal Elias
1176
Rectangle
Flamenco dancer II
Neal Elias
1178
Rectangle
Elf house
Ed Sullivan
1179
Square
Elf house with chimney
Neal Elias
1180
Square
Bird house
Neal Elias
1181
Rectangle - 1X2
Santa Claus
Neal Elias
1183
Square
Santa Claus II
Neal Elias
1185
Square

In chimney
Man on chair II
Neal Elias
1187
Rectangle - 1X3
Star of David
Fred Rohm
1189
Rectangle - 1X2
Man in black and white
Neal Elias
1190
Square

Also in Neal Elias Selected Works 1964-1973 by Dave Venables
Also in Neal Elias Selected Works 1964-1973 by Dave Venables

A person wearing a black coat and white pants. Very good
Crucifix
Neal Elias
1191
Rectangle - 1X3

Also in Neal Elias - Miscellaneous Folds - II by Dave Venables

Folded by Giovanna
Harlequin
Neal Elias
1193
Square

Also in Origami by the Great American Masters by Marc Kirschenbaum
Canoe
Neal Elias
1194
Square
The dance
Neal Elias
1195
Rectangle - 1X3
Canoeing
Neal Elias
1197
Rectangle
Bird man
Neal Elias
1199
Rectangle
Goldfish
Dokuohtei Nakano
1200
Triangle
Boy in boots
Neal Elias
1201
Square
And a good judge too
Neal Elias
1202
Square
Bull
Neal Elias
1203
Rectangle - 1X2

Also in Neal Elias Selected Works 1964-1973 by Dave Venables
Also in Origami USA Convention 1982

Folded by Stephane Gerard
Matador
Neal Elias
1205
Other shape
Yehudi Menuhin
Neal Elias
1207
Other shape

Also in BOS Magazine 85
Also in Neal Elias Selected Works 1964-1973 by Dave Venables
Also in BOS Convention 1978 Autumn

From a "T" shaped paper

Folded by Gabriel Vong
Turtle
Patricia Crawford
1209
Square

Also in Origami 3 by Robert Harbin
Also in Origami USA Convention 1981

Folded by Rebecca
Frog on lily pad
Patricia Crawford
1210
Square

Also in Origami 3 by Robert Harbin
Seated boy
Neal Elias
1211
Square
Folk singer
Neal Elias
1212
Other shape
Seated woman
Neal Elias
1213
Rectangle
Matador
Neal Elias
1215
Rectangle - 1X2

Requires extra coloring of the paper for best effect
Windmil
Simon Williams
1216
Square
Mother and young

Birds

Neal Elias
1217
Square

Also in Neal Elias - Miscellaneous Folds - II by Dave Venables

Folded by Yara Yagi
Yacht
Toshie Takahama
1219
Square

Also in 10 Simple Paper-folds by Paul Jackson
Also in BOS Convention 2009 Spring
Also in Classic Origami by Paul Jackson
Also in Creative Life with Creative Origami 1 by Toshie Takahama
Also in NOA Magazine 118
Also in Origami Step by Step by Robert Harbin

Folded by Lou Pearson
King Tut
Ray Bolt
1220
Square
Baby
Eric Kenneway
1221
Square

Also in BOS Magazine 125
Also in Folding Faces by Eric Kenneway

Folded by Rui Roda
Bird
John Montroll
1222
Square
Parthenon
Jim Weinrich
1223
Square

Also in Origami USA Convention 1993
Nureyev and Fonteyn
Neal Elias
1225
Rectangle - 1X3

Also in Neal Elias Selected Works 1964-1973 by Dave Venables
Also in Origami Tanteidan Magazine 95
Also in Quadrato Magico Magazine 113
Patriarch
Neal Elias
1228
Rectangle - 1X2
Dr. Zhivago
Neal Elias
1230
Rectangle - 1X2
Muad'Dib
Neal Elias
1231
Rectangle - 1X2
Sir Walter
Neal Elias
1232
Rectangle - 1X2
Shakespeare
Neal Elias
1233
Rectangle - 1X2

Bard of Avon
Shakespeare II
Neal Elias
1234
Rectangle - 1X2
Man wearing fedora
Neal Elias
1235
Rectangle - 1X3
Prophet
Neal Elias
1236
Rectangle - 1X3
Lord Mora of Islandia
Neal Elias
1237
Rectangle - 1X2
King Arthur
Neal Elias
1239
Rectangle - 1X2
St. Francis of Assisi
Neal Elias
1239
Rectangle - 1X4
Napoleon
Neal Elias
1241
Rectangle - 1X4

Also in Neal Elias - Faces and Busts by Dave Venables
Also in Neal Elias Selected Works 1964-1973 by Dave Venables
Also in BOS Magazine 77

Folded by Gabriel Vong
Penguin
Neal Elias
1244
Rectangle - 1X2
Penguin II
Neal Elias
1245
Square
Shakespeare III
Neal Elias
1246
Rectangle - 1X2
Witch doctor
Neal Elias
1247
Rectangle - 1X2
Genghis Khan
Neal Elias
1248
Rectangle - 1X3
Mad hatter
Neal Elias
1250
Rectangle
Paul bunyan
Neal Elias
1252
Rectangle
New Englander
Neal Elias
1254
Rectangle - 1X2
Robin hood
Neal Elias
1255
Rectangle
Sam Spade
Neal Elias
1256
Rectangle - 1X2
High priest
Neal Elias
1257
Rectangle
Man in turban
Neal Elias
1258
Rectangle - 1X2
Oedipus Rex
Neal Elias
1260
Rectangle - 1X2
Scotsman
Neal Elias
1261
Rectangle - 1X2
Lord high executioner
Neal Elias
1262
Rectangle - 1X2
Foreign legionaire
Neal Elias
1263
Rectangle
Turban II
Neal Elias
1264
Rectangle - 1X3
Stocking cap
Neal Elias
1265
Rectangle - 1X2
Hillbilly woman
Neal Elias
1266
Rectangle - 1X2
Conquistador
Neal Elias
1268
Rectangle - 1X2

Also in Neal Elias - Faces and Busts by Dave Venables
Also in Pajarita Magazine 93
Comedy and tragedy
Neal Elias
1270
Rectangle - 1X2
Jesus Christ Superstar
Neal Elias
1271
Rectangle
Man with bow tie
Neal Elias
1274
Rectangle - 1X3
Hamlet
Neal Elias
1275
Rectangle - 1X3
For Naploeon's Josephine
Neal Elias
1276
Square

Unfinished
Mare and colt
Neal Elias
1277
Rectangle
Flasher
Neal Elias
1279
Square
Sir Lancelot
Neal Elias
1280
Other shape
Centaur
Neal Elias
1281
Rectangle - 1X2

Sagittarius
Horse III
Neal Elias
1282
Rectangle - 1X2
Glouster fisherman
Neal Elias
1283
Rectangle - 1X2

Also in Drawing Origami Vol 1. Secret Code Gift by Halle, Pere Olivella and Nicolas Terry
Also in BOS Convention 1984 Autumn
Also in Neal Elias - Faces and Busts by Dave Venables

Folded by Rui Roda
Fox
Neal Elias
1284
Rectangle - 1X2
Hippopotamus
Neal Elias
1285
Rectangle - 1X2
Water buffalo
Neal Elias
1287
Rectangle - 1X2
School girl
Neal Elias
1289
Square
Ballerina
Neal Elias
1291
Square
Caliph of Baghdad
Neal Elias
1293
Rectangle - 1X2
Dragon
Neal Elias
1294
Rectangle - Long strip
Mask II
Giuseppi Baggi
1295
Square
Mask I
Giuseppi Baggi
1296
Square
Wily Oriental
Neal Elias
1297
Square
Son of man
Neal Elias
1298
Rectangle - 1X2
Santa Claus
Emmanuel Mooser
1299
Square
Andres Segovia
Neal Elias
1511
Rectangle - 1X3

Also in Neal Elias Selected Works 1964-1973 by Dave Venables

Diagrammed by Dave Venables
Angel
Neal Elias
1511
Square

Also in BOS Convention 1980 Autumn
Also in BOS Magazine 236
Also in Der Falter 46
Also in Neal Elias - Miscellaneous Folds - II by Dave Venables
Also in World's Best Origami by Nick Robinson
and in other sources...

Diagrammed by Dave Venables
Armchair
Neal Elias
1511
Rectangle

Diagrammed by Dave Venables
Beethoven
Neal Elias
1511
Rectangle

Diagrammed by Jessie Seto
Boy on a rocking horse
Neal Elias
1511
Square

Also in Neal Elias Selected Works 1964-1973 by Dave Venables

Diagrammed by Dave Venables
Boy on a rocking horse
Neal Elias
1511
Square

Also in Neal Elias Selected Works 1964-1973 by Dave Venables

Diagrammed by Robert Harbin
Buddha on turtle
Neal Elias
1511
Rectangle - 1X3

Also in Origami 4 by Robert Harbin

Diagrammed by Jessie Seto

Folded by Gabriel Vong
Bull
Neal Elias
1511
Rectangle - 1X2

Also in Neal Elias Selected Works 1964-1973 by Dave Venables
Also in Origami USA Convention 1982

Diagrammed by Dave Venables

Folded by Stephane Gerard
Cat and mouse - surprise
Fred Rohm
1511
Square

Also in BOS Convention 1982 Spring
Also in BOS Convention 2012 Spring
Also in Pajarita Magazine 124
Also in The World of Fred Rohm 50 by Peter Ford

Diagrammed by Halle

Folded by Yara Yagi
Crucifix
Neal Elias
1511
Rectangle - 1X2

Diagrammed by Jessie Seto
Crucifix
Neal Elias
1511
Square
2 units

Also in BOS Convention 1984 Autumn
Also in BOS Convention 1990 Spring
Also in BOS Magazine 111

Diagrammed by Dave Venables

Folded by Rui Roda
Elvis Presley
Neal Elias
1511
Rectangle

Diagrammed by Mick Guy
Gloucester fisherman
Neal Elias
1511
Rectangle - 1X2

Also in Drawing Origami Vol 1. Secret Code Gift by Halle, Pere Olivella and Nicolas Terry
Also in BOS Convention 1984 Autumn
Also in Neal Elias - Faces and Busts by Dave Venables

Diagrammed by Halle

Folded by Rui Roda
Grand piano
Neal Elias
1511
Rectangle - 1X2

Diagrammed by Jessie Seto
Horse and cart
Neal Elias
1511
Rectangle

Diagrammed by Jessie Seto
How about some service
Neal Elias
1511
Square

Diagrammed by Francis K. McNaul
How about some service
Neal Elias
1511
Square

Diagrammed by Robert Harbin
Jonah and the Whale
Neal Elias
1511
Square

Also in MFPP 1995 Convention
Also in Neal Elias - Miscellaneous Folds - II by Dave Venables
Also in Origami 3 by Robert Harbin

Diagrammed by Halle

Folded by Yara Yagi
Knight in armor
Neal Elias
1511
Square

Also in Origami 2 by Robert Harbin

Diagrammed by Jessie Seto
Llopio's moment of truth
Neal Elias
1511
Rectangle - 1X3

Also in BOS Magazine 100
Also in Neal Elias Selected Works 1964-1973 by Dave Venables
Also in NOA Magazine 204

Diagrammed by Dave Venables
Llopio's moment of truth
Neal Elias
1511
Rectangle - 1X3

Also in BOS Magazine 100
Also in Neal Elias Selected Works 1964-1973 by Dave Venables
Also in NOA Magazine 204

Diagrammed by Mick Guy
Mary and child II
Neal Elias
1511
Square

Also in Neal Elias - Miscellaneous Folds - I by Dave Venables

Diagrammed by Jessie Seto
Matador
Neal Elias
1511
Rectangle - 1X2

Diagrammed by Dave Venables
Michaelangelo's Pieta
Neal Elias
1511
Rectangle - 1X3

Diagrammed by Robert Harbin
Michaelangelo's Pieta
Neal Elias
1511
Rectangle - 1X3

Diagrammed by Mick Guy
Mother and young
Neal Elias
1511
Square

Also in Neal Elias - Miscellaneous Folds - II by Dave Venables

Diagrammed by Halle

Folded by Yara Yagi
Mother love
Neal Elias
1511
Rectangle - 1X2

Also in BOS Convention 1980 Autumn
Also in BOS Magazine 108

Diagrammed by Dave Venables
Naploeon
Neal Elias
1511
Rectangle - 1X4

Also in Neal Elias - Faces and Busts by Dave Venables
Also in Neal Elias Selected Works 1964-1973 by Dave Venables
Also in BOS Magazine 77

Diagrammed by Dave Venables

Folded by Gabriel Vong
Nureyev and Fonteyn
Neal Elias
1511
Rectangle - 1X3

Also in Neal Elias Selected Works 1964-1973 by Dave Venables
Also in Origami Tanteidan Magazine 95
Also in Quadrato Magico Magazine 113

Diagrammed by Dave Venables
Oberon
Neal Elias
1511
Square

Also in Drawing Origami Vol 1. Secret Code Gift by Halle, Pere Olivella and Nicolas Terry
Also in Neal Elias - Miscellaneous Folds - II by Dave Venables
Also in Origami 4 by Robert Harbin
Also in Origami Inspired by Shakespeare

Diagrammed by Halle
Pacock
Neal Elias
1511
Square

Also in BOS Convention 1980 Spring
Also in BOS Convention 1986 Spring
Also in BOS Magazine 214
Also in Neal Elias - Miscellaneous Folds - II by Dave Venables

Diagrammed by Dave Venables

Folded by Giovanna
Panda
Robert Harbin
1511
Rectangle - 1X2

Also in BOS Convention 2012 Spring

Diagrammed by Mick Guy
Rickshaw and Coolie
Neal Elias
1511
Square

Also in Neal Elias Selected Works 1964-1973 by Dave Venables
Also in Neal Elias Selected Works 1964-1973 by Dave Venables

Diagrammed by Dave Venables
Rodin's Thinker
Neal Elias
1511
Square

Also in Neal Elias Selected Works 1964-1973 by Dave Venables

Diagrammed by Dave Venables
Rose with two leaves
Neal Elias
1511
Square

Diagrammed by Jessie Seto
Shrine of Virgin
Neal Elias
1511
Rectangle - 1X2

Diagrammed by Francis K. McNaul
Stag
Neal Elias
1511
Rectangle

Also in Neal Elias Selected Works 1964-1973 by Dave Venables

Diagrammed by Dave Venables

Folded by Pascal Durrens
The last Waltz
Neal Elias
1511
Rectangle - 1X3

Also in Neal Elias Selected Works 1964-1973 by Dave Venables
Also in Origami USA Convention 1998
Also in ORU Magazine 12
Also in Pajarita Extra 1985 - Museo Imaginario
Also in Pajarita Magazine 92

Diagrammed by Dave Venables
To Calvary (Jesus carrying cross)
Neal Elias
1511
Rectangle - 1X3

Diagrammed by Dave Venables
To Calvary (Jesus carrying cross)
Neal Elias
1511
Rectangle - 1X3

Diagrammed by Jessie Seto
Yehudi Menuhin
Neal Elias
1511
Other shape

Also in BOS Magazine 85
Also in Neal Elias Selected Works 1964-1973 by Dave Venables
Also in BOS Convention 1978 Autumn

Diagrammed by Dave Venables

Folded by Gabriel Vong