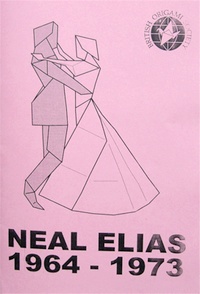 Neal Elias Selected Works 1964-1973
Published:

2002 by British Origami Society

Pages:

64

Binding:

Paperback

Language:

English
| | |
| --- | --- |
| Skill Level | Complex |
| Clear diagrams? | Pretty clear - but not for beginners |
| Tinted diagrams (to show 2 sides of paper)? | Yes |
| Photos of completed models? | B&W photos of most models (not very clear) |
| Is there indication to the model size resulting from size of starting paper? | Yes |
| Are the models "Pure" origami (From a single square - no cuts)? | most models are from rectangles, and one model requires an irregular shape |
Overall Impression
This is a reprint of the BOS booklet 10 from 1978 : "Focus on Neal Elias", Featuring some of Neal Elias' magnificent creations.
This is not a beginner booklet - while the diagrams are excellently drawn, they require the folder to understand the concept of box pleating, and be able to "collapse" folds using few guiding intermediate steps.
The efforts, however, are worth it, since the models are very interesting and fun to fold.
Buy from: BOS Supplies
There are 13 Origami Designs in Neal Elias Selected Works 1964-1973: