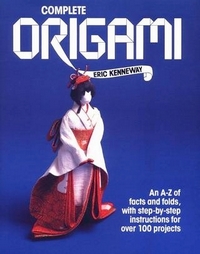 | | |
| --- | --- |
| Skill Level | From simple to complex |
| Clear diagrams? | Yes - hand drawn. Can be concise in the more complex models |
| Tinted diagrams (to show 2 sides of paper)? | No |
| Photos of completed models? | Only for some of the models |
| Is there indication to the model size resulting from size of starting paper? | No |
| Are the models "Pure" origami (From a single square - no cuts)? | Not all of them |
Overall Impression
This is not your traditional origami book, this book is not about the diagrams, although it does contain many of them; rather, it's about the rich history and diversity of origami, discussing, in an encyclopedic way, the many facets of the art.
The book opens with an introduction to origami symbols and maneuvers, and then dives into alphabetical entries for all things origami. The entries are illustrated by pictures, drawings and diagrams for mostly traditional models, but also more modern gems such as Max Hulme's magnificent Jack-in-the-box, and E.D Sullivan's Bluebeard's castle. Also included are some more obscure ways of folding, with even hats, turbans and nappy-folding instructions!
This is a fun book if you're interested in some of the history and stories behind origami, or if you just want to fold something.
There are 94 Origami Designs in Complete Origami:
Design
Designer
Page
Details
Photo

Show only designs with photos
Coiled spring
Traditional
12
Rectangle - Long strip

A curled strip of paper
Flapping bird
Traditional
12
Square

Also in Action Origami by Tomoko Fuse
Also in Classic Origami by Paul Jackson
Also in Creased Magazine 6
Also in El Libro de Las Pajaritas de Papel by Grupo Riglos
Also in Everything Origami by Matthew Gardiner
Also in Fantastic Folds by Andrew Stoker
and in other sources...

Folded by Gilad Aharoni
Tipper
Takekawa Seiryo
13
Square

A nice action model that tips-over by itself
Airplane
American
14
Rectangle
Dart
American
15
Rectangle
Banger

Toys - Noisemaking

Japanese
18
Rectangle
Double-barreled banger

Toys - Noisemaking

Japanese
19
Square
Boat
Japanese
28
Square
Booklet
Japanese
30
Rectangle
With cuts
Jack in the box
Max Hulme
31
Rectangle - 1X2

Also in BOS Convention 1984 Autumn
Also in BOS Convention 2017 - 50th Anniversary
Also in BOS Magazine 61
Also in BOS Magazine 203
Also in Origami Superstars
Also in Origami USA Convention 1983
and in other sources...

Folded by Gabriel Vong
Butterfly - fluttering
Unknown
35
Square

Spins in the air
Butterfly
Dokuohtei Nakano
36
Rectangle
Bell
Bob Allen
38
Square

Folded from the pages of a catalog
Christmas tree
American
38
Square

Folded from the pages of a catalog
Funerary offering
Traditional
41
Rectangle
Celebratory offering
Traditional
42
Rectangle
Chinese junk
Traditional
43
Square

Also in Easy Origami that Colors Life by Tomoko Fuse
Also in Mac Origami 61
Also in NOA Magazine 0 1974 Vol. 2
Also in Origami (Bolitho) by Mark Bolitho
Also in Origami 1-2-3 by David Petty
Also in Origami from Around the World by Vicente Palacios
and in other sources...
Paper fastener
John Cunliffe
46
Square
Paper fastener
Martin Wall
46
Square
Dish
Yoshihide Momotani
47
Square
Cup
Traditional
48
Square

Also in Beginning Origami by Vicente Palacios
Also in Classic Origami by Paul Jackson
Also in Doctor's Origami Dream Book by Toshikazu Kawasaki
Also in Easy Origami by John Montroll
Also in Essential Origami by Steve and Megumi Biddle
Also in Everything Origami by Matthew Gardiner
and in other sources...
Letter
Unknown
51
Rectangle
Envelope
John Cunliffe
52
Rectangle
Candle
Jean Claude Correia
54
Square
Fan
Japanese
55
Rectangle
Hexaflexagon
Arthur Stone
58
Rectangle
Flexagon - ring
Eric Kenneway
59
Rectangle
Iris
Traditional
62
Square

Also in Atlas de l'Origami
Also in Creative Life with Creative Origami 1 by Toshie Takahama
Also in Cute Animal Origami by Makoto Yamaguchi
Also in Essential Origami by Steve and Megumi Biddle
Also in Festive Folding by Paul Jackson
Also in Fun Origami World by Makoto Yamaguchi
and in other sources...

Folded by Lou Pearson
Flower
David Collier
63
Square

Folded by Lou Pearson
Leaf and stem
David Collier
64
Rectangle

Folded by Lou Pearson
Box - foil - side-flaps
Traditional
67
Rectangle

Also in Doctor's Origami Dream Book by Toshikazu Kawasaki
Also in NOA Magazine 378
Also in NOA Magazine 426
Also in Origami El Mundo Nuevo by Kunihiko Kasahara
Also in The World of Origami by Isao Honda
Frog
Traditional
69
Square

Also in Bugagami by Jeffrey Rutzky
Also in Creating Origami by J.C. Nolan
Also in Creative Life with Creative Origami 1 by Toshie Takahama
Also in Difficult Origami by Chris Alexander
Also in Doctor's Origami Dream Book by Toshikazu Kawasaki
Also in Ecuador Convention 2014
and in other sources...
Frog - jumping
Traditional
70
Square
Frog - jumping
American
71
Square
Banana
Unknown
74
Square

From a handkerchief
Bow
Unknown
74
Square

From a handkerchief
Mouse
Unknown
75
Square

From a handkerchief
Hat
Japanese
76
Rectangle
Boat
Japanese
77
Rectangle
Turban
Unknown
78
Square

From a scarf
Hood
Unknown
79
Square

From a scarf
Antelope
Alice Blumberg
86
Square
With cuts

Folded by Lou Pearson
Spider
Bob Allen
88
Square
With cuts

Also in Bugagami by Jeffrey Rutzky

Folded by Rui Roda
Kite - Peruvian
Olivero Olivieri
90
Square
Knots
Unknown
92
Square
Carp
Japanese
94
Square

Also in Easy Origami by John Montroll
Also in Hands-On Origami by Raul Rosado
Also in Happy Origami by Kunihiko Kasahara
Also in Happy Origami (Swallow book) by Tatsuo Miyawaki
Also in NOA Magazine 285
Also in Origami Text in 4 Languages
and in other sources...

Folded by JC Nolan
Kusudama
Japanese
95
Square
30 units

With stringing instructions
Lampshades
Unknown
100
Rectangle

Crease pattern. Creating decorative lampshades from rectangles
Loin cloth
Traditional
104
Square

From a scarf
Map fold

Origami bases and methods

Unknown
106
Rectangle
Sunburst
David Collier
110
Square
8 units
Dodecahedron
David Brill
111
Square
3 units
$ bill from A4

Origami bases and methods

Unknown
113
Rectangle - A size
Portrait ring ($ bill)
Max Hulme
114
$ US Dollar Bill
Borgia ring
Kenneth Kawamura
115
$ US Dollar Bill
Bluebeard's Castle
Ed Sullivan
116
Square
Multiple units

Also in BOS Magazine 114
Also in Das Diagramm 24
Also in NOA Magazine 502

Multi-piece, with instructions for turrets and roofs. Excellent

Folded by Eliot Phillips
Fan
Unknown
122
Square

From a napkin
Mitre
Unknown
122
Square

From a napkin
Buffet server
Unknown
123
Square

From a napkin
Nappy
American
123
Square
Slippers from newspaper
Unknown
125
Square
Cushion covers
Japanese
127
Square
Bird - flapping

Birds

Ricky W.K. Wong
130
Rectangle
Squeaker
Japanese
131
Rectangle
Pajarita
Traditional
134
Square

Also in Atlas de l'Origami
Also in Der Falter 12
Also in El Libro de Las Pajaritas de Papel by Grupo Riglos
Also in Everything Origami by Matthew Gardiner
Also in NOA Magazine 74
Also in NOA Magazine 204
and in other sources...

Folded by Lou Pearson
Seagull and surf
Bob Allen
136
Rectangle

2-dimensional pictorial origami
Frame
Larry Hart
139
Rectangle - A size

Also in Origami - 30 fold-by-fold projects by Paulo Mulatinho
Also in Origami - The Complete Guide to the Art of Paperfolding by Rick Beech
Also in Larry Hart Selected Works 71-91 by Larry Hart
Also in BOS Convention 2013 Spring
Also in Origami You Can Use by Rick Beech

Folded by Gabriel Vong
Fox - talking
Julien Correia
140
Square
2 units

A very simple puppet
Camera

Toys - Noisemaking

Traditional
141
Square

A simple action toy
Beetle - crawling
Traditional
142
Square
With cuts

A nice action toy based on friction
Boy wearing a newspaper hat
Eric Kenneway
144
Square
Swan
John Smith
147
Square

Pureland
Puzzle - cluster
Peter Ford
149
Square
6 units

Folded by Francesco Mancini
Salt cellar
Japanese
153
Square
Cootie catcher or Fortune teller
Traditional
154
Square

Also in Creating Origami by J.C. Nolan
Also in Der Falter 3
Also in Der Falter 27
Also in My First Origami Kit by Joel Stern
Also in Origami 1 by Robert Harbin
Also in Origami in Action by Robert J. Lang

Folded by JC Nolan
Crane
Traditional
156
Square

Also in A Thousand Cranes by Florence Temko
Also in Atlas de l'Origami
Also in Classic Origami by Paul Jackson
Also in Complete Origami by David Mitchell
Also in Creased Magazine 6
Also in Creating Origami by J.C. Nolan
and in other sources...
Cranes - joint
Japanese
157
Square

Some examples of the art of Sembazuru - folding multiple cranes from one sheet
Scottie
Gilles Gautherin
158
Square
Scottie - black and white
Gilles Gautherin
159
Square

A Sembazuru-like variation
Tumbler
Takekawa Seiryo
161
Square
Star - five pointed
Unknown
162
Square
Star - stretched
Traditional
163
Square
Chrysanthemum
Yoshihide Momotani
165
Rectangle - Long strip
Tato

Objects - Wallets

Japanese
167
Square
Palm tree
Didier Boursin
169
Rectangle
11 units

From 11 Paris Metro tickets
Rose
Megumi Biddle
171
Square

Folded by twirling tissue-paper
Star of David
Unknown
173
Triangle
Troublewit
American
175
Rectangle

A versatile action model, with manipulation examples
6 sided box
Fujimoto Shuzo
178
Rectangle - A size
Umbrella - Japanese
Toshie Takahama
180
Square

A working umbrella from 2 squares
Heart
Makoto Yamaguchi
183
Square

3-dimensional
Waterbomb
Traditional
185
Square

Also in Fun Origami World by Makoto Yamaguchi
Also in Japan's Creative Origami by Kawai Toyoaki
Also in NOA Magazine 278
Also in Origami de Christmas
Also in Origami in English by Makoto Yamaguchi
Also in Origami Text in 4 Languages
Also in Quick and Easy Origami Christmas by Toshie Takahama
and in other sources...
Wrapping

Origami bases and methods

Unknown
188
Square

Gift-wrapping methods
Yakko San
Traditional
190
Square

Also in Paper Folding for Beginners by Murray and Rigney
Also in Cute Animal Origami by Makoto Yamaguchi
Also in Doctor's Origami Dream Book by Toshikazu Kawasaki
Also in Enjoy Origami in English (Joy of Origami!) by Satoshi Takagi
Also in Essential Origami by Steve and Megumi Biddle
Also in Everything Origami by Matthew Gardiner
and in other sources...

Folded by Lou Pearson