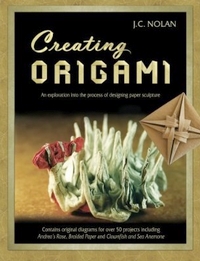 | | |
| --- | --- |
| Skill Level | From simple to complex |
| Clear diagrams? | Yes |
| Tinted diagrams (to show 2 sides of paper)? | Yes |
| Photos of completed models? | No |
| Is there indication to the model size resulting from size of starting paper? | Yes |
| Are the models "Pure" origami (From a single square - no cuts)? | Most are |
Overall Impression

Creating Origami was one of the first books I've ever ordered online (from the now defunct "Fascinating Folds"). It went quickly out of print and was very hard to find. Now, thanks to a successful Kickstarter campaign, it's back in print.
The book was quite different from most other origami book I've seen by the time I got it. While filled with interesting diagrams, a very large section of the book discusses the process of creating, examining in length a slew of different approaches, and exploring origami as an art form. The author even talks about how to document and diagram your creations.
The next section of the book elaborates on Nolan's personal journey from folder to designer, with design notes and the back-story of each of his designs, allowing us a rare glimpse into the thought-process of an origami creator.
A brief history of origami follows, with a long discussion of tools and techniques, and a very good explanation of origami notations, including those you don't get to see very often, with a review the traditional bases as well as the author's own new bases.
Now come the models. Starting with designs that inspired Nolan, including traditional and modern designs - most notably, his re-diagramming of several of Patricia Crawford's designs from Robert Harbin's Origami Step by Step, making them much more approachable to folders. Nolan's own designs come next - from the more simple models to a mind-boggling Clown fish & sea anemone - a fold I'm yet to conquer.
As many of these models are not simple, and include difficult moves, sometimes in 3-dimensions, diagramming those steps can understandably be a struggle, and deciphering them will require patience, and sometimes experience. This is why I would not recommend the book to a beginner. However, advanced folders will find many challenges here, and a most fascinating read to take them beyond following diagrams.
As a bonus, the author added some free diagrams on his website, with multi-lingual translations and some new material.
There are 43 Origami Designs in Creating Origami: