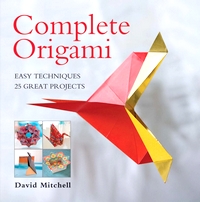 Complete Origami
Published:

2009 by Firefly Books

Pages:

160

Binding:

Paperback

Language:

English

ISBN-13:

9781554074594

ISBN-10:

1554074592
Buy from: Amazon.com
Buy from: Amazon.jp
| | |
| --- | --- |
| Skill Level | From simple to intermediate |
| Clear diagrams? | Yes |
| Tinted diagrams (to show 2 sides of paper)? | Yes |
| Photos of completed models? | Yes |
| Is there indication to the model size resulting from size of starting paper? | No |
| Are the models "Pure" origami (From a single square - no cuts)? | Most are |
Overall Impression
This is a lovely book, offering a nice mix of traditional and original designs by David Mitchell. with simple techniques Mitchell achieves whimsical representation of his subjects, with fun and interesting folding sequences.
Peppered between the folds are tidbits about the different aspects of origami, design notes and general other information. Also included are notes about the history of origami and a detailed guide to folding symbols and techniques.
The quality of the book is quite high, with beautiful photography and layout. I'd recommend this book to the advanced beginner folder showing an interest in modular constructions.
There are 26 Origami Designs in Complete Origami:
Design
Designer
Page
Details
Photo

Show only designs with photos
Samurai helmet
Traditional
26
Square

Also in NOA Magazine 177
Also in NOA Magazine 188
Also in NOA Magazine 189
Also in Origami 1-2-3 by David Petty
Also in Origami in English by Makoto Yamaguchi
Also in Teach Yourself Origami by John Montroll
Banana boat
David Mitchell
30
Triangle
Cormorant on a rock
David Mitchell
34
Square

Folded by Rebecca
Juxtaposition
David Mitchell
40
Square
3 units

A puzzle from 2 squares
Piranha
David Mitchell
46
Square

Nice action fold
Crane
Traditional
52
Square

Also in A Thousand Cranes by Florence Temko
Also in Atlas de l'Origami
Also in Classic Origami by Paul Jackson
Also in Complete Origami by Eric Kenneway
Also in Creased Magazine 6
Also in Creating Origami by J.C. Nolan
and in other sources...
Clingons
David Mitchell
58
Square

Very nice toys made to balance on each other
Lover's knot
Traditional
62
Square

Also in Creating Origami by J.C. Nolan
Also in Creative Life with Creative Origami 3 by Toshie Takahama
Also in NOA Magazine 378
Also in Origami Step by Step by Robert Harbin
Also in Pajarita Magazine 14
Also in The Art of Origami by Samuel L. Randlett
and in other sources...

Folded by JC Nolan
Goldfish
Traditional
68
Square
Goldfish
Traditional
72
Square
With cuts
Knotfish
David Mitchell
74
Square
Flapping parrot
David Mitchell
78
Square

Folded by Rebecca
Tato

Objects - Wallets

Traditional
84
Square
Give me Sunshine
David Mitchell
90
Square

Also in Le Pli 113-114

Very nice bas-relief
Egypt
David Mitchell
94
Square

With another version from a rectangle
Elephant
David Mitchell
98
Square

Also in Origami Alfresco by David Mitchell

Simple and nice

Folded by Rui Roda
Shipwreck
David Mitchell
104
Square
4 units

Also in Quadrato Magico Magazine 75-076

Very clever. From 3 squares and a triangle
Coasters
David Mitchell
110
Triangle
4 units

Folded by Rebecca
Artifact
David Mitchell
116
Rectangle
6 units

Folded by Rebecca
Dresden bowl
David Mitchell
122
Square

Folded by Rebecca
Lovebird
David Mitchell
128
Square

A bird with a heart
David's star
David Mitchell
132
Rectangle

Also in The Paper Magazine 91

Folded by Stephane Gerard
Enigma bowl
David Mitchell
138
Square

Folded by Rebecca
Gaia
David Mitchell
144
Square
6 units

Also in BOS Convention 1996 Spring

Folded by Rebecca
Windfarm
David Mitchell
150
Square
With cuts

Folded by Rebecca
Stargate
David Mitchell
156
Rectangle
45 units

Folded by Francesco Mancini