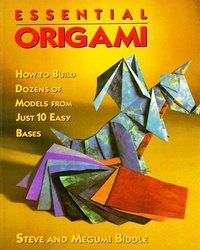 | | |
| --- | --- |
| Skill Level | From simple to complex |
| Clear diagrams? | Very clear |
| Tinted diagrams (to show 2 sides of paper)? | Yes |
| Photos of completed models? | No |
| Is there indication to the model size resulting from size of starting paper? | No |
| Are the models "Pure" origami (From a single square - no cuts)? | Not all are pure |
Overall Impression
This book is very good for beginners.
The diagrams are very clear and carefully drawn, showing in many places the actual position of the hands while folding. In the beginning of each chapter, a new base is taught, and several models which employ this base. Most of the models are known, traditional ones, but there are also modern designs included.
There is an excellent variety of subjects, which introduces the various styles of origami to beginners, and helps them choose their path in the art.
There are 60 Origami Designs in Essential Origami:
Design
Designer
Page
Details
Photo

Show only designs with photos
House
Traditional
17
Square

Also in 10-Fold Origami by Peter Engel
Also in Beginning Origami by Vicente Palacios
Also in Creative Life with Creative Origami 1 by Toshie Takahama
Also in Cute Animal Origami by Makoto Yamaguchi
Also in Easy Origami by John Montroll
Also in Fun Origami World by Makoto Yamaguchi
and in other sources...
Hat
Traditional
18
Square
Organ
Traditional
18
Square

Also in Cute Animal Origami by Makoto Yamaguchi
Also in Doctor's Origami Dream Book by Toshikazu Kawasaki
Also in Enjoy Origami in English (Joy of Origami!) by Satoshi Takagi
Also in Fun Origami World by Makoto Yamaguchi
Also in Japan's Creative Origami by Kawai Toyoaki
Also in NOA Magazine 146
and in other sources...
Fox puppet
Taichiro Hasegawa
19
Square
Crown
Traditional
20
Square
Happi coat
Traditional
21
Square
Purse

Objects - Wallets

Traditional
23
Square
3 units
Baby's shoes
Katsushi Nosho
25
Square

Also in NOA Magazine 150
Also in NOA Kessakusen 3

Very nice - uses a string to tie the shoes

Folded by Francois Ziegler
Pig
Traditional
31
Square
Flower
Fumio Inoue
33
Square
20 units

A flower made of 20 pigs!
Rabbit
Steve Biddle
34
Square
Double heart
Steve Biddle
36
Square

Very nice, with color change
Butterfly
Traditional
45
Square
Pendant
Traditional
46
Square
Stars
Traditional
47
Square
Cup
Traditional
50
Square

Also in Beginning Origami by Vicente Palacios
Also in Classic Origami by Paul Jackson
Also in Complete Origami by Eric Kenneway
Also in Doctor's Origami Dream Book by Toshikazu Kawasaki
Also in Easy Origami by John Montroll
Also in Everything Origami by Matthew Gardiner
and in other sources...
Cap
Traditional
51
Square
Sombrero
Traditional
52
Square
Puppy
Steve Biddle
54
Square

Folded by Lou Pearson
Samurai helmet
Traditional
56
Square

Also in NOA Magazine 177
Also in NOA Magazine 188
Also in NOA Magazine 189
Also in Origami 1-2-3 by David Petty
Also in Origami in English by Makoto Yamaguchi
Also in Teach Yourself Origami by John Montroll
Also in Complete Origami by David Mitchell
and in other sources...
Goldfish
Traditional
59
Square
With cuts
Stalk and leaf
Traditional
63
Square
Decoration
Traditional
64
Square
2 units
Yacht
Traditional
65
Square
Wild duck
Traditional
66
Square
Cat
Steve Biddle
68
Square
Scottish Terrier
Yasuhiro Sano
71
Square

Also in Le Pli 94
Also in NOA Kessakusen
Also in NOA Magazine 2
Also in Origami Dogs by Yasuhiro Sano
Also in Origami Text in 4 Languages
Also in Orison 4/03
and in other sources...
Koala
Kazuo Choshi
73
Square

Also in NOA Kessakusen 3
Tato

Objects - Wallets

Traditional
78
Square
Dragon
Kenji Jinbo
80
Square
3 units
With cuts

Needs a cut to separate the ears
Mask
Traditional
86
Square
Propeller plane
Seiji Nishikawa
89
Square
2 units
Box and partition
Traditional
95
Square
Box and purse
Traditional
98
Square
Fancy box (Spanish)
Traditional
100
Square

Also in NOA Magazine 456
Also in Easy Origami by John Montroll
Also in Origami A-B-C by David Petty
Also in Origami Sourcebook by Jay Ansill
Also in Practical and Decorative Origami by Jay Ansill
Also in Everything Origami by Matthew Gardiner
and in other sources...
Yakko san
Traditional
102
Square

Also in Paper Folding for Beginners by Murray and Rigney
Also in Complete Origami by Eric Kenneway
Also in Cute Animal Origami by Makoto Yamaguchi
Also in Doctor's Origami Dream Book by Toshikazu Kawasaki
Also in Enjoy Origami in English (Joy of Origami!) by Satoshi Takagi
Also in Everything Origami by Matthew Gardiner
and in other sources...

Folded by Lou Pearson
Camera
Traditional
103
Square

Action toy with noise
Sumo game
Traditional
105
Square

Also in Traditional Japanese Origami by Nick Robinson
Also in Fun Origami World by Makoto Yamaguchi
Also in Cute Animal Origami by Makoto Yamaguchi
Also in Enjoy Origami in English (Joy of Origami!) by Satoshi Takagi
Also in NOA Magazine 389
Also in Atlas de l'Origami
and in other sources...
Church
Traditional
110
Square
Spinning top
Steve Biddle
112
Square
Kabuto wrapper
Traditional
114
Rectangle - A size
Crane wrapper
Traditional
116
Rectangle - A size
Gorilla mask
Miyashita Atsushi
119
Square

Also in NOA Magazine 168
Also in ORU Magazine 9

Folded by Lou Pearson
Sparrow
Traditional
125
Square
Santa
Steve and Megumi Biddle
126
Square

Based on Steve Casey's model
Panda
Steve Biddle
133
Square
2 units
Flower
Traditional
141
Square
Basket
Traditional
143
Square
2 units

From a square and a strip
Iris
Traditional
148
Square

Also in Atlas de l'Origami
Also in Complete Origami by Eric Kenneway
Also in Creative Life with Creative Origami 1 by Toshie Takahama
Also in Cute Animal Origami by Makoto Yamaguchi
Also in Festive Folding by Paul Jackson
Also in Fun Origami World by Makoto Yamaguchi
and in other sources...

Folded by Lou Pearson
Frog
Traditional
149
Square

Also in Bugagami by Jeffrey Rutzky
Also in Complete Origami by Eric Kenneway
Also in Creating Origami by J.C. Nolan
Also in Creative Life with Creative Origami 1 by Toshie Takahama
Also in Difficult Origami by Chris Alexander
Also in Doctor's Origami Dream Book by Toshikazu Kawasaki
Also in Ecuador Convention 2014
and in other sources...
Carnation
Mitsunobu Sonobe
150
Square
Snail
Traditional
151
Square

Also in Bugagami by Jeffrey Rutzky
Also in Creative Life with Creative Origami 1 by Toshie Takahama
Also in Doctor's Origami Dream Book by Toshikazu Kawasaki
Also in NOA Magazine 130
Also in NOA Magazine 250
Also in NOA Magazine 454
and in other sources...

Folded by Lou Pearson
Crane - congratulations
Traditional
159
Square

Folded by Lou Pearson
Hermit crab
Shozo Ishida
162
Square
Apatosaurus
Seiji Nishikawa
165
Square
Wallet

Objects - Wallets

John Cunliffe
171
Rectangle - A size
Unit
Steve Biddle
173
Square
Octagonal box
Tomoko Fuse
177
Square
8 units
Senbazuru
Traditional
184
Rectangle - 1X2
With cuts

Connected cranes
Crab
Traditional
187
Square
With cuts