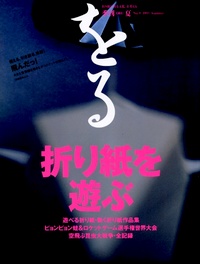 ORU Magazine 9
Published:

1995 by Sojusha

Pages:

160

Binding:

Paperback

Language:

Japanese
| | |
| --- | --- |
| Skill Level | Simple to complex |
| Clear diagrams? | Yes |
| Tinted diagrams (to show 2 sides of paper)? | Yes |
| Photos of completed models? | Yes |
| Is there indication to the model size resulting from size of starting paper? | No |
| Are the models "Pure" origami (From a single square - no cuts)? | Varies |
Overall Impression
ORU are a set of 16 large-format commercial magazines published between 1993-1997. They all contain many articles about design, designers and tehniques, alongside beautiful photos, with many diagrams in the back.
Articles
Tomoko Fuse makes her paper and folds boxes and "Hana"
Action folds
A contest of ballistic origami and jumping frogs
Jeremy Shafer's work
Children's action folds
Insects - super complex with lots of great photos
Jose Krooshoop's work
Eiji Tsuchito's work
Yoshihisha Kimura's work
Chris K. Palmer's tessellations - with stunning photos!
Toshinori Tanaka's work
Origamics (what is it about?)
A religious ceremony
Yoshizawa's frogs
Noshi
Geometric shapes using cuts in the paper
Weaving patterns
Folding from pearly and tie-dyed like papers
Folding from leaves
More that I can't figure out?
There are 24 Origami Designs in ORU Magazine 9:
Design
Designer
Page
Details
Photo

Show only designs with photos
Monkey climbing a mountain
Traditional
28
Square
With cuts
Glove
Traditional
29
Rectangle - A size
Horse - acrobat
Traditional
29
Square
With cuts

Also in Action Origami by Tomoko Fuse
Also in BOS Magazine 123
Also in Doctor's Origami Dream Book by Toshikazu Kawasaki
Also in NOA Kessakusen 3
Also in NOA Kessakusen 4
Also in NOA Magazine 168
Also in Origami for Harmony and Happiness by Steve and Megumi Biddle
and in other sources...

Folded by Lou Pearson
Frog
Akira Yoshizawa
84
Square
Frog
Akira Yoshizawa
84
Square
Frog
Akira Yoshizawa
85
Square
Leaf
Akira Yoshizawa
85
Square
Lady box
Jose Meeusen (Krooshoop)
123
Square
Cat
Eiji Tsuchito
126
Square
2 units
Anthurium
Tomoko Tanaka
129
Square
Multiple units
Ball decoration (18 octagon)
Nakano Mitsue
131
Octagon
18 units
Flasher
Jeremy Shafer
133
Square
Butterfly ball
Kenneth Kawamura
135
Square
12 units
Magic hand
Seiji Nishikawa
137
Square
3 units
Frog - munching
Teruo Tsuji
139
Square
Whistle

Toys - Noisemaking

Masatsugu Tsutsumi
141
Square
Spinner
Taichiro Hasegawa
143
Square
Geometric shape (110 p.)
Hon-Iden Naomi
144
Square
Multiple units
Boat, jumping frog, flapping bird
Traditional
147
Square
Cicada
Makoto Yamaguchi
149
Square
Pigeon
Itou Man'you
152
Square
Deformation soccer ball (30 p.)
Tomoko Fuse
155
Square
30 units
Vase - HANA
Tomoko Fuse
157
Square
Gorilla mask
Miyashita Atsushi
159
Square

Also in Essential Origami by Steve and Megumi Biddle
Also in NOA Magazine 168

Folded by Lou Pearson