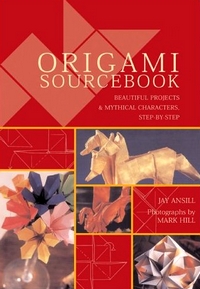 Origami Sourcebook
Published:

2004 by Quarry

Pages:

208

Binding:

Paperback

Language:

English

ISBN-13:

9781592530656

ISBN-10:

1592530656
Buy from: Amazon.com
Buy from: Amazon.jp
| | |
| --- | --- |
| Skill Level | From simple to complex |
| Clear diagrams? | Less than perfect |
| Tinted diagrams (to show 2 sides of paper)? | Yes |
| Photos of completed models? | Yes |
| Is there indication to the model size resulting from size of starting paper? | No |
| Are the models "Pure" origami (From a single square - no cuts)? | A few are from other shapes |
Overall Impression
This is a collection of two books previously authored by Jay Ansill: Origami Monsters and Mythical Beings and Practical and Decorative Origami. There are a few slight changes from the original books, though, as the new edition adds a couple of models by Michael LaFosse and omits a parrot by Ligia Montoya.
There are some excellent models included here, with the mythical-beings part containing the more challenging projects. However, the book's weakness lies in the fact that the diagrams are not the clearest, and some of the photographs in the mythical-beings part are quite bad - they even managed to mess up a photo of Neal's dragon...
My favorite models in this book are Lang's Shiva and Neal's cute wizard and witch.
I wouldn't recommend this book for beginners, but for advanced folders, who sometimes enjoy a small challenge of "deciphering" diagrams.
There are 36 Origami Designs in Origami Sourcebook: