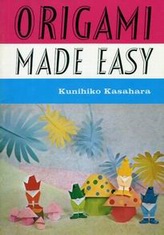 | | |
| --- | --- |
| Skill Level | From simple to low-intermediate |
| Clear diagrams? | Yes - hand drawn |
| Tinted diagrams (to show 2 sides of paper)? | No |
| Photos of completed models? | Many B&W photos |
| Is there indication to the model size resulting from size of starting paper? | No |
| Are the models "Pure" origami (From a single square - no cuts)? | Most are, but many are compound |
Overall Impression
This is one of the books I tend to recommend for beginner folders. The simplicity of the models, together with the lovely designs and variety of subjects represented, makes this a great book to start with.
The biggest short-coming of this book, however, is that the English translation of the terms used in folding is almost always different than the English terms which we used today. So a mountain-fold is called a peak-fold, reverse-folds are called hood and pocket-fold, etc. Another issue is the complete lack of indication as to which side of the paper should we start folding on, as the diagrams are all one (white) colored. This is basically left for the folder to figure out.
Still, taking in mind that this book was published in 1973, it's a great little volume to work with when you need easy and effective models.
There are 58 Origami Designs in Origami Made Easy: