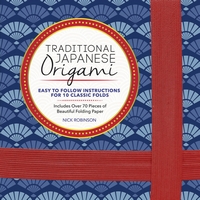 Traditional Japanese Origami
Published:

2015 by Rock Point

Pages:

64

Binding:

Paperback with paper

Language:

English

ISBN-13:

9781631061288

ISBN-10:

1631061283
Buy from: Amazon.com
Buy from: Amazon.jp
| | |
| --- | --- |
| Skill Level | Simple to intermediate |
| Clear diagrams? | Yes |
| Tinted diagrams (to show 2 sides of paper)? | Yes |
| Photos of completed models? | Yes |
| Is there indication to the model size resulting from size of starting paper? | No |
| Are the models "Pure" origami (From a single square - no cuts)? | Yes |
Overall Impression
The first thing you'll notice about this book is how attractive its packaging is. The kit contains a small, square book with gold edges, and four envelopes with folding paper, all tucked between two thick cardboard squares and held together by two thick elastic bands.
The book opens with an overview of origami history and an introduction to diagram notations, and then come 10 well known and time-tested traditional models, ranging in difficulty from the simple house to the more challenging crane. All are clearly diagrammed in color, with accompanying images of the design folded from the special paper supplied in the kit, with many photos showing how the model would look like folded with either side of the paper up.
The paper provided is fantastic, with beautiful Chiyogami washi-like prints on one side and smooth copper colored on the other.
I would highly recommend this book for beginners and it would make a great gift for someone just starting origami.
There are 10 Origami Designs in Traditional Japanese Origami: