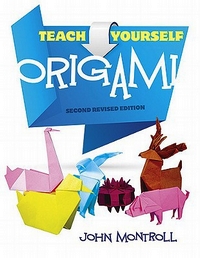 | | |
| --- | --- |
| Skill Level | From simple to complex |
| Clear diagrams? | Yes |
| Tinted diagrams (to show 2 sides of paper)? | Yes |
| Photos of completed models? | Only a few on the cover |
| Is there indication to the model size resulting from size of starting paper? | No |
| Are the models "Pure" origami (From a single square - no cuts)? | Yes |
Overall Impression

I always recommend this book for beginners. Montroll introduces the new folder first to the old, traditional favorites, advancing step-by-step, gradually introducing new symbols and techniques with very clear instructions.
As the models advance, so do their detail and complexity, up to an "Impossible vase", which is simply a container with many sticking points, an antlered deer and an elephant with white tusks.
Notes for the second, revised edition: The book was republished in a second edition, adding a few traditional models, revising some of the diagrams, and replacing some models with others. I was sorry to see the dragon and camel, two of my favorites in the first edition, gone. However, lovers of geometrical designs will be happy to find 3 origami polyhedra included.
There are 52 Origami Designs in Teach Yourself Origami: