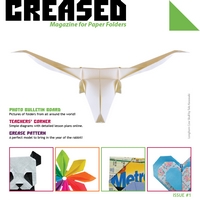 Creased Magazine 1
Published:

2011

Pages:

36

Binding:

Paperback

Language:

English
| | |
| --- | --- |
| Skill Level | From simple to complex |
| Clear diagrams? | Yes |
| Tinted diagrams (to show 2 sides of paper)? | Yes |
| Photos of completed models? | Yes |
| Is there indication to the model size resulting from size of starting paper? | Yes |
| Are the models "Pure" origami (From a single square - no cuts)? | Varies |
Overall Impression
It's always nice to welcome a new origami magazine! This new bi-monthly publication is very well produced, all in glossy paper and full-color throughout, printed on square pages fitting the theme.
The focus of this magazine is diagrams, and there sure are plenty of them for a magazine, ranging in difficulty and subject-matter. There is also one crease-pattern challenge for complex folders. Besides diagrams, there is a "teacher's corner" with tips for teaching, and a photo-spread or origami events.
Subscribing to this magazine through creased.com provides you with both a printed issue and access to an online version of the magazine. There is also an option to include a special paper subscription, which will add special origami paper to each delivery.
Buy from: creased.com
There are 17 Origami Designs in Creased Magazine 1:
Design
Designer
Page
Details
Photo

Show only designs with photos
OMG wallet

Objects - Wallets

Lorne Dannenbaum
4
Rectangle
Oblique creased letterfold
Elsje van der Ploeg
5
Rectangle
Shirt with trim
Gay Merrill Gross
6
Square
Hat base gift box
Laura L. Kruskal
7
Rectangle
3 units
Duo-colored heart
Francis Ow
9
Rectangle - 1X2

Also in BOS Convention 1995 Autumn

Several units can be assembled for an attractive display

Folded by Malachi Brown
Tulip
Lee In Kyung (Whitepaper)
11
Square
2 units
Longhorn cow skull
Talo Kawasaki
14
Square
GFF modular
Sok Song
16
Square
8 units

Also in Jong Ie Nara Plus magazine 79-17

Folded by Rebecca
Butterfly - Anne LaVin
Michael G. LaFosse
20
Square

Also in Michael LaFosse's Origami Butterflies by Michael G. LaFosse and Richard L. Alexander
Panda
Seo Won Seon (Redpaper)
23
Square
Giraffe
Robert J. Lang
26
Square
Whale
Traditional
32
Square
Swan
Traditional
33
Square

Also in Creative Origami and Beyond
Also in NOA Magazine 500
Also in Origami Aussie Animals by Marion and Steve Isham
Also in The Paper Magazine 106
Also in Traditional Japanese Origami by Nick Robinson

Folded by Rebecca
Dutch rabbit
Seth M. Friedman
34
Square

Crease-pattern

Folded by Paulius Mielinis
Oblique creased letterfold variations
Elsje van der Ploeg
104
Rectangle
Hat base gift box support and lid
Laura L. Kruskal
106
Square
Bascetta star 1
Paolo Bascetta
109
Square
30 units

Also in CDO convention 2010

Folded by Francesco Mancini