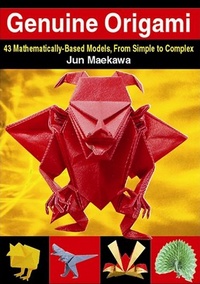 | | |
| --- | --- |
| Skill Level | From low-intermediate to complex |
| Clear diagrams? | Yes |
| Tinted diagrams (to show 2 sides of paper)? | Yes |
| Photos of completed models? | Excellent photos |
| Is there indication to the model size resulting from size of starting paper? | No, but there is a recommended starting size |
| Are the models "Pure" origami (From a single square - no cuts)? | Most are |
Overall Impression

This is Jun Maekawa's first book since the publication of Viva! Origami in 1983, and contains a few of his older designs, as well as many new creations. Most of the older designs have been re-worked and re-diagrammed for this book.
Maekawa's style is "Genuine Origami" in that all is achieved by folding alone - shaping is pretty much unnecessary, and the final model is clean-looking, with defined lines and straight edges. Most models could be folded successfully from any available paper. The folding process itself is a lot of fun, involving interesting and innovative moves.
Each model has a "Theme", or concept, which can be the shape of paper, a certain mathematical idea, or a folding move. Each theme is described in fascinating short paragraphs, with the models being used as illustrations of these concepts.
The models progress in difficulty, with each new type of step thoroughly explained as it is introduced in a model.
The diagram quality is very good, but I found it to be concise in places, involving several steps in one diagram or turning the model over before showing the results of the last step. The accompanying text does compensate for that, though. so I would recommend this book to all levels of folders. It has become one of my favorite origami books.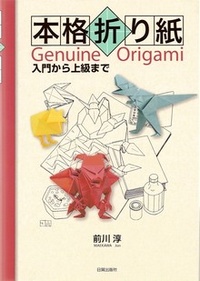 Japanese Version:
Published: 2007 by Nichibou
Pages:160
Binding: Paperback
Language: Japanese
ISBN: 4817081279
Buy from: Amazon.jp
There are 44 Origami Designs in Genuine Origami: