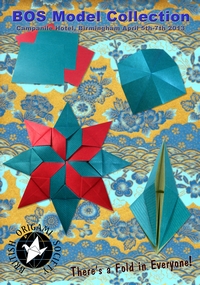 BOS Convention 2013 Spring
Published:

2013 by British Origami Society

Pages:

88

Binding:

Paperback or spiral-bound

Language:

English
| | |
| --- | --- |
| Skill Level | Simple to complex |
| Clear diagrams? | Varies |
| Tinted diagrams (to show 2 sides of paper)? | Varies |
| Photos of completed models? | Varies |
| Is there indication to the model size resulting from size of starting paper? | Varies |
| Are the models "Pure" origami (From a single square - no cuts)? | Varies |
Overall Impression
The British Origami Society holds 2 conventions every year, taking place over a weekend in various places in the UK, and in each one publishes a model collection.
This is a big compilation of various models from multiple designers. Difficulty and diagramming quality vary.
There are 37 Origami Designs in BOS Convention 2013 Spring:
Design
Designer
Page
Details
Photo

Show only designs with photos
Duo star
Stephen Hill
4
Square
Picture frame
Larry Hart
5
Rectangle - A size

Also in Complete Origami by Eric Kenneway
Also in Origami - 30 fold-by-fold projects by Paulo Mulatinho
Also in Origami - The Complete Guide to the Art of Paperfolding by Rick Beech
Also in Larry Hart Selected Works 71-91 by Larry Hart
Also in Origami You Can Use by Rick Beech

Folded by Gabriel Vong
Sylter star
Doris Lauinger
6
Square
8 units
Hexenv
Michel Grand
7
Rectangle - A size
Hermit crab
Nick Robinson
8
Square
Cotton bowl
David Wires (David Donahue)
9
Square
Jet fighter
Mark Bolitho
10
Square
Cat bookmark
Christophe Boudias
15
Rectangle
Swan
Kiumars Sharif Moghaddam
16
Square
Rooster
Nguyen Tu Tuan
18
Square

Folded by Rui Roda
Dragon baby
No Thien
21
Square
Electric ray
Nguyen Ngoc Vu
26
Square

Also in Bogota Origami Convention 2013
Also in Czech Origami Convention 2013
Also in VOG 2 by Vietnam Origami Group

Folded by Magali
Elephant
Dennis Walker
32
Rectangle - A size

From an A-size cut in half
Echo dish
Michael Weinstein
34
Square
Bird
Edwin Corrie
36
Square
Spinning top 2
Anna Kastlunger
38
Square
GP envelope
Dennis Walker
41
Rectangle
Cow
Yannick Gardin
42
Square

Also in Argentine Convention 2012
Also in MFPP 2013 Convention
Also in Pajarita Extra 2015

Nice color-change options
Mad dog
Nick Robinson
44
Square
Rabbit
Andrew Hudson
46
Square
Gmail
Gilad Aharoni
48
Square

Diagrams in the diagrams section
Heligob
Michel Grand
50
Square
Credit card holder with 10 pockets

Objects - Wallets

Larry Hart
51
Rectangle - A size
Cat
Edwin Corrie
52
Square
See-through heart frame
Francis Ow
56
Rectangle - 1X3
2 units
22.5 degree module 1
David Petty
62
Square
4 units
Magic wallet

Objects - Wallets

Robert Orndorff
64
Square
Spinner - Give it a spin!
Mick Guy
66
Square
4 units
Patchwork rabbit
Zsuzsanna Kricskovics
69
Triangle
3 units
Penguin - Pingu
Evi Binzinger
70
Square
Seahorse
Mindaugas Cesnavicius
72
Square

Folded by Rui Roda
Dish 1
Philip Shen
74
Square

Also in Philip Shen: Selected Geometric Paper Folds by Paul Jackson

Folded by Rebecca
Dishes
Ian Harrison
74
Square
Cat head
Christophe Boudias
77
Square

Also in Le Pli 129
Also in AEP convention 2013
Also in Origami USA Convention 2013

Folded by Rui Roda
Owl
Wayne Brown
78
Square
Sparrow 2.0
Antonio Chavez Armas
79
Square
Cube
Fujimoto Shuzo
82
Square

Also in BOS Convention 1982 Spring
Also in BOS Magazine 94
Also in BOS Magazine 298
Also in Classic Origami by Paul Jackson
Also in Invitation to Creative Playing with Origami by Fujimoto Shuzo
Also in Invitation to Creative Playing with Origami by Fujimoto Shuzo
and in other sources...