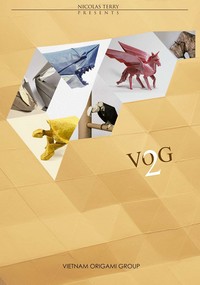 | | |
| --- | --- |
| Skill Level | Simple to complex |
| Clear diagrams? | Yes |
| Tinted diagrams (to show 2 sides of paper)? | Yes |
| Photos of completed models? | Yes |
| Is there indication to the model size resulting from size of starting paper? | Yes |
| Are the models "Pure" origami (From a single square - no cuts)? | Most are |
Overall Impression

Following on the heels of 50 Hours of Origami +, comes another compilation from the talented Vietnamese Origami Group. Nicolas Terry has again collected works from artists featured in the first volume, as well as from new contributors. Short biographies are included for all designers.
From the simple, stylized cat and mouse to the ultra complex white shark, complete with teeth, there is something here for every taste. A few complex crease-pattern challenges are included, as well. Some of the models start with the traditional bases as part of a competition the group held. It's quite interesting to see what designs these creative minds extract out of those bases.
I'm always happy with Passion Origami's book quality, and this book is no different. Each model comes with the designer's thoughts and the model's crease-pattern. There's also a "secret code", that once figured out will get you some extra content.
For very little extra, you can get, alongside the hardbound copy, a PDF file of the book. This way you don't have to wait for the mail before you start folding, and the file serves as a backup of sorts to the book!
There are 35 Origami Designs in VOG 2: