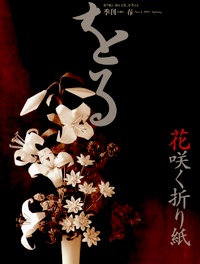 ORU Magazine 8
Published:

1995 by Sojusha

Pages:

160

Binding:

Paperback

Language:

Japanese
| | |
| --- | --- |
| Skill Level | Simple to complex |
| Clear diagrams? | Yes |
| Tinted diagrams (to show 2 sides of paper)? | Yes |
| Photos of completed models? | Yes |
| Is there indication to the model size resulting from size of starting paper? | No |
| Are the models "Pure" origami (From a single square - no cuts)? | Varies |
Overall Impression
ORU are a set of 16 large-format commercial magazines published between 1993-1997. They all contain many articles about design, designers and tehniques, alongside beautiful photos, with many diagrams in the back.
Articles
Flower feature - works by different designers including Toshie Takahama, Akira Yoshizawa and Toshikazu Kawasaki. Just beautiful.
Francis Ow Mun Yin - heart origami
Akiko Yamanashi's work
Peter Engel feature, with photos
Origami furniture, modern designs based on folding techniques
Yoshihide Momotani feature, excellent photos
Black & white photos of models by Kunihiko Kasahara
Kazuo Haga and the Haga theorem
Shinto religious ceremony using folded paper
Report on Second International Meeting of Origami Science and Scientific Origami
Folding food - Nori (seaweed) and Marzipan
Letterfolds (presented by school girls)
More that I can't figure out?
There are 21 Origami Designs in ORU Magazine 8: