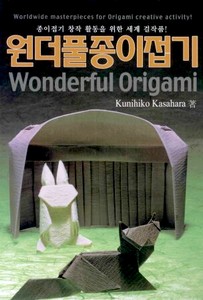 Wonderful Origami
Published:

2000 by Jong Ie Nara

Pages:

186

Binding:

Paperback

Language:

English and Korean

ISBN-13:

9788976221438

ISBN-10:

8976221435
Buy from: Amazon.com
Buy from: Amazon.jp
| | |
| --- | --- |
| Skill Level | From simple to complex |
| Clear diagrams? | Yes - hand drawn |
| Tinted diagrams (to show 2 sides of paper)? | Yes |
| Photos of completed models? | Yes - some in color, some B&W |
| Is there indication to the model size resulting from size of starting paper? | No |
| Are the models "Pure" origami (From a single square - no cuts)? | Varies |
Overall Impression
This is a book of clever origami. Nothing super complex, but rather clean, nice and effective designs.
Chapter 1 is about Kasahara's experiments with expressive origami - using half-opened folds to only suggest a figure - without getting into much details. Some of these attempts are very good, while others are just too abstract for me.
Chapter 2 showcases the work of Ichiro Kinoshita, which is very different from the first chapter. His work is more "logical".
Chapter 3 is a collection of masterpieces from around the world. There are some nice gems in here.
Chapter 4 features some national costumes, and a symbol of international origami.
There are 58 Origami Designs in Wonderful Origami: