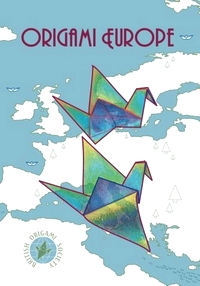 | | |
| --- | --- |
| Skill Level | Simple to complex |
| Clear diagrams? | Many diagramming styles |
| Tinted diagrams (to show 2 sides of paper)? | Most are |
| Photos of completed models? | Yes |
| Is there indication to the model size resulting from size of starting paper? | Varies |
| Are the models "Pure" origami (From a single square - no cuts)? | Varies |
Overall Impression

Origami Europe is an ambitious collaborative project spearheaded by the British Origami Society, collecting over 60 designs from origami societies all over Europe, and bringing together a slew of creations from different designers, covering all styles and movements in contemporary origami.
Each different society chose its best designs to send, which makes for a diverse collection, with known classics alongside new offerings. A short biography of each society and submitting members accompanies each submission.
The book puts me in mind of convention books: big in scope, designers, themes, diagramming styles and difficulty levels from all across the board. However, as everything here went through a highly selective process, it's a cut above such books.
There are 65 Origami Designs in Origami Europe:
Design
Designer
Page
Details
Photo

Show only designs with photos
Owl and tree
Wayne Brown
19
Square

Also in BOS Convention 2015 Spring
Also in Ecuador Convention 2014
Also in Jong Ie Nara Plus magazine 79-23
Also in Origami USA Convention 2014

Tree from another square, with a brilliant way to connect owl and tree
Sue's flapper
Nick Robinson
20
Square
Googly eyes
Giles Towning and Sharon Turvey
21
Rectangle
2 units
Eyeball
Sharon Turvey
25
Rectangle - 1X2
2 units
New Year's ball
Michael Trew
27
Square
20 units
Mouse
David Brill
30
Square

Also in BOS Convention 2004 Autumn
Also in BOS Magazine 228
Also in Dave Brill - Selected Models 1997-2004 by David Brill
Also in Tanteidan 10th convention
Also in BOS Convention 2004 Autumn
Also in BOS Magazine 228
and in other sources...
Cheese
David Brill
35
Rectangle - 1X2

Also in BOS Convention 2004 Autumn
Also in BOS Magazine 228
Also in Dave Brill - Selected Models 1997-2004 by David Brill
Also in Tanteidan 10th convention
Also in BOS Convention 2004 Autumn
Also in BOS Magazine 228
and in other sources...
Cat
David Brill
36
Square

Also in BOS Convention 2004 Autumn
Also in Dave Brill - Selected Models 1997-2004 by David Brill
Also in Tanteidan 10th convention
Elephant baby
Dragutin Geric
42
Square

Crease pattern
Maple seed
Davor Vinko
43
Square
Burgeoning
Goran Konjevod
44
Square
Dandelion
Sanja Srbljinovic Cucek
46
Rectangle
Multiple units

Also in AEP convention 2013

From rectangles and octagons

Folded by Sanja Srbljinovic Cucek
Clutch bag

Objects - Wallets

Vlatka Fric
49
Square

Crease pattern
Nativity scene
Frantisek Grebenicek
54
Square
5 units
Samurai helmet
Miroslav Mrajca
60
Square
Sioux Indian
Milada Bla'hova
64
Square

Also in Origami USA Convention 1994
Also in BOS Convention 1995 Spring
Tiger
Ondrej E. Cibulka
66
Square
Cephalaspis
Petr Stuchly
71
Square
Bird nest

Birds

Erik Ronholt
80
Other shape

A toilet-paper fold
Sniffer
Simon Andersen
81
Rectangle - A size
2 units
Twisted light bowl
Hans Dybkjaer
83
Square
Capercaille
Helle Fager Ehlers
84
Square
Cyclommatus Imperator
Troels Hojer Jensen
87
Square
Diagram 1181
Lydia Diard
102
Hexagon
Babar cool letterfold - elephant
Michel Grand
106
Rectangle - A size

Also in BOS Magazine 283
Also in Creased Magazine 2
Also in Le Pli 130

Folded by Michel Grand
3D mask
Eric Joisel
107
Square
Motorcycle
Christophe Boudias
121
Square
Wren
Sebastien Limet (Sebl)
130
Square

Also in Pajarita Magazine 123

Folded by Yara Yagi
Ostrich with head in the sand
Klaus Dieter Ennen
138
Triangle
Marla star
Gerlinde Radenacker
141
Hexagon
Rose
Evi Binzinger
142
Square
5 cubes
Dirk Eisner
144
Square
Multiple units
Manta ray
Jacques Kohler
152
Square
Flower
Hella Horvath
159
Hexagon
Connected hearts
Ildiko H. Vass
161
Square
Multiple units
Turkey
Jozsef Zsebe
162
Square

Also in Zsebe Jozsef by Jozsef Zsebe
Angelfish
Peter Budai
164
Square
Stegosaurus
Zsolt Sebok
170
Square

Also in Sebok Zsolt by Zsolt Sebok
Four squares
Paul Jackson
174
Square
4 units
Bowl
Yehuda Peled
175
Square

Also in Origami Flowers and Other Models by Yehuda Peled
Fish
Miri Golan
177
Square
Zipper tessellation variations
Ilan Garibi
180
Rectangle
XYZ 3D
Gadi Vishne
185
Rectangle - 1X2
6 units
Venetian star
Paolo Bascetta
191
Square
24 units

Folded by Paolo Bascetta
Dragon baby
Daniela Carboni
196
Square

Also in Licence to Fold by Nicolas Terry
Also in Quadrato Magico Magazine 81
Fan
Francesco Decio
201
Rectangle
4 units

Folded by Francesco Decio
Pram
Roberto Gretter
210
Square

Also in AEP convention 2006
Also in Origami 360 Degrees and Beyond by Roberto Gretter
Also in Quadrato Magico Magazine 90
Also in The Paper Magazine 95

Folded by Eyal Reuveni
Vertigo
Francesco Mancini
215
Rectangle - A size
12 units

Also in Mancinerie by Francesco Mancini
Also in MFPP 2016 Convention
Also in Origami Deutschland 2012

Folded by Rui Roda
Pepi HaDa envelope 2006
Elsje van der Ploeg
224
Rectangle - A size
Tessellation
Frank van Kollem
225
Square
Clog
Jannie van Schuylenburg
230
Rectangle - 1X3
Flower star
Joke Mooij
231
Square
Santa Claus
Paula Versnick
234
Square

Also in Folding for Fun by Paula Versnick
Also in Folding for Fun by Paula Versnick
Also in Beginning Origami by Vicente Palacios
Also in BOS Magazine 217
Also in Minimal Origami by Jean Jerome Casalonga
Also in NOA Magazine 328
Twirls - ammonite
Krystyna Burczyk
239
Square
24 units
Geastrum tessellation
Halina Rosciszewska-Narloch
241
Hexagon
2 units
Merlion 2.1
Artur Biernacki
246
Square
Beetle (from Cars)
Carlos Gonzalez Santamaria (Halle)
257
Square
Multiple units

Also in AEP convention 2013
Also in Drawing Origami - Volume 1 by Halle, Pere Olivella and Nicolas Terry

Folded by Rui Roda
Cat
Fernando Gilgado Gomez
268
Square

Also in AEP convention 2012
Also in Czech Origami Convention 2012
Also in Olympiad 2012
Also in Origami USA Convention 2012

Folded by Pere Olivella
Black ant
Manuel Sirgo
277
Square
Giraffe
Gabriel Alvarez Casanovas
295
Square

Also in AEP convention 2003
Also in Pajarita Extra 2011 - Gabriel Alvarez
Also in Pajarita Magazine 84
Flexiball
Jorge Pardo
301
Square
Multiple units
Tangram set
Marcus Cooman
308
Square
7 units
Wheelbarrow
Marcus Cooman
314
Square
Bat mask
Thomas Cuffe
319
Triangle
Eagle
Mindaugas Cesnavicius
320
Square