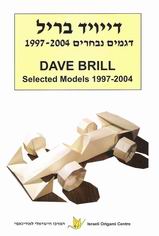 Dave Brill - Selected Models 1997-2004
Published:

2005 by Israeli Origami Center

Pages:

32

Binding:

Paperback

Language:

English
| | |
| --- | --- |
| Skill Level | From simple to complex |
| Clear diagrams? | Yes - hand drawn |
| Tinted diagrams (to show 2 sides of paper)? | No |
| Photos of completed models? | Only of the racing car and mouse |
| Is there indication to the model size resulting from size of starting paper? | No, but there is a recommended starting size |
| Are the models "Pure" origami (From a single square - no cuts)? | A few are from rectangles or multi-part |
Overall Impression
David Brill was the guest of honor at the 2nd Israeli origami convention held in 2005. As a tribute to his work, the Israeli Origami Center collected some of his favorite models created since the publication of Brilliant Origami.
Most of the models did appear in print elsewhere, but usually in hard-to-obtain magazines and convention books, so it's nice to see them all in one place.
The models are all in Dave's unique life-like style, and are a joy to fold and to behold.
Buy from: BOS Supplies
There are 10 Origami Designs in Dave Brill - Selected Models 1997-2004: