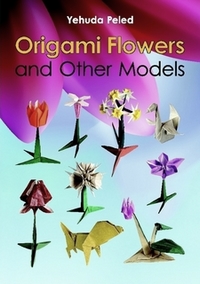 Origami Flowers and Other Models
Published:

2015

Pages:

130

Binding:

Paperback

Language:

English

ISBN-13:

9781312820708

ISBN-10:

1312820705
Buy from: Origami-shop.com
Buy from: Amazon.com
Buy from: Amazon.jp
| | |
| --- | --- |
| Skill Level | Simple to complx |
| Clear diagrams? | Yes |
| Tinted diagrams (to show 2 sides of paper)? | Yes |
| Photos of completed models? | A few photos on the cover |
| Is there indication to the model size resulting from size of starting paper? | Yes |
| Are the models "Pure" origami (From a single square - no cuts)? | Mostly |
Overall Impression

Yehuda Peled's style is of the Genuine Origami school. Logical folding sequences with clearly defined guidelines, resulting in a clean, geometrical model pleasing to the eye. In this books he implements his style on a variety of subjects, including mostly flowers, but also some animals, human faces and geometrical forms, among others. Each model comes with details about the inspiration and design, and recommendations for paper types and sizes.
A practical section in the end of the book describes ways of dividing the side of a sheet of paper, and for obtaining different shapes from squares or A-sized rectangles.
Nice and unique! Give it a try.
There are 37 Origami Designs in Origami Flowers and Other Models:
Design
Designer
Page
Details
Photo

Show only designs with photos
Bellflower
Yehuda Peled
10
Square

Folded by Yehuda Peled
Lily
Yehuda Peled
12
Square

Folded by Yehuda Peled
Simple flower
Yehuda Peled
14
Square

Also in CDO convention 2013

Folded by Yehuda Peled
Star
Yehuda Peled
14
Square
Simple stem
Yehuda Peled
17
Square

Also in CDO convention 2013

Folded by Yehuda Peled
Simple tree
Yehuda Peled
20
Square

Folded by Yehuda Peled
Envelope for CD
Yehuda Peled
22
Rectangle - A size
Seal
Yehuda Peled
24
Square
Tall bird

Birds

Yehuda Peled
26
Square
Swan
Yehuda Peled
28
Square

Also in Christmas Origami Book 2014

Folded by Yehuda Peled
Candle
Yehuda Peled
31
Square
Cup
Yehuda Peled
34
Square

Folded by Yehuda Peled
Bowl
Yehuda Peled
36
Square

Also in Origami Europe
Vase 1
Yehuda Peled
38
Square

Also in CDO convention 2013
Vase 2
Yehuda Peled
40
Square
Vase 3
Yehuda Peled
42
Square

Folded by Yehuda Peled
Devil face
Yehuda Peled
44
Square
Wizard face
Yehuda Peled
46
Square

Also in CDO convention 2013
Tulip
Yehuda Peled
50
Hexagon

Also in BOS Magazine 239

Folded by Yehuda Peled
Plumeria
Yehuda Peled
53
Pentagon

Folded by Yehuda Peled
Lotus
Yehuda Peled
56
Heptagon
Fir tree
Yehuda Peled
58
Square

Also in OrigaMIT 2013 Convention Book

Folded by Yehuda Peled
Single leaf
Yehuda Peled
61
Square
Tree with canopy
Yehuda Peled
62
Square
Cyclamen
Yehuda Peled
66
Pentagon

Folded by Yehuda Peled
Table or 3 stem base
Yehuda Peled
68
Square
Daffodil
Yehuda Peled
73
Hexagon

Folded by Yehuda Peled
Cyclamen stem
Yehuda Peled
76
Square

Folded by Yehuda Peled
Daffodil stem
Yehuda Peled
77
Square

Folded by Yehuda Peled
Sunflower
Yehuda Peled
83
Hexagon
Royal Iris
Yehuda Peled
86
Triangle

Folded by Yehuda Peled
Sea Daffodil
Yehuda Peled
90
Hexagon

Folded by Yehuda Peled
Bee orchid
Yehuda Peled
94
Square
Dogs
Yehuda Peled
100
Square

Folded by Yehuda Peled
Table
Yehuda Peled
105
Square
Fool face
Yehuda Peled
108
Square
Bulldozer
Yehuda Peled
112
Square

Also in Christmas Origami Book 2014
Also in Origami USA Convention 2015

Folded by Yehuda Peled