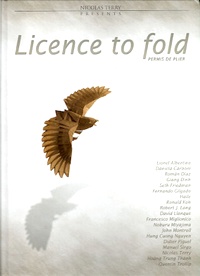 | | |
| --- | --- |
| Skill Level | From simple to complex |
| Clear diagrams? | Yes |
| Tinted diagrams (to show 2 sides of paper)? | Yes |
| Photos of completed models? | Yes |
| Is there indication to the model size resulting from size of starting paper? | Yes |
| Are the models "Pure" origami (From a single square - no cuts)? | Yes, except for the multi-part Cartoon cat and mouse |
Overall Impression

To write this book, Nicolas Terry sought out some of today's prominent origami designers from all over the world, and asked them to diagram a model of theirs that he liked, and for which no diagrams existed beforehand. If they didn't have diagrams for their model, Nicolas volunteered to help draw the instructions.
The result is a fascinating look at the contemporary origami scene, with a wide range of representational origami. From the artistic approach of Giang Dinh, creating a cat with only a few folds, which is actually one of the most difficult models in the book, to the ultra-realistic models coming from rising new origami-stars from Vietnam.
As always with Nicolas Terry's books, the production quality is superb, with clear diagrams and beautiful pictures, and with each model accompanied by information about the designer, the design itself and suggestions for suitable papers.
As extra features, there are interviews with two creators, Nguyen Hung Cuong and Seth Friedman, discussing their design process with crease-patterns for their creations. Also included is a puzzle, that when deciphered and emailed to the author, grants access to a secret web-page containing even more diagrams.
A great book, which is certain to become a classic.
There are 23 Origami Designs in Licence to Fold: