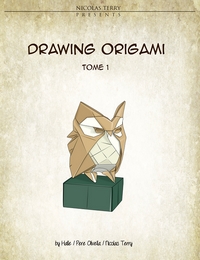 | | |
| --- | --- |
| Skill Level | Low intermediate to complex |
| Clear diagrams? | Yes |
| Tinted diagrams (to show 2 sides of paper)? | Yes |
| Photos of completed models? | Yes |
| Is there indication to the model size resulting from size of starting paper? | No |
| Are the models "Pure" origami (From a single square - no cuts)? | Mostly |
Overall Impression

Another winner from Nicolas Terry's publishing enterprises, this book is a beautiful collection of newer designs introducing creators new to the scene, and of some designs from more seasoned creators. The variety of subjects is dazzling: Animals, human figures, objects and geometric constructions. The book is a collaboration of multiple talents: the designers sent their crude instructions to Pere and his team of folders, who took detailed step photos of the folding process. These photos were then sent to Halle, who has painstakingly recreated them as lively drawings, while peppering the entire book with small cartoons. Nicolas Terry edited everything to create an original and fun origami book.
The designs are mostly complex, and many require shaping skills and a careful choice of folding material. Each model comes with a recommendation for paper type and size, and origami-shop.com even offers a special pack of paper tailored for the designs in this book.
If I have a minor quibble about the layout of the book - it is the trendy snaking step order in the diagrams, which threw me off track a few times trying to figure out what the next step is. This may be only me, though, and doesn't detract from the value of this book.
As always with Nicolas Terry's books, the production quality is superb, and a secret code hidden within the pages will enable you to obtain some extra diagrams from the publisher. The book is available as both a hardcover and a PDF E-book.
Very highly recommended for advanced folders!
There are 35 Origami Designs in Drawing Origami - Volume 1: