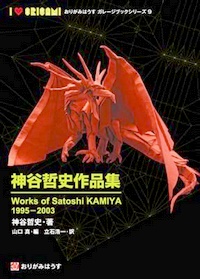 | | |
| --- | --- |
| Skill Level | Complex |
| Clear diagrams? | Yes |
| Tinted diagrams (to show 2 sides of paper)? | Yes |
| Photos of completed models? | Yes |
| Is there indication to the model size resulting from size of starting paper? | No, but recommended starting size is provided |
| Are the models "Pure" origami (From a single square - no cuts)? | Yes |
Overall Impression

Satoshi Kamiya is one of the leading "Technical Origami" creators in the world today. Most of his models, despite being ultra-complex and extremely detailed, still have a sense of beauty and are quite aesthetic and pleasing to look at.
This book was expected for a long time, and when its contents was finally revealed, there was some disappointment, as almost all the models in it have already been published elsewhere - in magazines, convention-books etc. Kamiya states in the forward to the book that he did not publish this book in order to show his new designs, but rather to provide a source of inspiration for young would-be designers. However, the book is still worth obtaining even for the obsessive magazine collectors among us, because:
* Most of the diagrams have been re-drawn for sake of clarity, and even to incorporate design changes.
* The instructions are now in English, too!
* Each model is accompanied by Kamiya's thoughts and tips about its design.
* And, of course, having all the models in one place is a treat, too.
This being said, the book collects 19 of Kamiya's creations, arranged chronologically by dates of design, so you can follow Kamiya's progress (actually, he was pretty good from the start!). There are several prehistoric beasts, some mythical creatures (with the 274 step Ancient Dragon and 275 step Bahamut!) and a few others. All interesting and original. Each model is accompanied with design tips and the crease pattern.
As always with books published by Gallery Origami House, the quality of the book is superb, with beautiful color photos of all models and very high diagramming standards. All text is in both Japanese and English.
Bottom line: If you like a finger-busting folding challenges which yields tasteful results, then this book should be a part of your collection. And since Gallery Origami House tend to print their books in limited editions, get it while there's still time...
There are 19 Origami Designs in Works of Satoshi Kamiya 1995-2003: