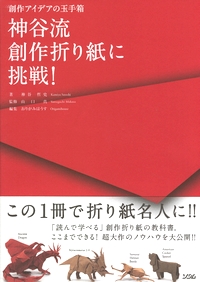 | | |
| --- | --- |
| Skill Level | Complex |
| Clear diagrams? | Yes |
| Tinted diagrams (to show 2 sides of paper)? | Yes |
| Photos of completed models? | Yes |
| Is there indication to the model size resulting from size of starting paper? | Yes |
| Are the models "Pure" origami (From a single square - no cuts)? | Yes |
Overall Impression

Satoshi Kamiya's new book is not a typical diagram book. The few full diagrams in it have actually already been published before, albeit in hard-to-find sources.
What the book is about is the process of folding, techniques, crease-pattern interpretation etc. As all this text is in Japanese I cannot make much of it, but everything is accompanied with many drawings and photos which give insights to the meaning of the text.
Part 1 : Basics - discusses tools needed for folding (from rulers to tweezers, clips, display tools, wet-folding essentials etc.), describes different types of papers, and explains the basic symbols.
Part 2: Practice - shows how to cut paper, make accurate creases, handle more complex moves, allow for paper-thickness in folding, and examines display techniques such as shaping, strengthening the model with glue and using wire for display.
Part 3: Advanced Techniques - delves into wet-folding, back-coating and making tissue-foil, understanding crease-patterns and showing some theories. This part concludes in an in-depth analysis of the Ryujin 3.5 crease-pattern, which is included in the beginning of the book.
The book opens with a gallery of designs, with tiny crease-patterns for Kamiya's, Hideo Komatsu's and Hojyo Takashi's works. There are also photos of other designer's works, without crease-patterns.
While the diagrams included make this book worthwhile in itself, I'm keeping my fingers crossed for an English version of the text!
There are 23 Origami Designs in World of Super-Complex Origami: