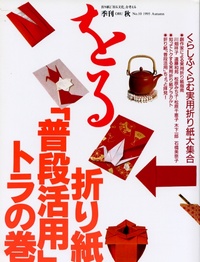 ORU Magazine 10
Published:

1995 by Sojusha

Pages:

160

Binding:

Paperback

Language:

Japanese
| | |
| --- | --- |
| Skill Level | Simple to complex |
| Clear diagrams? | Yes |
| Tinted diagrams (to show 2 sides of paper)? | Yes |
| Photos of completed models? | Yes |
| Is there indication to the model size resulting from size of starting paper? | No |
| Are the models "Pure" origami (From a single square - no cuts)? | Varies |
Overall Impression
ORU are a set of 16 large-format commercial magazines published between 1993-1997. They all contain many articles about design, designers and tehniques, alongside beautiful photos, with many diagrams in the back.
Articles
Kunihiko Kasahara visits a paper factory
Sachiko Kawahata's work (crane envelopes)
Endo Kazukuni's work
Michiko & Chieko Matsubara's work
Ichiro Kinoshita's work
Minako Ishibashi's work
Decorating paper using lacy patterns
Masahiro Yamashani's work
Seiji Nishikawa's work
Toyoaki Kawai's work - with very nice photos
Report from OUSA 95 convention
Philip Shen's work
Origamics
Traditional models
Noshi
Mark W. Kennedy teaching how to laminate models
Paper models (not origami)
Crane flowers
Hirotaka Kanaya's work
More that I can't figure out?
There are 21 Origami Designs in ORU Magazine 10:
Design
Designer
Page
Details
Photo

Show only designs with photos
Wallet

Objects - Wallets

Tomoko Tanaka
26
Rectangle - A size
Scarecrow
Akira Yoshizawa
84
Square
Sparrow
Akira Yoshizawa
85
Square
Crane flower
Hosomizu Masashi
123
Square
With cuts
Flower
Tomoko Tanaka
125
Square
Multiple units
Decoration ball
Tomoko Fuse
127
Square
Multiple units
Table
Philip Shen
131
Square
2 units
Penguin with pouch
Endo Kazukuni
134
Square
Box with lid
Ishibashi Minako
136
Rectangle - A size
Crane envelope
Ishibashi Minako
137
Square

Also in BOS Magazine 120
Also in NOA Magazine 449
Also in Pajarita Magazine 9
Also in Papiroflexia Basica by Vicente Palacios

Folded by Lou Pearson
Crane letter
Kawahata Sachiko
138
Rectangle - A size
With cuts
Crane chopstick holder
Kawahata Sachiko
139
Square
With cuts
Arrow
Ichiro Kinoshita
140
Square

Also in Fun Origami World by Makoto Yamaguchi
Also in Wonderful Origami by Kunihiko Kasahara

Folded by Fujikura Atsuo
Fox
Kawai Toyoaki
143
Square
Mamenchisaurus
Yamanashi Masahiro
147
Square
Cake
Makoto Yamaguchi
151
Square
Multiple units
Pine cone
Toshikazu Kawasaki
153
Square

Also in Origami for the Connoisseur by Kunihiko Kasahara and Toshie Takahama

Folded by Phillip West
Table
Abe Hisashi
154
Rectangle - A size
Chair - throne
Takekawa Seiryo
155
Square

Also in Origami de Christmas 3

Folded by Fujikura Atsuo
Heaven guardian mask - Tenhu
Etsuro Bodaiji
157
Square

Folded by Fujikura Atsuo
Face
Kunihiko Kasahara
159
Square