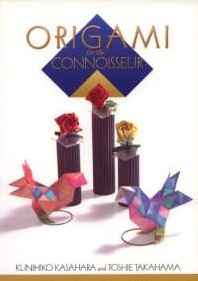 | | |
| --- | --- |
| Skill Level | From simple to complex |
| Clear diagrams? | Yes - hand drawn |
| Tinted diagrams (to show 2 sides of paper)? | Yes |
| Photos of completed models? | Yes |
| Is there indication to the model size resulting from size of starting paper? | No |
| Are the models "Pure" origami (From a single square - no cuts)? | Most are |
Overall Impression
Originally published in 1985 as the 2nd part of the "Viva! Origami" series under the name "Top Origami". This was the only book of the set to be published in English.
The book has a nice variety of subjects, with many geometrical and modular forms, and also animals, objects etc.
The text is fascinating, discussing creativity, mathematics and more, and illustrating various concepts with models.
There are 57 Origami Designs in Origami for the Connoisseur: