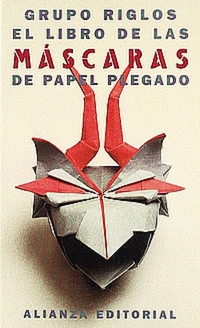 El Libro de Las Mascaras de Papel Plegado
Published:

1997 by Alianza Editorial

Pages:

280

Binding:

Paperback

Language:

Spanish

ISBN-13:

9788420608280

ISBN-10:

8420608289
Buy from: Amazon.com
Buy from: Amazon.jp
| | |
| --- | --- |
| Skill Level | From simple to complex |
| Clear diagrams? | Hand drawn, pretty clear. |
| Tinted diagrams (to show 2 sides of paper)? | Yes |
| Photos of completed models? | Color photographs |
| Is there indication to the model size resulting from size of starting paper? | No |
| Are the models "Pure" origami (From a single square - no cuts)? | Most are |
Overall Impression
The little book is packed with some of the best origami masks ever created. Some humans, some animals, and some monsters.
The creators, with the most prominent being Gabriel Alvarez, make excellent use of both sides of the paper in creating intricate features and interesting characters.
The diagrams might be challenging for beginners, as they are hand-drawn, and sometimes involve many steps at-once, but the masks are worth the effort.
Highly recommended book.
There are 35 Origami Designs in El Libro de Las Mascaras de Papel Plegado: