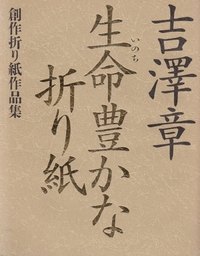 Origami: Living Nature
Published:

1996 by Sojusha

Pages:

200

Binding:

Paperback

Language:

Japanese

ISBN-13:

9784916096319

ISBN-10:

4916096312
Buy from: Amazon.com
Buy from: Amazon.jp
| | |
| --- | --- |
| Skill Level | High-intermediate |
| Clear diagrams? | Yes |
| Tinted diagrams (to show 2 sides of paper)? | No |
| Photos of completed models? | Yes |
| Is there indication to the model size resulting from size of starting paper? | No |
| Are the models "Pure" origami (From a single square - no cuts)? | Most are |
Overall Impression
For those seeking super complex models, with plenty of sticking-out-bits, this book will not be what you're looking for. However, while Yoshizawa's models seem simple enough to fold (only a few steps per model), they are very hard to fold "right". Yoshizawa seems to somehow breath life into his creations, and that's the secret of their charm. I wouldn't recommend this book to beginners, since they could be frustrated with the lack of clear reference points for the fold. These models should be "folded with feeling".
The book has detailed B&W photos of all models, and color photos of some of the models at the beginning.
At the end of the book there are 3 photographic essays about cutting paper, wet-folding and back-coating.
These essays are in Japanese - and Joel Stern has kindly contributed an English translation for them, made by his friend Robert Tsuchida.
There are 59 Origami Designs in Origami: Living Nature:
Design
Designer
Page
Details
Photo

Show only designs with photos
Mouse
Akira Yoshizawa
22
Square
Cow
Akira Yoshizawa
23
Square
Cow
Akira Yoshizawa
24
Square
2 units
Cow head
Akira Yoshizawa
27
Square
Tiger
Akira Yoshizawa
30
Square
Rabbit
Akira Yoshizawa
31
Square

Also in Origami Dokuhon II by Akira Yoshizawa
Also in Origami Tanteidan Magazine 92
Eastern dragon
Akira Yoshizawa
34
Square
Snake
Akira Yoshizawa
35
Square

Folded by Rudolf Deeg
Horse
Akira Yoshizawa
39
Square
Goat
Akira Yoshizawa
41
Square
Sheep
Akira Yoshizawa
44
Square
2 units
With cuts
Sheep head pocket
Akira Yoshizawa
48
Square
Sheep head
Akira Yoshizawa
49
Square
Monkey
Akira Yoshizawa
54
Square
Hen
Akira Yoshizawa
55
Square
Dog
Akira Yoshizawa
57
Square
Scottie
Akira Yoshizawa
59
Square
2 units
Dog
Akira Yoshizawa
64
Square
Dog
Akira Yoshizawa
65
Square
Dog
Akira Yoshizawa
66
Square
Wild boar
Akira Yoshizawa
69
Square

Folded by Rudolf Deeg
Cat
Akira Yoshizawa
72
Square
2 units

Also in Fun with Origami Paper Folding - Vol. 1 by Akira Yoshizawa

One of my favorite cat designs
Bird

Birds

Akira Yoshizawa
76
Square
Bird

Birds

Akira Yoshizawa
78
Square
Duck
Akira Yoshizawa
84
Square
Duck
Akira Yoshizawa
87
Square
Duck container
Akira Yoshizawa
88
Square
Goldfish
Akira Yoshizawa
92
Square
Sea bream
Akira Yoshizawa
96
Square
Flying fish
Akira Yoshizawa
97
Square
Sea bream
Akira Yoshizawa
98
Square
Scarab beetle
Akira Yoshizawa
100
Square

Crease pattern
Brachiosaurus
Akira Yoshizawa
104
Square
Tree
Akira Yoshizawa
109
Square
Person
Akira Yoshizawa
114
Square
Person - doing handstand
Akira Yoshizawa
116
Square
Person - skipping
Akira Yoshizawa
118
Square
Running man
Akira Yoshizawa
120
Square
Bride
Akira Yoshizawa
124
Square
Witch
Akira Yoshizawa
126
Square
Magic wand
Akira Yoshizawa
127
Rectangle - Long strip
Face - happy or sad
Akira Yoshizawa
130
Square

Also in El Libro de Las Mascaras de Papel Plegado by Grupo Riglos

Folded by Mike Van Horne
Demon mask
Akira Yoshizawa
136
Square
Lamb's head
Akira Yoshizawa
139
Square
Hina dolls
Akira Yoshizawa
144
Square
Star decoration
Akira Yoshizawa
154
Square
Star decoration
Akira Yoshizawa
155
Square
Bamboo leaf
Akira Yoshizawa
156
Square
Sailboat
Akira Yoshizawa
157
Square
2 units
Yacht
Akira Yoshizawa
158
Square
Child
Akira Yoshizawa
159
Square
Taurus
Akira Yoshizawa
163
Square
Libra
Akira Yoshizawa
166
Rectangle - 1X4
Plane
Akira Yoshizawa
172
Rectangle - 1X2

Many variations of flying airplanes

Folded by Malachi Brown
Plane
Akira Yoshizawa
172
Square

Many variations of flying airplanes

Folded by Malachi Brown
Plane
Akira Yoshizawa
172
Square

Many variations of flying airplanes

Folded by Malachi Brown
Plane
Akira Yoshizawa
173
Square

Many variations of flying airplanes

Folded by Malachi Brown
Pinwheel
Akira Yoshizawa
186
Triangle
Pinwheel
Akira Yoshizawa
186
Square