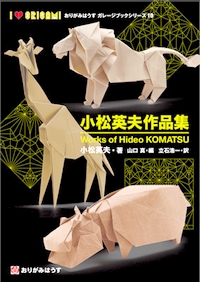 | | |
| --- | --- |
| Skill Level | From Intermediate to complex |
| Clear diagrams? | Yes |
| Tinted diagrams (to show 2 sides of paper)? | Yes |
| Photos of completed models? | Yes |
| Is there indication to the model size resulting from size of starting paper? | Yes |
| Are the models "Pure" origami (From a single square - no cuts)? | Yes |
Overall Impression

This is the long-awaited compliation of Hideo Komatsu's original work spanning many years of folding activity. One of my favorite designers, Komatsu's style is of the "Genuine Origami" school. Like the works of Jun Maekawa, Komatsu's models follow clean lines and angles to capture the subjects in geometric form. Usually there isn't much expressive work to add to the finished model.
Most models here were previously published, but in Japanese magazines and convention books which are hard to obtain now. Furthermore, most of the diagrams have been reworked for this book, and English instructions and design-notes added to all models. So even if you have the older diagrams, there is much to learn from this book.
As always with Origami House's books, the production quality of this book is superb, with beautiful pictures and high diagramming standards.
There are 20 Origami Designs in Works of Hideo Komatsu: