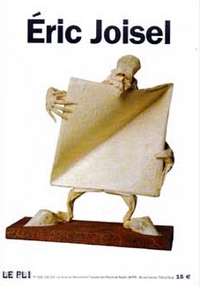 Eric Joisel - Le Pli magazine
Published:

2011 by MFPP

Pages:

50

Binding:

Paperback

Language:

French
Buy from: Origami-shop.com

| | |
| --- | --- |
| Skill Level | Complex |
| Clear diagrams? | Yes |
| Tinted diagrams (to show 2 sides of paper)? | Yes |
| Photos of completed models? | Yes |
| Is there indication to the model size resulting from size of starting paper? | No |
| Are the models "Pure" origami (From a single square - no cuts)? | Yes |
Overall Impression

This special booklet published by the French Origami Association collects most diagrams ever produced by the late wonderful origami artist Eric Joisel, and is in this way a nice companion to the beautiful showcase: Eric Joisel - The Magician of Origami which contains many photos but very few diagrams.
This little booklet contains a lot more than diagrams, though. There are several articles with many B&W photos, testimonials from Eric's friends, and an extra set of instructions, not by Joisel, but rather of his image, by Nguyen Hung Cuong.
An excellent tribute and a must for Joisel fans.
There are 10 Origami Designs in Eric Joisel - Le Pli magazine: