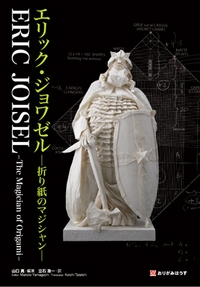 | | |
| --- | --- |
| Skill Level | Complex |
| Clear diagrams? | Yes |
| Tinted diagrams (to show 2 sides of paper)? | Yes |
| Photos of completed models? | Yes |
| Is there indication to the model size resulting from size of starting paper? | No |
| Are the models "Pure" origami (From a single square - no cuts)? | Yes |
Overall Impression

This is not a diagram-book (although 2 diagrams are included), but rather a magnificent showcase and tribute to the work of the late artist Eric Joisel. Sadly, it came out very shortly following his passing. The first half of the book is comprised of beautiful photos of pretty much every design Joisel ever created, along with hand-sketched crease-patterns, Joisel's comments about each design and photos of different angles of the models.
The second half contains articles by Robert Lang and David Brill about Joisel; a long, no-holds-barred interview with Joisel, where he talks about *everything*, A transcript of a presentation about Joisel's 3D work, where he discusses his various techniques at length, and some more articles discussing Joisel's creative process. The book ends with diagrams for his trademark rat, and the base for his famous dwarf, many variations of which are used in Joisel's orchestra.
This is a great tribute to an artist who brought fresh air and new perspectives to the art of origami.
There are 2 Origami Designs in Eric Joisel - The Magician of Origami: