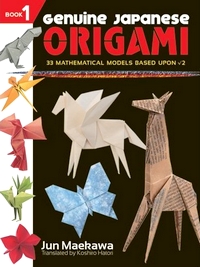 Genuine Japanese Origami (Book 1)
Published:

2012 by Dover Publications

Pages:

192

Binding:

Paperback

Language:

English

ISBN-13:

9780486483313

ISBN-10:

0486483312
Buy from: Amazon.com
Buy from: Amazon.jp
| | |
| --- | --- |
| Skill Level | From simple to complex |
| Clear diagrams? | Yes |
| Tinted diagrams (to show 2 sides of paper)? | Yes |
| Photos of completed models? | Yes |
| Is there indication to the model size resulting from size of starting paper? | No, but starting size is recommended |
| Are the models "Pure" origami (From a single square - no cuts)? | Models are from rectangles |
Overall Impression
Note: This is the first volume of the English edition of Genuine Origami Square-Root 2, and includes only those models focusing on representational designs. The second volume: Genuine Japanese Origami (Book 2) contains the rest of the models.
Following in the footsteps of Genuine Origami, this book continues in showcasing Maekawa's "Genuine Origami" style of design - using clean, geometrical folds to achieve stylized representations of objects and geometrical designs. There are designs here to please anyone, animals, clever box-designs, and many interesting objects. Theory sections are also strewn between the designs.
The difference in this book from the first Genuine Origami book, however, is that instead of folding from squares, the starting shape of the models is the silver rectangle, also known as "A" size. This is the standard printing-paper proportion in large parts of the world, but if this size is not available in your area, the author provides instructions (and you can find other instructions here) for getting this proportion from any shape or size of paper.
There are 32 Origami Designs in Genuine Japanese Origami (Book 1):