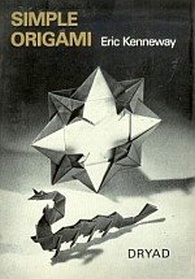 Simple Origami
Published:

1970 by Dryad

Pages:

36

Binding:

Paperback

Language:

English

ISBN-13:

9780852190746

ISBN-10:

0852190743
Buy from: Amazon.com
Buy from: Amazon.jp
| | |
| --- | --- |
| Skill Level | From simple to high-intermediate |
| Clear diagrams? | Yes - hand drawn; Instructions separate from drawings. |
| Tinted diagrams (to show 2 sides of paper)? | On most of the models |
| Photos of completed models? | Yes |
| Is there indication to the model size resulting from size of starting paper? | No |
| Are the models "Pure" origami (From a single square - no cuts)? | A few are from rectangles |
Overall Impression
While this booklet is called "Simple Origami", I don't think the models are the simplest that can be found, so wouldn't recommend it to absolute beginners.
The diagrams, while clear, are written in the concise manner popular in the early days of origami-diagramming, and the verbal instructions are separate from the drawings.
The models are all fun and original, and are rarely seen in other publications. My favorites are the directional hand and drinking bird.
There are 12 Origami Designs in Simple Origami: