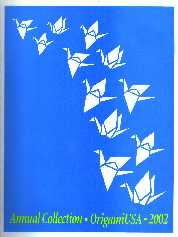 Origami USA Convention 2002
Published:

2002 by Origami USA

Pages:

275

Binding:

Spiral-bound

Language:

English
| | |
| --- | --- |
| Skill Level | From simple to complex |
| Clear diagrams? | Varies |
| Tinted diagrams (to show 2 sides of paper)? | Varies |
| Photos of completed models? | No |
| Is there indication to the model size resulting from size of starting paper? | No |
| Are the models "Pure" origami (From a single square - no cuts)? | Varies |
Overall Impression
This is a big compilation of various models from multiple designers. Difficulty and diagramming quality vary.
Buy from: Origami USA
Also see listing of all other Origami USA convention books in my collection.
There are 75 Origami Designs in Origami USA Convention 2002:
Design
Designer
Page
Details
Photo

Show only designs with photos
Dragon - flying
Jim Adams
2
$ US Dollar Bill

Folded by Michele Rousseau
Starship
Jim Adams
5
$ US Dollar Bill
Dragon - box
Jim Adams
7
Square
Buffalo mask
Jim Adams
10
Triangle
Jet-propeled hovercraft
Jim Adams
14
Square
Elephant
Kenji Aiba
17
Square
Squirrel
Stephane Ansons
19
$ US Dollar Bill
Flag
Milada Bla'hova
22
Rectangle - 1X2
Chair - rocking
Milada Bla'hova
23
Rectangle - 1X2
Table
Milada Bla'hova
24
Square
Alpha Centauri
Peter Budai
26
Square
6 units
Rigel
Peter Budai
28
Square
6 units
Volcano - Stromboli
Peter Budai
30
Square
Boat - double
Jose Tomas Buitrago
32
Square
Rocking horse
Sy Chen
34
$ US Dollar Bill

Folded by Michele Rousseau
Book wrapping
Sy Chen
36
Rectangle
Bottle
Sy Chen
38
Square
Panda
Sy Chen
39
Square

Also in Atlas de l'Origami
Also in BARF 2003 Winter by Jeremy Shafer
Also in BOS Magazine 207
Also in NOA Magazine 315
Also in NOA Magazine 500
Also in Origami Pop-ups to Amaze and Amuse by Jeremy Shafer
Sailboat in a bottle
Sy Chen
40
Square
Sailboat love
Sy Chen
41
Square

Sailboat in a heart
Trishaw
Sy Chen
43
Square
Money star
Trang (Tracy) Chung
47
$ US Dollar Bill
5 units

Folded by William Sattler
Box - self lidded
V'ann Cornelius
50
Rectangle
Masonic symbol
Ted Darwin
51
Rectangle - Long strip
Fish
Pasquale d'Auria
54
Square
Owl
Pasquale d'Auria
60
Square
Heart bookmark
Pasquale d'Auria
69
Square
Windsurf
Pasquale d'Auria
72
Rectangle - 1X3
Bear
Klaus Dieter Ennen
75
Square
Elephant
Klaus Dieter Ennen
79
Square
Insect
Klaus Dieter Ennen
81
Square
Dragon in flight
Charles Esseltine
86
Square

Also in Tanteidan 8th convention
French fries
Charles Esseltine
103
Square
3 units

Also in BARF 2001 Spring by Jeremy Shafer

Folded by Rui Roda
Heart with pockets
Cynthia Fulbright
104
Square
Butterfly
Joe Gilardi
106
$ US Dollar Bill
Trimonds
Andrew Hans
108
$ US Dollar Bill

Folded by William Sattler
Variegated flower
Paul Jackson
109
Square
Jack in the box
Marc Kirschenbaum
110
Square
Skeleton hand in box
Marc Kirschenbaum
122
Square
King Cobra
Ronald Koh
127
Rectangle - Long strip

Also in Origami Deutschland 2003
Also in Pajarita Magazine 79
Also in Pajarita Magazine 80
UVWXYZ
Daniel Kwan
152
Square
30 units
Alamo stallion
Robert J. Lang
157
Square

Also in Origami Design Secrets - 2nd edition by Robert J. Lang
Also in Pajarita Magazine 78
K2
Robert J. Lang
165
Rectangle
60 units

Also in BOS Convention 2002 Spring
Also in Quadrato Magico Magazine 99

Folded by Peter Farina
Makalu
Robert J. Lang
170
Rectangle - 1X2
30 units

Also in Pajarita Magazine 86
Also in Quadrato Magico Magazine 99

Folded by Byriah Loper
Bird flying
Carol Ann Wilk
173
Square
Tulip + leaf
Carol Ann Wilk
175
Square
2 units
Module
Pietro Macchi
179
Rectangle
30 units

Folded by Marina Kosareva
Modular stars
Delrosa Marshall
187
Square
8 units
Pipe
John Marshall
191
Square
Flapping finch
Marcia Joy Miller
194
Square
Pig
Peter Moston
196
Rectangle
Crow with shadow
Robert Neale
201
Square
Symmetrical rota-bonboniere
David Petty
204
Square
Hepta star
Loes Schakel
205
Square
7 units
Hexagonal candlestick holder
Loes Schakel
206
Square
6 units
Kusudama
Loes Schakel
208
Square
6 units
Millenium star
Loes Schakel
210
Square
Clothes pin
Jeremy Shafer
211
Square
Folding chair
Jeremy Shafer
212
Square

A chair that folds flat
Flasher - Iso-Area
Jeremy Shafer
214
Square
Jester's hat
Jeremy Shafer
216
Square
Peacock pop-up card
Jeremy Shafer
219
Square

Also in Origami Pop-ups to Amaze and Amuse by Jeremy Shafer
Also in BARF 2001 Summer by Jeremy Shafer
Also in Colombian Convention 2000 Vol. 2
Also in Tanteidan 9th convention

Folded by Gilad Ayalon
Flasher labyrinth - simple
Jeremy Shafer
223
Square
Unfortunate fisherman
Jeremy Shafer
224
Square

Great - a fisherman being eaten by a large fish
Puppy - business card
Larry Stevens
227
Rectangle
Frog puppet
Michelle Tait
229
Square
Cat
Takai Hiroaki
230
Square
Shark
Takai Hiroaki
233
Rectangle - A size
Bow-tie - business card
Cyril Tessier
237
Rectangle
Mask
Valentin Vaquero
238
Square
Interceptor
Stephen Weiss
240
Rectangle - A size
One love, two hearts
Stephen Weiss
243
$ US Dollar Bill

2 hearts from one $ bill
Mandala
Janneke Wielinga
247
Square
Multiple units
Coin holder

Objects - Wallets

Vicki Wilcox
251
$ US Dollar Bill
Stegosaurus - 1 fold
Joseph Wu
252
Square

Also in Minimal Origami by Jean Jerome Casalonga
Also in Origami: Step by Step to Amazing Paper Models by Ondrej E. Cibulka

Ingenious...