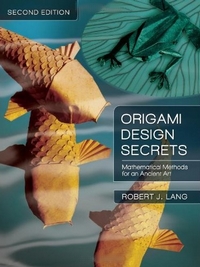 | | |
| --- | --- |
| Skill Level | From low intermediate to super complex |
| Clear diagrams? | Yes |
| Tinted diagrams (to show 2 sides of paper)? | Yes |
| Photos of completed models? | Yes |
| Is there indication to the model size resulting from size of starting paper? | No |
| Are the models "Pure" origami (From a single square - no cuts)? | A few are from rectangles |
Overall Impression

Wow. This is a fabulous book. Even if you only use it as a regular origami instruction book, it has diagrams for amazing models, such as the Western pond turtle with a patterned shell, and, of course, the detailed Black Forest Cuckoo clock. However, this is not a conventional origami book. It's much more than that.
This book gives us insights into "technical" origami design. The object of this approach to design is basically how to get a certain number of appendages of certain sizes out of a piece of paper, in correct relations to each other, and in the most efficient way.
Lang presents several methods, starting with more abstract ones, such as basic point-splitting, modifying existing bases, grafting and tiling, and advances to more "scientific" tools, using circle packing and tree theory to achieve more accurate results.
Each technique is illustrated with many examples, exercises to the reader, and fully diagrammed models.
Lang's writing is flowing and entertaining. No mathematical skills are needed to understand the methods presented.
This book has become a classic as soon as it was published.
Notes about the 2nd edition:
Even you already own the first edition, you may consider investing in the new edition. It has some major changes (extending the original book by a whooping close to 200 pages!), which include:

* Updates and corrections throughout the book.
* 4 new models: Dancing Crane, Silverfish, Roosevelt Elk & Organist. All previously published in other publications, but not always easy to find.
* More details about folding the koi's scales.
* 12 complex insect/arachnid crease-patterns added.
* The illustrations and diagrams' color-scheme has been modified for clarity.
* An expanded Box-pleating chapter, including uniaxial box-pleating methods.
* A new chapter on polygon packing.
* If you're interested in the mathematical algortihms behind the methods described, keep your first edition as this section has been cut from the new one.
There are 39 Origami Designs in Origami Design Secrets - 2nd edition: