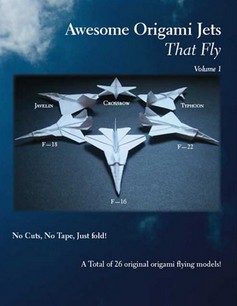 Awesome Origami Jets That Fly
Published:

2007 by Trafford

Pages:

122

Binding:

Paperback

Language:

English

ISBN-13:

9781425134211

ISBN-10:

1425134211
Buy from: Amazon.com
Buy from: Amazon.jp
| | |
| --- | --- |
| Skill Level | Intermediate |
| Clear diagrams? | Mostly |
| Tinted diagrams (to show 2 sides of paper)? | Yes |
| Photos of completed models? | B&W photo for each model |
| Is there indication to the model size resulting from size of starting paper? | Yes |
| Are the models "Pure" origami (From a single square - no cuts)? | All models are from half letter-size paper |
Overall Impression
In his first book: Awesome Origami Aircraft Models of the World's Best Fighters, Tem Boun favored form over function, creating realistic renditions of airplanes that did not fly. In this new book, however, the focus is not only on the form, but also on the flight capabilities of the finished models.
All models are folded from half a letter-sized sheet of paper, and can be folded
successfully out of everyday copy-paper.
Some nice bonuses include a discussion about how paper airplanes actually fly, a break-down of the different parts of the plane, plane-flying techniques, and how to trouble-shoot your plane, if it does not fly correctly.
This is a nice addition to library of folders who wants to impress their peers at school or at the office.
There are 26 Origami Designs in Awesome Origami Jets That Fly: