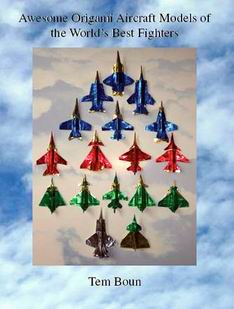 Awesome Origami Aircraft Models of the World's Best Fighters
Published:

2005 by Trafford

Pages:

120

Binding:

Paperback

Language:

English

ISBN-13:

9781412047890

ISBN-10:

1412047897
Buy from: Amazon.com
Buy from: Amazon.jp
| | |
| --- | --- |
| Skill Level | High intermediate |
| Clear diagrams? | Mostly |
| Tinted diagrams (to show 2 sides of paper)? | Yes |
| Photos of completed models? | Color photo of all models on the cover, and B&W photo for each model |
| Is there indication to the model size resulting from size of starting paper? | Yes |
| Are the models "Pure" origami (From a single square - no cuts)? | All models are from rectangles |
Overall Impression
This is Tem Boun's first book in a series of aircraft origami theme. The model airplanes here are not of the flying type, but rather strive to be accurate model representations of real fighter airplanes of the world. Each model is folded from one of 3 sizes of rectangles, easily achievable from Letter-sized paper. It is best to use thin strong paper, or foil. The models are grouped in the book by the number of vertical stabilizers and paper size. There are also instructions for a display stand for the airplanes.
The folding process of these models is very interesting. Boun introduces some new techniques and maneuvers, and achieves very pleasing results.
The only gripe I have with this book is the quality of the diagrams, which are drawn as bitmaps, causing some distortions and inaccuracies. This should not pose a big problem for the more experienced folders, but might get in the way of beginners.
Other than that, this book will be a fine addition to any folder's library.
There are 19 Origami Designs in Awesome Origami Aircraft Models of the World's Best Fighters: