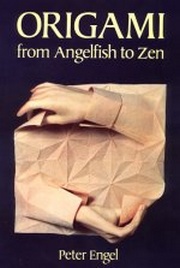 Origami from Angelfish to Zen
Published:

1994 by Dover Publications

Pages:

256

Binding:

Paperback

Language:

English

ISBN-13:

9780486281384

ISBN-10:

0486281388
Buy from: Amazon.com
Buy from: Amazon.jp
| | |
| --- | --- |
| Skill Level | From intermediate to complex |
| Clear diagrams? | Can be challenging |
| Tinted diagrams (to show 2 sides of paper)? | Yes |
| Photos of completed models? | Yes |
| Is there indication to the model size resulting from size of starting paper? | Yes |
| Are the models "Pure" origami (From a single square - no cuts)? | 3 are from $ bills, 1 from a rectangle |
Overall Impression
The book is a re-publication of the 1989 Vintage Books title: "Folding the Universe", and contains two distinct parts: The theory part, and the diagrams part.
I love the theory part. The text is interesting and thought-provoking, giving a glimpse into the process and personal philosophy of Engel's creation. Engel explains the qualities of the square, talks about tools required for folding, and then goes on to discuss the elements of crease-patterns and the considerations that go into designing a model. He also talks about the history of paper-folding, fractal math, music, and includes a fascinating report of his meeting with the late master Akira Yoshizawa.
The models, while sophisticated for the time of their creation, vary in appeal for me now. Most of them require the use of tissue-foil, as they have many layers. The diagrams lack something in clarity, and sometimes depend too much on the verbal instructions. The fact that those verbal instructions are separate from the drawn diagrams does not help, either. There are, however, some really good ideas, like the Valentine and rattlesnake, and some excellent models, as the octopus and kangaroo. Those models, combined with the profound text, make this book a definite must-have for more advanced folders looking for a challenge and a very interesting read.
There are 24 Origami Designs in Origami from Angelfish to Zen: