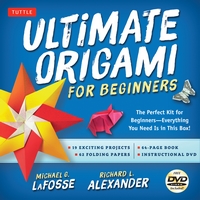 Ultimate Origami for Beginners
Published:

2014 by Tuttle Publishing

Pages:

64

Binding:

Kit with booklet and paper

Language:

English

ISBN-13:

9784805312674

ISBN-10:

480531267X
Buy from: Amazon.com
Buy from: Amazon.jp
| | |
| --- | --- |
| Skill Level | Simple to intermediate |
| Clear diagrams? | Yes |
| Tinted diagrams (to show 2 sides of paper)? | Yes |
| Photos of completed models? | Yes |
| Is there indication to the model size resulting from size of starting paper? | No |
| Are the models "Pure" origami (From a single square - no cuts)? | Varies |
Overall Impression
This kit aims to bring a wide subject range of origami designs, some collected from previous kits and books, like the lovely dollar butterfly and Kanji the dog, and some new designs created especially for this set. Animals, geometrical models, flowers and dollar folds are all here, simple to intermediate in complexity.
The kit comes with 62 sheets of folding paper: standard origami paper in 2 sizes, and a pack of nice quality play money to practice dollar folding with. The highlight of the kit is the DVD, with video instructions for every design diagrammed in the booklet.
Now, had it not been for the DVD, I'd hesitate to recommend the booklet to the absolute beginner. The designs are great and the diagrams clear, but for someone new to origami I'd choose even simpler models to start with. When combined with the video instructions on the DVD, however, it's a whole other picture. You get to sit behind LaFosse's shoulder, watch and follow along as he patiently guides you through the simple as well as more tricky steps, providing tips and techniques for better results. This will enable even beginners to get a grasp on slightly more advanced designs.
Highly recommend for anyone who wants to dip their toes into origami!
There are 19 Origami Designs in Ultimate Origami for Beginners:
Design
Designer
Page
Details
Photo

Show only designs with photos
Crane's egg
Richard L. Alexander
7
Square
3 units
Tato purse

Objects - Wallets

Traditional
10
Square
Sealed with a kiss envelope
Michael G. LaFosse
13
Square

envelope with lips or heart
Dazzle
Michael G. LaFosse
16
Square
8 units
Two lips
Michael G. LaFosse
19
Square

flower with lips
Petallunia moon flower
Michael G. LaFosse
21
Square
6 units
Bunny
Michael G. LaFosse
24
Square

Also in LaFosse and Alexander's Essential Book of Origami by Michael G. LaFosse and Richard L. Alexander

Dim Sum Bunny
Kanji the dog
Richard L. Alexander
27
Square

Also in PCOC 2013 Southwestern Origami Models
Scallop
Michael G. LaFosse
30
Square
Baby dinosaur
Michael G. LaFosse
33
Square
North American cardinal
Michael G. LaFosse
36
Square

Also in Advanced Origami by Michael G. LaFosse and Richard L. Alexander
Also in BOS Convention 2004 Spring
Also in BOS Convention 2011 Spring - Birmingham
Also in BOS Magazine 225
Also in NOA Magazine 450
Also in Tanteidan 10th convention
Also in The Paper Magazine 92
and in other sources...

With Blue Jay or Tufted Titmouse variation
Seahorse for Al Miyatake
Michael G. LaFosse
40
Square

Also in LaFosse and Alexander's Essential Book of Origami by Michael G. LaFosse and Richard L. Alexander
Pig
Michael G. LaFosse
44
Square

Also in Origami USA Convention 2011
Chuck finn
Michael G. LaFosse
47
Square
Shuttlecock
Michael G. LaFosse
50
Square
Manta jet
Michael G. LaFosse
53
Square
Five-dollar star
Michael G. LaFosse
56
$ US Dollar Bill
5 units
Butterfly
Michael G. LaFosse
59
$ US Dollar Bill

Also in Money Origami by Michael G. LaFosse and Richard L. Alexander
Also in Origami USA Convention 1997
Also in Origami Butterflies by Richard L. Alexander and Greg Mudarri
Yacht
Michael G. LaFosse
62
$ US Dollar Bill