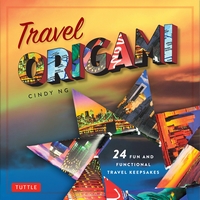 | | |
| --- | --- |
| Skill Level | Simple to Intermediate |
| Clear diagrams? | Not my favorite style |
| Tinted diagrams (to show 2 sides of paper)? | Yes |
| Photos of completed models? | Yes |
| Is there indication to the model size resulting from size of starting paper? | No |
| Are the models "Pure" origami (From a single square - no cuts)? | Varies |
Overall Impression
I like the premise of this book - using paper from your various travels to make keepsakes. The designs and ideas are fun, and give purpose to materials you might not consider for origami, such as candy wrappers, paper bags, comic strips and more. Also included are a few paper currency folding ideas. All with nice write-ups, finishing and display ideas. The designs range from the decorative to the functional.
The book itself is beautifully produced, printed in full color on glossy paper, with nice photographs throughout.
All this being said, I was put off by the diagramming style, with non-standard notation, using the same lines for both valley and mountain folds, and being very flat, making it harder to differentiate edges from creases and to visualize the steps as they relate to the actual paper. Also, many of the designs are missing the final drawing showing the completed model, which can add to the confusion. This may be just me, but I'm not sure how comfortable beginning folders, who this book seems to be geared towards, will be with these diagrams. Somewhat conflicted about this one!
There are 24 Origami Designs in Travel Origami:
Design
Designer
Page
Details
Photo

Show only designs with photos
Candy wrapper necklace
Cindy Ng
14
Rectangle
Comic strip bracelet
Cindy Ng
16
Square
Multiple units
Money diamond ring
Cindy Ng
20
$ US Dollar Bill
Punk rocker ring
Cindy Ng
25
$ US Dollar Bill
Modern money ring
Cindy Ng
28
$ US Dollar Bill
New kind of envelope
Cindy Ng
34
Rectangle - 1X3
2 units
Gift wrap paper bags
Cindy Ng
38
Rectangle
Corner book mark
Cindy Ng
42
Square
Arrow
Cindy Ng
46
Rectangle
Octo bag
Cindy Ng
52
Square

From a paper bag
Paper bow
Cindy Ng
58
Rectangle - 1X2
2 units
Photo frame
Cindy Ng
64
Rectangle
Metro card holder

Objects - Wallets

Cindy Ng
68
Square
Business card holder
Cindy Ng
70
Rectangle - 1X2
Fortune ball
Cindy Ng
72
$ US Dollar Bill
Memorabillia holder

Objects - Wallets

Cindy Ng
76
Rectangle
Mini picture frame
Cindy Ng
80
Rectangle - 1X2
4 units
Dollar heart
Cindy Ng
86
$ US Dollar Bill
Money tray
Cindy Ng
88
$ US Dollar Bill
8 units

Requires glue
Postcard star
Cindy Ng
92
Rectangle
8 units
Shelf
Cindy Ng
96
Rectangle
Diamond bag
Cindy Ng
100
Rectangle

From a paper bag
Straw rose
Cindy Ng
106
Rectangle - Long strip
2 units
Shopping bag lamp
Cindy Ng
112
Rectangle

From a paper bag