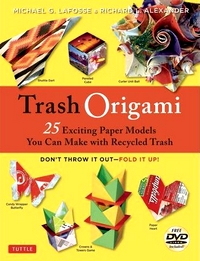 | | |
| --- | --- |
| Skill Level | Simple to Intermediate |
| Clear diagrams? | Yes |
| Tinted diagrams (to show 2 sides of paper)? | Yes |
| Photos of completed models? | Yes |
| Is there indication to the model size resulting from size of starting paper? | No |
| Are the models "Pure" origami (From a single square - no cuts)? | Varies |
Overall Impression

This book helps answer the question - What can I fold from this interesting scrap of paper?. Origami enthusiast tend to save interesting paper, waiting for the right design to come along. In Trash Origami LaFosse and Alexander collected designs that prominently feature the paper they're folded from. Modular cubes and boxes, a few toys and practical designs. So you can use that sheet you've been keeping, or just fold from some interesting brochures, junk mail, and even old maps and calendars! Other than providing instructions, the book also discusses many different types of available paper, provides presentation and use ideas for the completed projects.
The DVD that comes with the kit contains full video instructions for each and every single project in the book. It's hard to beat Michael LaFosse's teaching videos - they are very well executed, with over-the-shoulder views and good lighting, and he takes care in explaining every move in detail, while giving many tips and tricks, discussing the background of the designs and more.
There are 24 Origami Designs in Trash Origami:
Design
Designer
Page
Details
Photo

Show only designs with photos
Crowns and Towers game
Michael G. LaFosse
16
Square
14 units
Jumping frog
Michael G. LaFosse
18
Square
Scoopy ball game
Michael G. LaFosse
20
Square
Cube with faceplates
Traditional
22
Square
12 units
Photo cube
Michael G. LaFosse
24
Square
12 units
Chessboard
Michael G. LaFosse
26
Square
16 units
Ali's dish
Nick Robinson
30
Square

Also in Bogota Origami Convention 2013
Also in Quadrato Magico Magazine 90
Also in Tanteidan 11th convention
Also in The Encyclopedia of Origami Techniques by Nick Robinson
Masu box
Traditional
34
Square

Also in Creative Origami and Beyond
Also in Enjoy Origami in English (Joy of Origami!) by Satoshi Takagi
Also in NOA Magazine 134
Also in NOA Magazine 165
Also in NOA Magazine 167
Also in NOA Magazine 490
Also in Origami - Arte del Piegare la Carta by Renzo Zanoni
and in other sources...

Folded by Lou Pearson
Star box lid
Richard L. Alexander
36
Square
4 units
Butterfly
Michael G. LaFosse
40
Rectangle
Interlocking flower petals
Michael G. LaFosse
42
Square
6 units
Sailboat envelope
Michael G. LaFosse
46
Square

Also in Origami USA Convention 2000
Also in CDO convention 2001
Also in Folding Australia 2007
Also in Japanese Paper Crafting by Michael G. LaFosse
Also in Origami Kit for Dummies by Nick Robinson
Also in Origami Stationary by Michael G. LaFosse

Folded by Michel Grand
Flapping bird envelope
Michael G. LaFosse
48
Square

Also in BOS Convention 2000 Spring
Also in Origami Stationary by Michael G. LaFosse
Also in OrigaMIT 2015 Convention Book

With flapping action
Shuttle dart
Michael G. LaFosse
52
Square
Art-deco wing
Michael G. LaFosse
56
Square
Snack-bag wallet

Objects - Wallets

Michael G. LaFosse
60
Other shape
Bag ballot box
Michael G. LaFosse
62
Other shape
Book
Rona Gurkewitz
64
Rectangle
10 units
Calendar wreath
Michael G. LaFosse
68
Square
12 units
Curler unit ball
Herman van Goubergen
72
Square
12 units

Also in BOS Convention 2003 Spring
Also in BOS Magazine 205
Also in NOA Magazine 457
Also in Quadrato Magico Magazine 61
Also in Tanteidan 14th convention

Folded by Rui Roda
Heart
Florence Temko
76
Rectangle - 1X2
Mushroom
Vincent Floderer
78
Square
Pinwheel envelope
Traditional
82
Square
Masu box
David Brill
84
Rectangle - A size

Also in NOA Magazine 258
Also in BOS Convention 1996 Spring
Also in BOS Magazine 179
Also in CDO convention 1996
Also in Der Falter 17
Also in MFPP 1995 Convention
and in other sources...